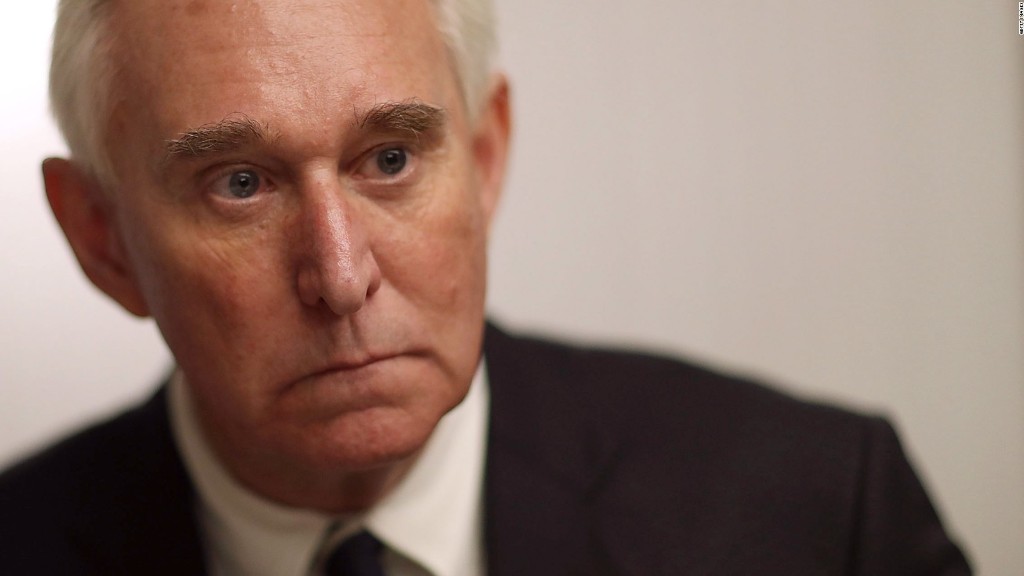 Roger Stone, the political operative and ally of President Trump, says Trump should fire Robert Mueller, the special counsel investigating Russian interference in the election.
In an interview with CNNMoney on Friday, Stone said that Trump should also fire Rod Rosenstein, the deputy attorney general.
Rosenstein wrote a memo recommending the firing of FBI Director Comey, and Rosenstein later approved the appointment of a special counsel -- Mueller -- to lead the Russia probe. Trump appeared to attack Rosenstein in a furious tweet on Friday morning.
Stone, speaking at a marijuana industry conference in New York, said they should both be gone.
"I'd fire Mueller and Rosenstein for wasting the taxpayers' money," Stone said. "This is a witch hunt."
Stone's life in national politics dates to his days as a dirty-trickster for President Richard Nixon. More recently, he was an adviser to Trump's presidential campaign. He himself has been named in the Russia investigations, including as a possible link between the Trump campaign and WikiLeaks.
On Friday, he insisted there was no evidence of Russian collusion with the Trump campaign. And he said he was willing to testify "if they would let me testify in public. I would like to testify in public."
CNNMoney spoke to Stone at the Cannabis World Congress and Business Exposition, a marijuana industry conference where he was a keynote speaker, preaching pro-legalization views to a receptive audience.
"I'm proud to be one of you," he said, as the crowed cheered. "I'm proud to be an advocate."
Related video: Who is Roger Stone?
Stone, who considers Nixon his "mentor" and has a tattoo of him on his back even though the former president launched the war on drugs, told the crowd of cannabis entrepreneurs that he's investing in marijuana farming -- and even trademarking a strain called Tricky Dick.
He later told CNNMoney that he is forming a company called the Great American Marijuana Company, through which he will invest in marijuana farming in California for medical purposes.
Medical marijuana is legal in California, and voters there approved recreational marijuana last year. The state is in the process of establishing a retail market for it. California lawmakers are also trying to establish their state as a sanctuary state against federal intervention.
Stone told CNNMoney he was not investing in recreational marijuana.
He spent much of his speech bashing Attorney General Jeff Sessions, who opposes legalization. He called out Sessions for a recent request to Congress for approval to crack down on state-legal marijuana.
"What planet does this guy live on?" Stone said, referring to Sessions' equating of marijuana with heroin. Marijuana is illegal in the eyes of the federal government, which rates it as a Schedule I drug, the same as heroin.
"In all honesty," Stone said, "it's time for [Trump] to tell Attorney General Jeff Sessions to cut the s***."
The Justice Department did not immediately return a request for comment.
Related: Marijuana businesses worry about Trump, but expect to prevail
Stone said Trump could "do what Obama should have done on his way out the door and didn't," he said. "Change the schedule of marijuana from Schedule I so doctors around the country can prescribe the drugs to people in need."
Stone is the subject of a recent Netflix documentary, "Get Me Roger Stone." In the movie, he proudly shows off his collection of Nixon bongs, which he considers "among my most prized possessions."