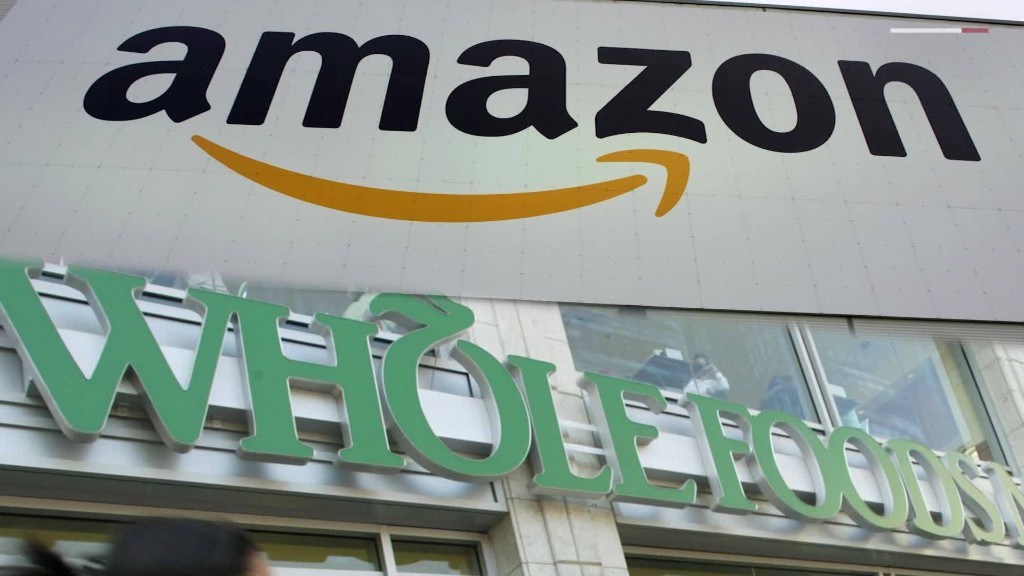 Whole Foods will eventually be part of Amazon CEO Jeff Bezos's empire. Or will it?
Some Wall Street analysts are starting to wonder whether another retailer will come up with a higher offer and start a bidding war.
Amazon (AMZN) announced on Friday that it was offering to pay $13.7 billion in cash for Whole Foods -- a deal that values the chain of organic grocery stores at $42 a share. But Whole Foods (WFM) stock closed above $42 on Friday, and it rose again Monday to top $43.
That might not sound significant. But any price for Whole Foods stock that is higher than Amazon's offer could be a sign that Wall Street thinks another company could swoop in with an even better deal.
Barclays analyst Karen Short wrote in a report that she "would not be surprised" if other companies make offers for Whole Foods. She raised her price target on the company to $48 -- nearly 15% higher than Amazon's bid.
Short said in the report that "in theory, all retailers that sell food and compete with Amazon" could come up with their own offer for Whole Foods because they may "have too much to lose not to bid."
Related: Amazon is buying Whole Foods for $13.7 billion
She said the likely bidders could include Walmart (WMT) and Target (TGT), both of which have big grocery businesses, and the Kroger (KR) supermarket chain.
She conceded it might be tough to outbid Amazon, but it could still be worth it to drive up the price and make Amazon pay more.
Oppenheimer analyst Rupesh Parikh agreed. He raised his price target on Whole Foods to $45 after the Amazon deal was announced.
He wrote in a report that "another bid cannot be ruled out" because other big retailers may want to do anything they can to prevent Amazon from getting even more powerful.
Related: Amazon wrecked the mall. Now it's coming for the grocery store
Parikh added that Amazon's offer appears to be "undervaluing the company's prospects and the powerful brand" and that Whole Foods could do better.
"It appears there is some money being left on the table," he wrote.
For now, Whole Foods seems happy with the deal. But Parikh added that activist investors have a stake in Whole Foods. Jana Partners announced in April that it took one.
Sure, the sale to Amazon is a win for Jana. But would Jana say no to a higher offer from Walmart or another Amazon rival? That seems unlikely.
After all, it was Whole Foods' CEO who referred to Jana in a Texas Monthly interview earlier this month as "greedy bastards."