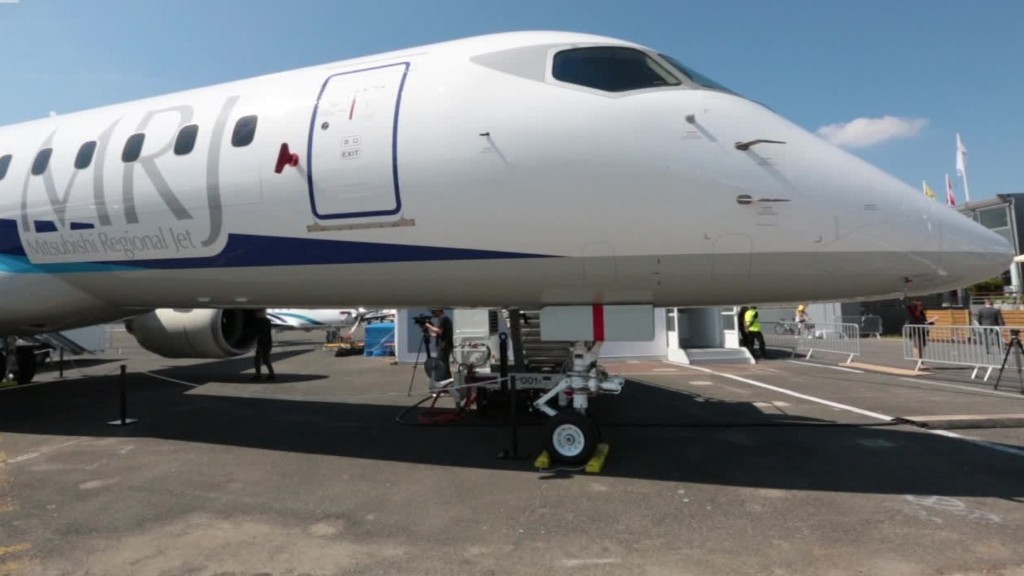 Japan's first commercial airliner in more than 50 years has arrived on the international stage.
Mitsubishi Aircraft Corp. is showing off its new jet -- known as the MRJ -- at the Paris Air Show this week. The 92-passenger plane promises to reshape regional flying in the U.S. and upend a market long dominated by Canada's Bombardier (BDRAF) and Embraer (ERJ) of Brazil.
But the MRJ is less of a revolution than an evolution of a familiar package: two engines, two wings, and a slightly roomier cabin than its competition. It does have one unmistakable feature, though -- a sharply aerodynamic nose that resembles some of Japan's famous bullet trains.
Here's Mitsubishi's pitch to airlines: This plane will save you money by using 20% less fuel thanks to its all-new aerodynamic design and a pair of advanced engines.
Those features can help open new short routes that aren't profitable with an older generation aircraft today. The MRJ's new Pratt & Whitney engines also mean less noise and lower emissions, allowing it to fly in and out of tightly restricted airports.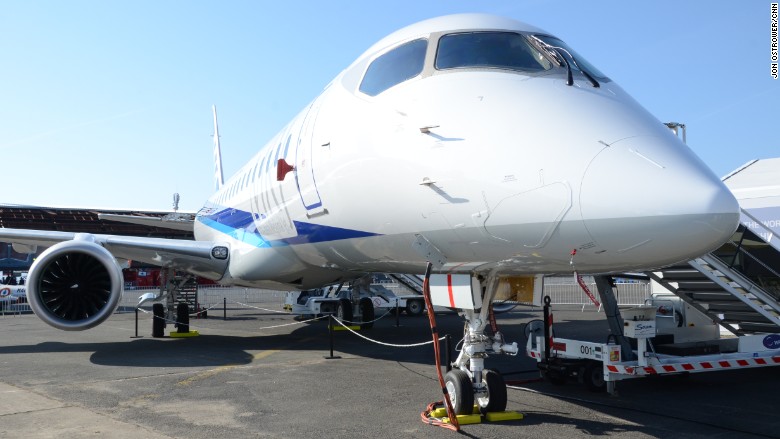 Test flights over the U.S.
The Japanese jet won't be carrying regular passengers until 2020. But for the next few years, the MRJ fleet will be flying over the U.S.
There's not enough open sky in Japan to test the new airliner, so Mitsubishi has set up shop in eastern Washington state to put its current fleet of four test aircraft through their paces.
Related: Boeing takes a swing at Airbus with bigger 737 Max
While it's built in Nagoya, Japan, the MRJ is a global collaboration.
Half of the jet's parts are made by U.S. manufacturers. Its avionics come from Rockwell Collins (COL), for example, and its engines from Pratt & Whitney. That means the plane is supporting manufacturing and engineering jobs in both countries.
Japan's All Nippon Airways will be the first to fly the MRJ. But about 80% of the plane's more than 400 orders and commitments come from U.S. regional airlines that fly for Delta (DAL), American (AAL) and United (UAL).
Mitsubishi joins the big leagues
The huge Japanese conglomerate behind the MRJ, Mitsubishi Heavy Industries (MHVYF), has been making complex parts for plane makers like Boeing for decades.
In the 2000s, it decided it wanted to go further. Mitsubishi set out to prove it could design and build an entire aircraft itself, weaving all the different pieces of a design together -- a skill few nations have developed.
Related: Decades of crazy, cool planes
"We're setting the foundation of a new industry in Japan," said Alex Bellamy, the 37-year-old head of MRJ's program office who joined Mitsubishi from Bombardier last year.
The MRJ was originally supposed to start flying passengers in 2013, but didn't get airborne until 2015. And in 2016, Mitsubishi discovered its own inexperience was causing major headaches.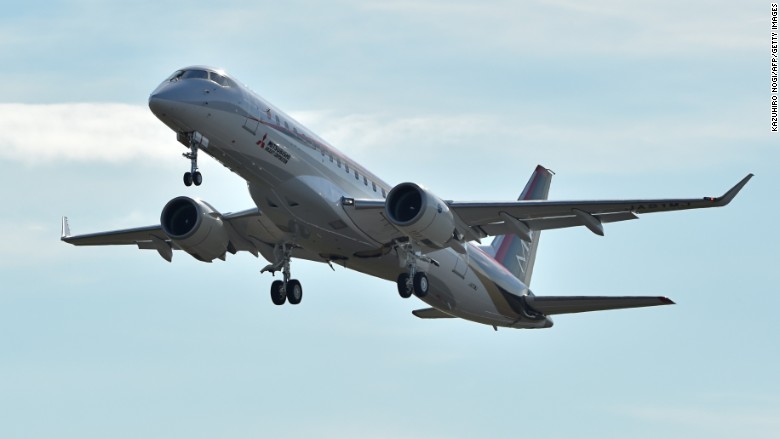 Cascading problems
It needed to rearrange something as apparently simple as a cabinet of electronics equipment. But one small change would cause another, cascading across the jet. It would eventually force Mitsubishi to redesign miles and miles of the jet's wiring. Two more years would be required to sort everything out, pushing its passenger debut to 2020.
"This was a big wake up call to the program," Bellamy said in a recent interview. "When you stumble across something as complicated as this that has such a major program impact, it would negligent of us not to stop and think."
Related: Countries flex their military muscle in Paris
So Mitsubishi pressed pause and went out in search of young and ambitious experts like Bellamy who had worked on recent new aircraft programs in the U.S., Europe and Canada. They re-checked every part of the plane.
Thirteen of its program leaders now hail from 10 different countries. And many top engineers and managers are under 40.
Mitsubishi believes it's getting back on track now, but there are still big tests to go that could reveal issues. And despite all the MRJ's struggles, its rivals aren't being complacent.
"It's a new competitor," Embraer CEO Paulo Cesar de Souza e Silva said in an interview Monday. "We take them very seriously."