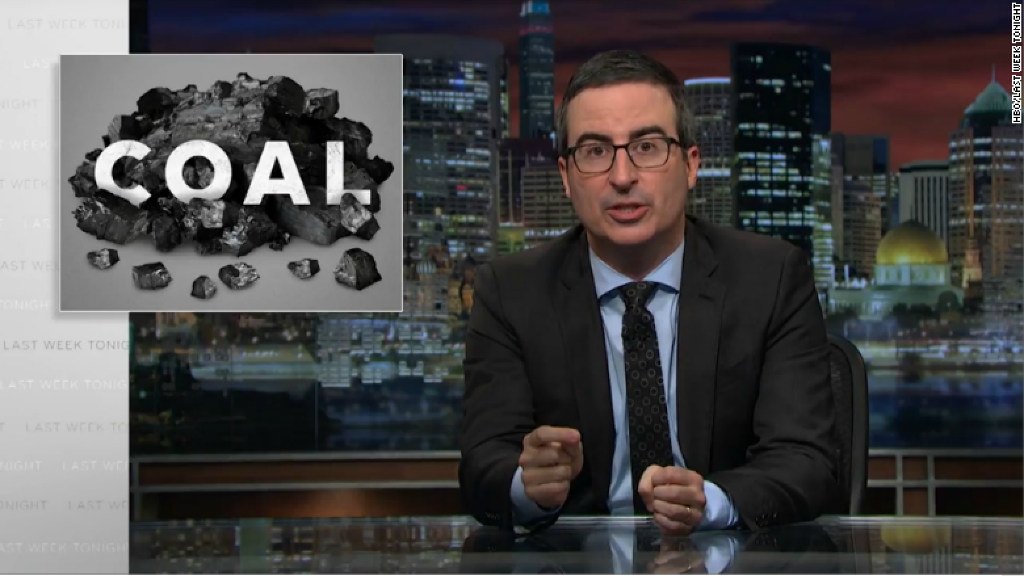 John Oliver -- and a giant squirrel -- made the king of coal seriously angry.
Robert Murray, the CEO of one of America's largest coal companies, filed a defamation lawsuit against Oliver on Wednesday. The lawsuit claims the HBO comedian executed a "meticulously planned" and "ruthless character assassination" designed to boost TV ratings and hurt his mining company.
The lawsuit named Oliver, the show's production company, his senior news producer Charles Wilson, HBO and Time Warner (TWX) (which owns CNN). The complaint alleges that Oliver's "Last Week Tonight" episode on Sunday "incited" viewers to "do harm to Mr. Murray and his companies." It also claims the miner's website was hacked as a result of the segment, and that Oliver's statements constitute "false light invasion of privacy" and intentional infliction of emotional distress.
During his June 18 show, Oliver lambasted President Trump over his promises to bring back thousands of coal mining jobs, a pledge the comedian says is a false promise to an industry that's been in a steep decline for decades.
The segment, which has been viewed 4.5 million times on YouTube, devoted several minutes to Murray, the CEO of Murray Energy, and a vocal champion of the coal industry. Oliver told the audience that Murray had warned him he would sue and bring the case all the way to the Supreme Court if he failed to "cease and desist" any effort to "defame, harass, or otherwise injure Mr. Murray or Murray Energy."
Oliver said on air that he would "proceed with caution," and then he launched into a monologue comparing the 77-year-old coal exec to a "geriatric Dr. Evil." The segment chronicled Murray's career in mining and his handling of a 2007 mine collapse in Utah that left six miners and three rescuers dead.
"An honest conversation about coal and its miners needs to be had," Oliver said, "and we should neither cease nor desist from having it."
But the complaint alleges that Oliver and the show "intentionally, falsely, and outrageously" suggested that Murray had no evidence to support statements that the mine collapse was caused by an earthquake. The lawsuit claims Oliver ignored studies supporting Murray and quoted others out of context.
Related: Coal king: It's 'wonderful' Trump ditched Paris deal
Oliver later recounted a story -- that Murray has denied happened -- that the CEO told workers the idea for starting a mine company came to him from a squirrel.
At the end of the show, the HBO host trotted a man dressed in a giant squirrel costume onto stage to address Murray directly. "Bob, I just wanted to say if you plan on suing, I do not have a billion dollars, but I do have a check for three acorns and 18 cents," the squirrel said.
"It's made out to 'Eat sh*t Bob!," the squirrel said, while holding up a giant fake check with "kiss my ass!" scrawled in the memo field.
Oliver acknowledged during the show that Murray is "probably going to sue me." He added, "You know what? I stand by everything I said."
In a statement, HBO said: "We have confidence in the staff of Last Week Tonight and do not believe anything in the show this week violated Mr. Murray's or Murray Energy's rights."
Related: Coal country's message to Trump: We want jobs of the future
Murray Energy's complaint referred to Oliver, who is British, as a "foreign national residing in New York." The company, in a separate statement, called Murray a "patriotic American."
The lawsuit also described Murray as seriously ill, saying he depends on an oxygen tank, needs a lung transplant and "does not expect to live to see the end of this case."
"Nothing has ever stressed him more than this vicious and untruthful attack," the complaint said, adding it has caused "significant emotional and physical distress."
Murray Energy said that after the Oliver show, its website was attacked three different times by hackers who attempted to crash it. On the third attempt, Murray Energy said it had to take down its website to implement new security measures.
Murray Energy also said it received "numerous harassing telephone calls," including from callers who simply said: "Eat Sh*t, Bob."
The coal magnate has spoken out publicly to criticize environmental restrictions on the coal industry and has described former President Barack Obama's agenda as "evil."
Murray also filed a libel suit against the New York Times earlier this year for statements it made about the Utah mine collapse. The Times said it has moved to dismiss the suit.