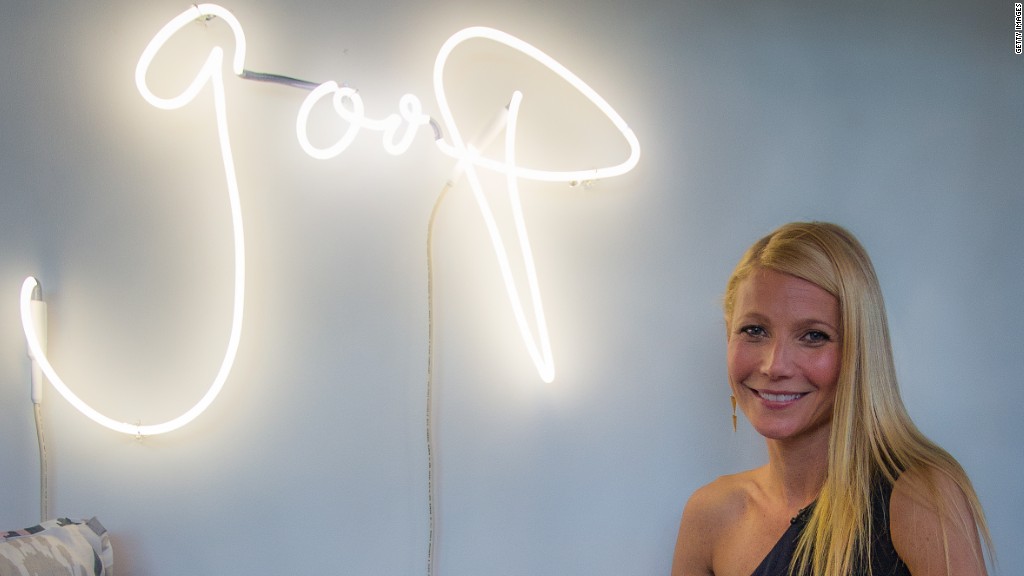 Gwyneth Paltrow, we have a problem.
NASA just called out Goop, the movie star's lifestyle brand, over wearable healing stickers that it promoted on its website.
In a post on Thursday, Goop said that the stickers, which are sold by a group called Body Vibes, are "made with the same conductive carbon material NASA uses to line space suits so they can monitor an astronaut's vitals during wear."
The wearables, which cost about $60 for a pack of 10, come "pre-programmed to an ideal frequency" and "promote healing" by tackling "imbalances," the website claimed.
Related: Gwyneth Paltrow lives clean but likes her humor dirty
But NASA told CNNMoney it doesn't use carbon material to line its suits, and its current spacesuit has no carbon fibers in it at all.
Gizmodo was the first to debunk Goop's NASA claims about the stickers. Goop removed the NASA mention from its post after the outlet's story went up.
In a statement, Goop said its advice and recommendations do not constitute "formal endorsements."
"The opinions expressed by the experts and companies we profile do not necessarily represent the views of [Goop]," the brand said. "Based on the statement from NASA, we've gone back to the company to inquire about the claim and removed the claim from our site until we get additional verification."
On Friday, Body Vibes apologized for what it called a "communications error."
"We have learned that our engineer was misinformed by a distributor about the material in question, which was purchased for its unique specifications," the group said in a statement. "We regret not doing our due diligence before including the distributor's information in the story of our product."
Body Vibes said it stands by "the quality and effectiveness" of its stickers.
Related: Gwyneth Paltrow reflects on the term 'consciously uncouple'
Earlier this month, Jimmy Kimmel asked Paltrow to walk him through another of Goop's healthy living claims. This one was "earthing," or walking around barefoot for its therapeutic benefits. On its site, Goop said it can help "everything from inflammation and arthritis to insomnia and depression."
There's "some sort of electromagnetic thing" that goes on, Paltrow explained.
Her take on the practice?
"I don't know what the f--- we talk about," she laughed.