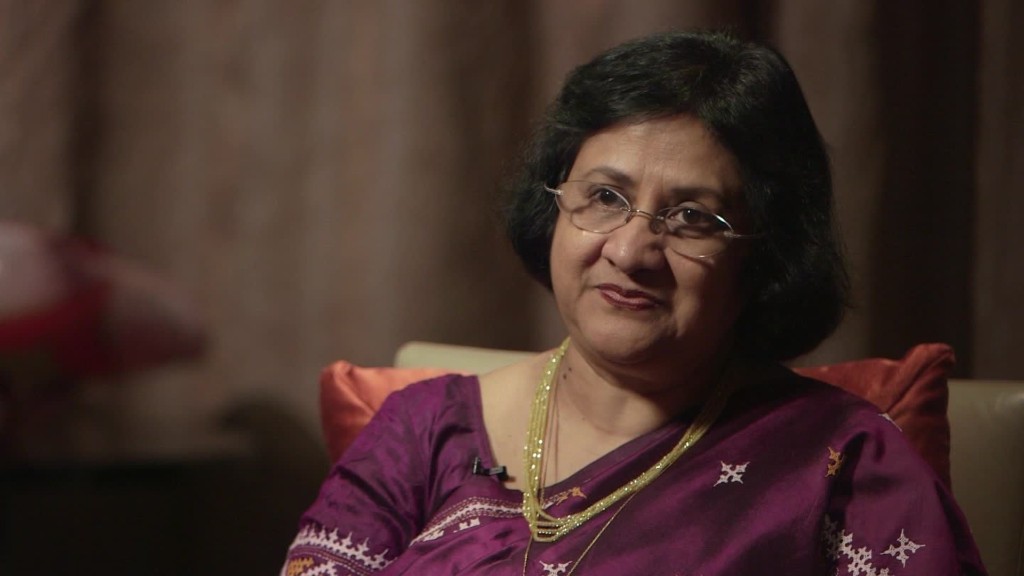 America's top tech executives won't pass up an opportunity to meet Indian Prime Minister Narendra Modi.
Amazon's (AMZN) Jeff Bezos, Apple's (AAPL) Tim Cook and Sundar Pichai of Google (GOOGL) sat down with Modi during his visit to Washington on Sunday. Modi used the talks with 20 CEOs once again to tout his country's status as a prime investment destination.
The Indian prime minister met President Trump for the first time on Monday, with trade and immigration among the major issues at stake.
Bezos described Modi's roundtable meeting with executives on Sunday as "terrific," adding in tweet that he was "always impressed, energized by optimism and invention in India. Excited to keep investing and growing."
Cook told reporters it was "fantastic."
Modi courted leaders from corporate America during a previous visit in September 2015 when he held a similar CEO roundtable. He also toured Silicon Valley during that trip, meeting Cook and Pichai as well as Facebook (FB) CEO Mark Zuckerberg, Microsoft (MSFT) CEO Satya Nadella and Tesla (TSLA) CEO Elon Musk.
1.3 billion consumers
All of them, with the exception of Musk, have also visited Modi in his home country as they each rush to capture a slice of India's rapidly growing economy of 1.3 billion people.
Bezos has committed $5 billion to Amazon's India business over the last three years, while Apple started manufacturing iPhones in the country for the first time last month. Google, Facebook and Microsoft, meanwhile, are all racing to bring hundreds of millions of Indians onto the internet.
Another of the roundtable attendees, Lockheed Martin chairwoman and CEO Marillyn Hewson, will be hoping India gives her company a contract to make F-16 fighter jets in the country.
Musk wants to bring Tesla to India as well, but has so far been stymied by the country's regulations. He tweeted earlier this month that the electric carmaker is "in discussions" with the Indian government to temporarily relax some of those restrictions.
Walmart (WMT), whose CEO Doug McMillon also met Modi on Sunday, has also been trying unsuccessfully to set up its department stores in India for several years. But rules mandating that foreign retailers must source nearly a third of their materials locally have restricted the company to running wholesale distribution centers only.
7,000 reforms
Modi sought to dispel those concerns on Sunday, promoting the numerous reforms -- 7,000, he claimed -- that his government has initiated.
He focused on the biggest and most eagerly anticipated of those reforms, a goods and services tax set to roll out on Saturday. It will replace India's tangled web of dozens of state tariffs with a single set of national tax rates.
"The rollout of the Goods and Services Tax on July 1 will, in a single stroke, convert India into a unified, continent-sized market of 1.3 billion people," Modi wrote in the Wall Street Journal on Sunday.
Pichai, who was born in India, appears optimistic. The Google CEO told Indian news agency ANI after meeting Modi that he was "excited" to see the tax overhaul happen.
"[The GST] shows that you can achieve reform by pushing hard for it, and I hope it's just the beginning," he said.