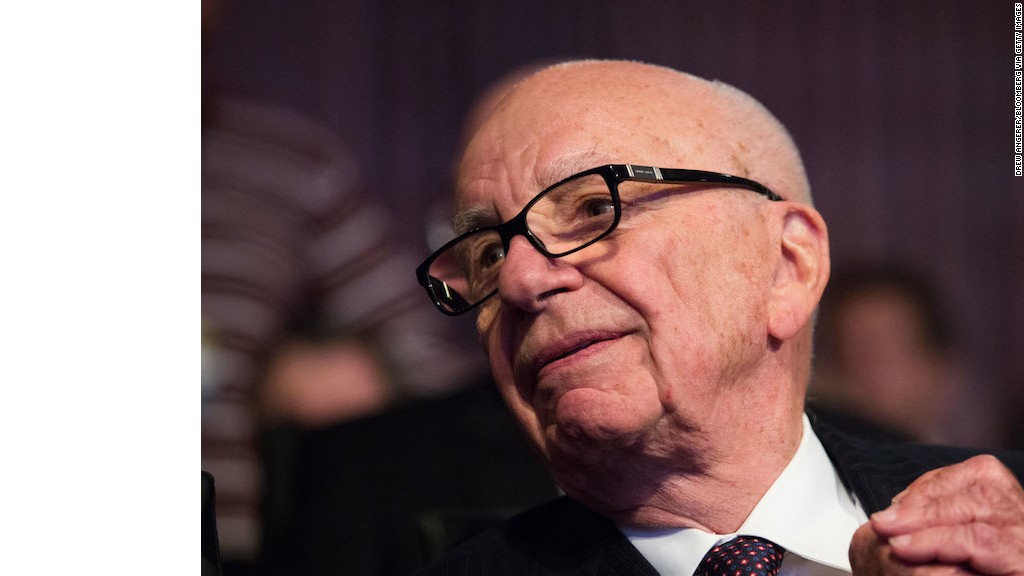 Rupert Murdoch's attempt to build out his media empire in Europe by buying pay-TV group Sky suffered a major setback on Thursday.
The British government ruled that Murdoch's 21st Century Fox (FOX) should not be allowed to purchase Sky (SKYAY) without a further investigation.
U.K. culture secretary Karen Bradley said the transaction could give the Murdoch family too much influence over British media.
Bradley said the proposed company would have the third largest total reach of any news provider in the U.K., uniquely spanning television, radio, newspapers and digital publications.
"The proposed transaction would give the Murdoch Family Trust material influence over news providers with a significant presence across all key platforms," she told parliament.
U.K. media regulator Ofcom said there was a risk the deal could increase Murdoch's influence over British politics and public opinion. He already controls three newspapers -- The Sun, The Times and The Sunday Times.
Fox and Sky have until July 14 to respond to Bradley. If not swayed by their response, she will refer the deal to the Competition and Markets Authority for an in-depth investigation.
Fox said in a statement it would "continue to work constructively with the U.K. authorities," adding it expected any further review to take at least 24 weeks.
"In such an event, the transaction is expected to close by June 30, 2018," Fox said in a statement.
Fox would have to pay Sky £200 million as a break fee if it fails to close the deal.
Government rejects Fox attempts to address concerns
Bradley said she had already rejected proposals from Fox and Sky aimed at addressing those concerns -- including establishing an editorial board for Sky News with a majority of independent members. It would oversee the appointment of the head of Sky News and any changes to Sky News editorial guidelines.
They also committed to maintain Sky-branded news for five years with no reduction in its budget.
Separately, Ofcom published its own report on whether Fox would be a "fit and proper" owner for Sky.
Ofcom said it had considered allegations of sexual and racial harassment at Fox News, calling them "extremely serious and disturbing."
Lawyers for women who have accused Fox News of harassment and discrimination lobbied Ofcom in recent weeks to block the deal.
"It seems clear that there were significant failings of the corporate culture at Fox News," Ofcom said, adding that the failings were not serious enough to disqualify Fox from holding a U.K. broadcasting license.
Shares in Sky jumped more than 3% to trade at £9.85 ($12.70) per share. That is still well below the £10.75 ($14) a share Murdoch is offering.
This is Murdoch's second attempt to buy Sky. A previous bid collapsed in 2012 in the wake of a phone-hacking scandal at his British newspapers.
Sky has 22 million customers in five European markets: Italy, Germany, Austria, the U.K. and Ireland. It is the largest pay TV provider in Britain.