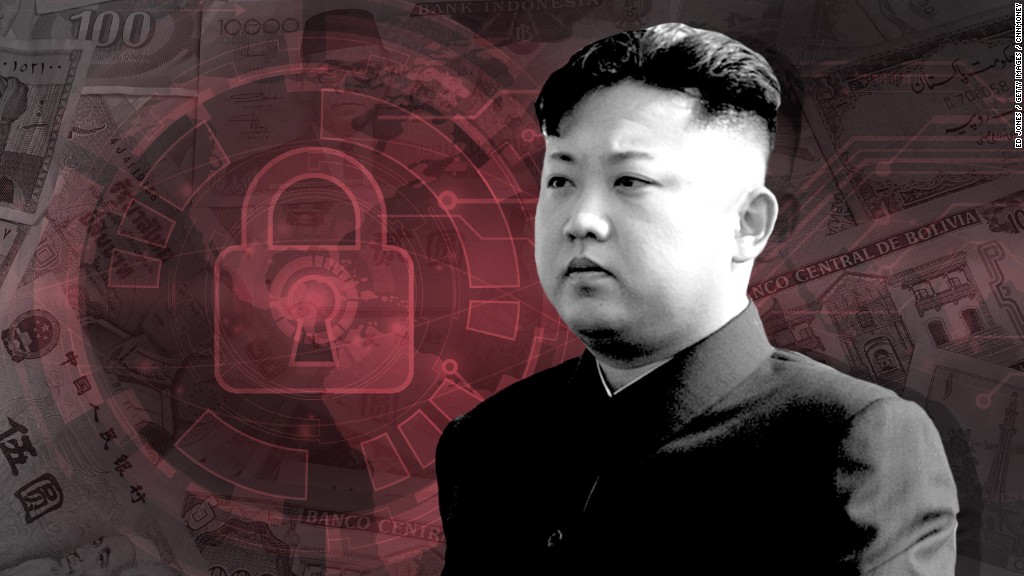 The Trump administration on Thursday moved to block a Chinese bank with alleged illicit financial ties to North Korea from gaining access to the U.S. banking system.
In an effort to increase pressure on North Korea to curb its nuclear and ballistic missile program, the Treasury Department announced a series of sanctions and other measures. Among them: severing any financial ties U.S. banks may have with China's Bank of Dandong, which the administration claims acts as a pipeline to support alleged illicit North Korean financial activity.
"We will cut the money off to North Korea until they behave properly," said Treasury Secretary Steven Mnuchin at a White House briefing. He said the Chinese firm would not have any access to the U.S. financial system either "directly or indirectly" through U.S. and other foreign banks.
Related: Trumps weighs stepping up pressure on North Korea
Mnuchin didn't rule out the possibility that other banks could face similar pressure from the U.S. and other international partners.
"It's the first bank that we've cut off," the secretary said. "We will continue to look at these actions and we will continue to roll out sanctions. We are committed to cutting off all illegal funds going to North Korea."
Chinese Foreign Ministry Spokesman Lu Kang objected to the decision, saying Friday that foreign countries should not sanction Chinese firms.
"We strongly urge the U.S. to immediately correct its wrongful actions to avoid affecting bilateral cooperation on relevant issues," Lu said.
The Trump administration has been discussing with foreign counterparts -- including Italy, Germany, Canada and Britain -- ways to use economic and diplomatic pressure to curb threats in North Korea and elsewhere.
Thursday's action is the first time the U.S. has applied its authority under the Patriot Act on a Chinese bank. In the past, it has imposed such special measures on financial institutions in Iran, Syria, and Lebanon.
The administration also slapped sanctions on two Chinese individuals and one Chinese company. In March, the U.S. took similar steps against several other Chinese businesses and individuals.
The latest move comes in response to North Korea's ongoing efforts to build missiles and its violations of U.N. Security Council resolutions.
Washington has repeatedly urged China to exert more economic and diplomatic pressure on North Korea. But Beijing has said its influence is limited.
President Trump has expressed signs of frustrations with the current approach.
"I wish we would have a little more help with respect to North Korea from China, but that doesn't seem to be working out," Trump said last week after tweeting that Chinese efforts to pressure North Korea have "not worked out."
Related: Mnuchin pressed terror financing crackdown at G7 talks
Anthony Ruggiero, a senior fellow at the Foundation for Defense of Democracies, said the administration is "sending a message to China saying, 'Look, we are trying to work together but said you needed to do more.'"
Mnuchin quickly dispelled any questions that Thursday's decision was directed at China.
"We are in no way targeting China with these actions," Mnuchin said.
The Treasury secretary said the U.S. hopes China will "continue to work with us" to pressure North Korea. There are plans to hold talks with China and other countries at the upcoming G20 meeting in Hamburg, Germany next week on the issue, he said.
Moments before the sanctions were announced, National Security Adviser H.R. McMaster told reporters that U.S. efforts should be about working with Beijing toward a common goal.
"It's not a question of pressuring China, it's a question of working with China to do more about this problem," said McMaster, who was aware of the upcoming sanctions announcement.
Experts have long predicted Trump and his advisers would eventually hit a wall -- just as past administrations have -- in their efforts to elicit stronger cooperation from the Chinese on the North Korean nuclear issue.
Pressed on whether the sanctions were intended to send a signal to China ahead of the G20, Mnuchin insisted the U.S. is simply continuing its aggressive efforts to cut off North Korea's financing.
"Where we see illicit financing we will stop it," he said. "The message to everyone at the G20 is this is a serious issue, we're going to work with everybody and if there is illicit financing going on, we will cut it off from the U.S. financial system."
The latest actions come hours before Trump is set to meet with South Korea's new president Moon Jae-in at the White House. Both leaders are anxious to get North Korea to abandon its nuclear and missile program, but have different ideas on how to reach that goal.
Traveling to Washington aboard Air Force One, President Moon said North Korea "must at least promise to a nuclear freeze for us to start taking serious measures for its denuclearization."
Ruggeiro, a former senior Treasury official in the Office of Terrorist Financing and Financial Crimes, said the administration's timing is "significant" ahead of Moon's visit.
"This becomes a line in the sand that leaves the idea for engagement with North Korea open for discussion. But when it comes to pressure, shows that the U.S. will do as much as it can," he said.
-- Zachary Cohen and Steven Jiang contributed to this report.