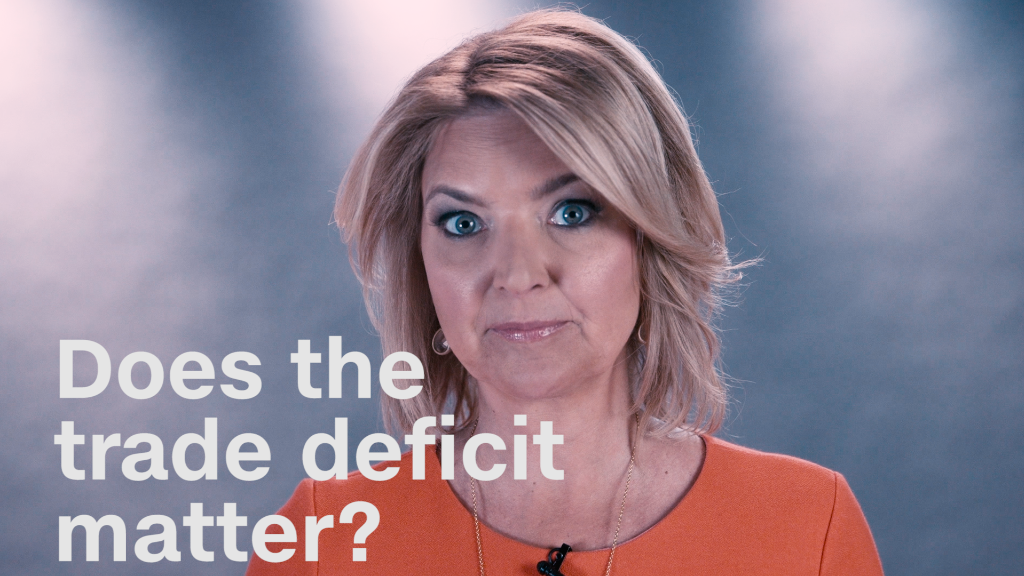 President Trump could soon get a lot tougher on trade.
As early as Friday, his administration may slap big tariffs on shipments of steel from other countries, claiming they pose a risk to national security.
The tariffs can go as high as Trump wants -- and could easily trigger retaliatory measures by other countries, hurting other American industries.
"This may be the most important trade decision that we've seen in decades," says Edward Alden, a senior fellow at the Council on Foreign Relations. "It's extremely significant."
Commerce Secretary Wilbur Ross has said that his team would announce the results of an investigation into steel imports by the end of June. The Commerce Department did not immediately respond to a request for comment on Friday.
Trade experts and Wall Street investors are convinced it's a foregone conclusion: Tariffs are coming. It's just a matter of how high and against whom.
Canada, Mexico, Brazil, the European Union and Japan are among the top steel exporters to the United States. China, which Trump has criticized for cheating on steel prices, ranked 11th last year, and trade experts say it is a likely target.
One key question is whether the Trump administration will impose a tariff on steel from all countries or target specific countries.
Related: Trump meets Modi: Trade, visas and climate change
Another is whether countries will retaliate with their own tariffs on American products, including outside the steel industry -- a trade war that could cost American jobs.
That possibility alarms advocates for U.S. farmers. The American agriculture industry sends a quarter of its products to other countries.
"It is a big deal, and we're very worried about this," says Bob Young, chief economist at the American Farm Bureau Federation, which represents 6 million U.S. farmers. "The potential is certainly there for other countries to retaliate."
Related: American CEOs can't get enough of India's Prime Minister
A Commerce Department official said U.S. businesses should "rest assured that Secretary Ross takes a methodical, reasoned approach to all recommendations he makes to the president."
A 1962 law allows Ross to skirt an independent panel of U.S. trade judges and make the call himself on steel tariffs. And by invoking national security, the Trump administration has broad powers to determine how big and wide any tariffs will be.
The administration argues that the United States is too dependent on foreign steel for military equipment and infrastructure like roads and bridges. If steel-producing nations turned against the United States, the argument goes, it wouldn't be able to build tanks and other essentials to defend itself.
The U.S. auto industry is one of the biggest buyers of foreign steel and opposes the tariffs. The Automotive Policy Council, which lobbies for GM (GM) and FFord (F), warned in May that sweeping steel tariffs would mean "American auto sector jobs would be lost."
But steel industry leaders have encouraged Trump to go after foreign competition.
Barbara Smith, president of Commercial Metals Company, a Texas steel producer, said at the Commerce Department hearing in May that her company has closed 30 U.S. locations since 2008 and fired 4,000 workers because of foreign competition. The company has about 8,400 employees today.
Related: U.S. bans imports of Brazilian beef
High prices for American steel and increased foreign competition have driven a big decline in American steel jobs. There are about 385,000 today, down from 624,000 in 2000. Those are workers Trump pledged as a candidate to protect.
American steel advocates accuse China of selling steel at prices lower than the world average to box out U.S. competition. That's known as dumping.
The Obama administration imposed a 500% tariff on some Chinese steel last year to fight the practice. Chinese steel exports to the U.S. plunged almost two-thirds as a result. In total, the U.S. has imposed roughly 200 anti-dumping measures against Chinese steel products over the years.
China has also been accused of sending steel through a middleman to disguise where it's coming from. U.S. companies point out that exports of steel from Vietnam to the United States rose almost 300% just between 2015 and 2016. The Obama administration opened an investigation on the issue in November.
Related: Trump's newest trademarks in China
If Trump imposes tariffs, the World Trade Organization could deem them a violation of global trade laws, which would allow other countries to sue in a WTO court. Past presidents have abided by the WTO, but Trump's trade team has signaled that it may ignore WTO rulings.
In the meantime, the risk of retaliation would be high.
Young, the Farm Bureau economist, says American jobs could be on the line. He says the Chinese could easily slap tariffs on American soybeans, one of the biggest U.S. exports to China. There are about 300,000 soy farms in the United States.
Some world leaders are already putting Trump on notice.
"It will hit us very hard," European Union trade commissioner Cecilia Malmstrom said at a Politico event last week. "We will have to respond in different means."