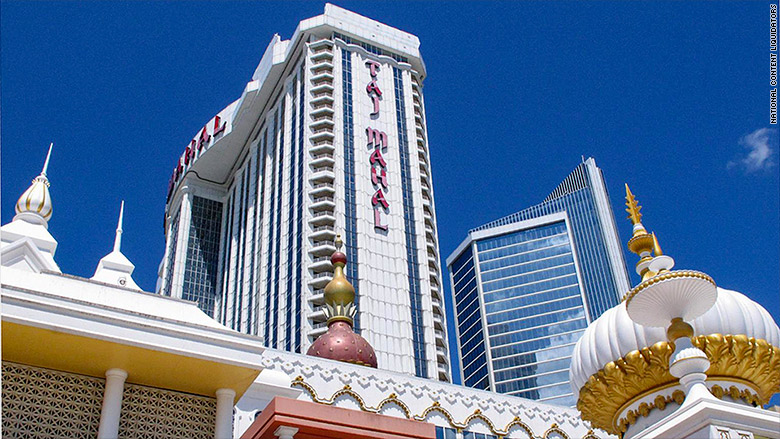 You can own a piece of the former Trump Taj Mahal.
The Atlantic City hotel and casino, which bears the president's name although he sold his stake in it years ago, is being liquidated after shutting its doors in October. Everything is up for grabs -- from clubhouse chandeliers to hotel room TVs.
The liquidation starts on Thursday and will continue daily until everything is sold, according to National Content Liquidators, the company that is handling the sale. All items at the on-site sale will be sold on a first-come basis, and an NCL representative told CNNMoney that buyers have to show up in person to make purchases as nothing will be sold online.
The company is selling hotel room furnishings including beds, tables, flat-screen TVs, sofas, lamps and entertainment centers, as well as casinos trappings like game tables, a Yamaha baby grand piano, shoe-shine chairs and crystal chandeliers.
NCL says a "hotel room package" -- which includes a bed, a chest of drawers, nightstands, lamps, a desk, chairs, a game table, art and a mirror -- costs $300. And they'll throw in a flat-screen TV with the package for an additional $89.
Prices for the chandeliers range from $375 to $35,000 ,and four embroidered Burmese Thai Kalaga tapestries range from $6,500 to $8,500.
Related: Hard Rock buys Taj Mahal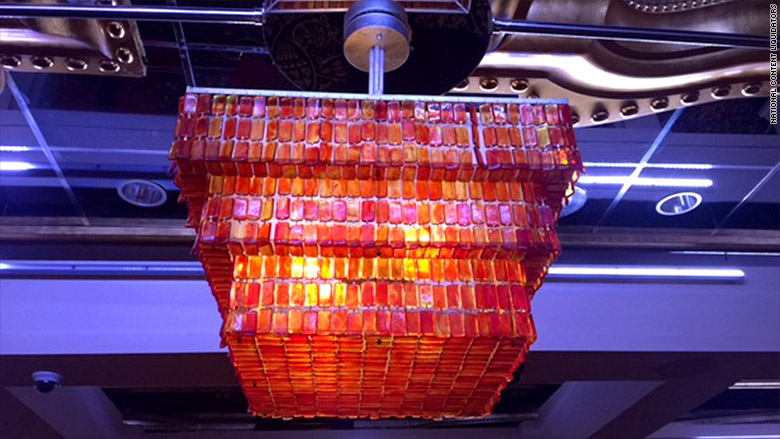 Hard Rock International, the parent company of Hard Rock Cafe, bought the Taj in March from Icahn Enterprises, the company owned by billionaire investor Carl Icahn, who said last year he "lost almost $100 million trying to save the Taj."
The Taj Mahal was built on the boardwalk in 1990 by Donald Trump. It was meant to evoke the real Taj Mahal in India, and Trump dubbed it the "eighth wonder of the world."
The luster didn't last. The casino became a money laundering concern shortly after it opened, according to an IRS settlement from 1998. Trump sold his stake in the casino in 2009, though he kept his name on it -- for a price. Trump Entertainment Resorts, the company that still owned the casino after Trump's departure, had to pay Trump for the right to use his name.
Related: Trump sues Trump, and wins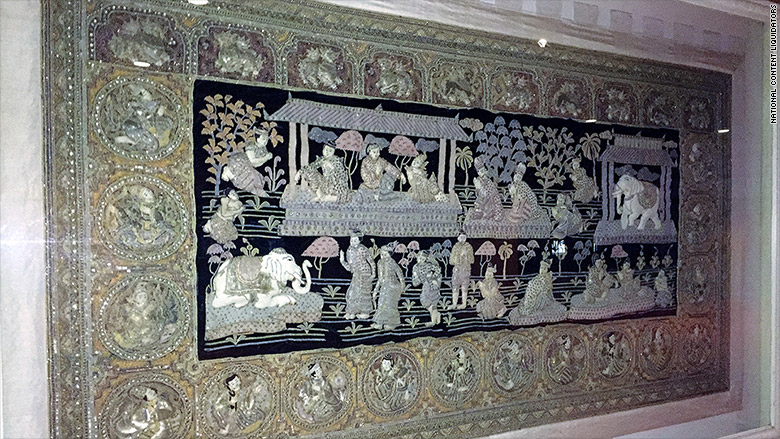 But Atlantic City fell on hard times. In 2014, Trump sued Trump Entertainment Resorts to take his name off the casino. He said in the lawsuit that Trump Resorts had allowed the Taj and its sister casino, Trump Plaza, "to fall into an utter state of disrepair," which tainted the "superior reputation" of his brand.
"We have a very high standard and they didn't meet it," Trump told CNNMoney at the time.
Trump won the lawsuit and his name came down. Taj Mahal and the Plaza went of business in 2016, joining three other casinos that closed down in Atlantic City, putting thousands of people out of work.