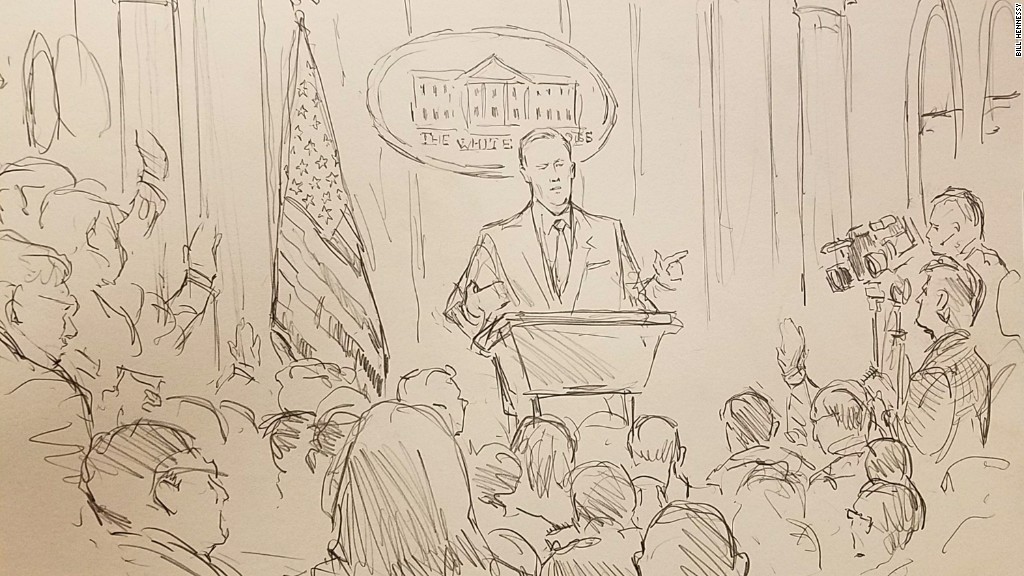 The president of Russia did it. So did the leaders of Britain, France, Germany, Canada, Turkey and Spain. Not President Trump.
The heads of state of at least a half dozen nations took reporters' questions at the conclusion of the G20 meeting in Hamburg, Germany on Saturday. Trump, however, did not hold a press conference.
It marked a major break with precedent. Former President Obama had a press conferences at each of the eight G20 summits he attended. So did former President George W. Bush in November 2008, as he did the four prior years after G8 meetings.
The president's unwillingness to take questions from reporters is part of an undeniable pattern during his first six months in office.
President Trump has continued the anti-journalism rhetoric that marked his campaign for office. And he has assiduously avoided questions from the White House press corps.
Related: Frank Rich says Trump's vitriol against the press is 'un-American'
During Trump's first trip abroad in May -- a nine-day excursion -- he didn't hold a single press conference. Back home, administration press officials have battled with reporters and Trump has limited himself largely to TV interviews and to brief Q&As during appearances with world leaders.
Trump did take questions from reporters on Thursday, during a stop in Warsaw, Poland, before the G20 summit started. He used the opportunity to publicly bash American journalists.
For a sitting U.S. president, that was an eyebrow-raising move. Trump's predecessors have typically used their trips overseas to showcase U.S. government priorities and policies.
Related: Other presidents boosted free press abroad; Trump bashes it
The G20 conference was Trump's most high-profile appearance on the world stage since becoming president. It included his first sitdown meeting with Russian President Vladimir Putin.
--CNN's Steve Brusk contributed to this report