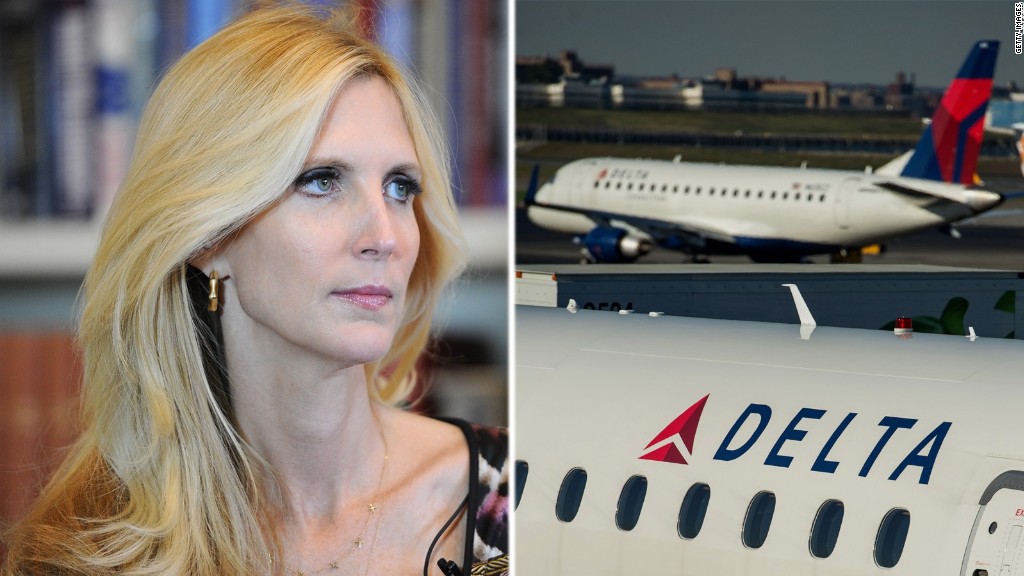 Delta Air Lines has hit back at what it called a "public attack" on its employees and customers by Ann Coulter, after the conservative pundit posted a series of angry tweets over an inflight seat mix-up she experienced over the weekend.
"We are disappointed that the customer has chosen to publicly attack our employees and other customers by posting derogatory and slanderous comments and photos in social media," Delta said in a statement on Sunday, further describing Coulter's behavior as "unnecessary and unacceptable."
Coulter tweeted at Delta (DAL) on Saturday -- apparently after her flight from New York's La Guardia airport to West Palm Beach, Florida, had landed -- calling it the "worst airline in America." She subsequently detailed how she was asked to move from a seat with extra leg room that she had "carefully chosen in advance and booked," posting a picture of the woman her seat was given to and targeting the airline's employees.
Delta said Coulter had originally booked a window seat in an exit row, but changed it to one in the aisle less than 24 hours before. The airline said it "inadvertently" moved Coulter during boarding, to another window seat in the same row "when working to accommodate several passengers with seating requests."
The airline said that while there was some confusion over seating assignments initially, all passengers complied with a flight attendant's request to move to the seats listed on their ticket. It was only when Coulter began tweeting on Saturday that Delta became aware of the issue, the airline added.
"Delta expects mutual civility throughout the entire travel experience," it said. "We will refund Ms. Coulter's $30 for the preferred seat on the exit row that she purchased."
Delta also said its customer care and social media teams tried reaching the political analyst several times to apologize, but did not hear back from her until Sunday evening.
Coulter continued her social media tirade well into Sunday night.
And she revisited the matter on Monday.