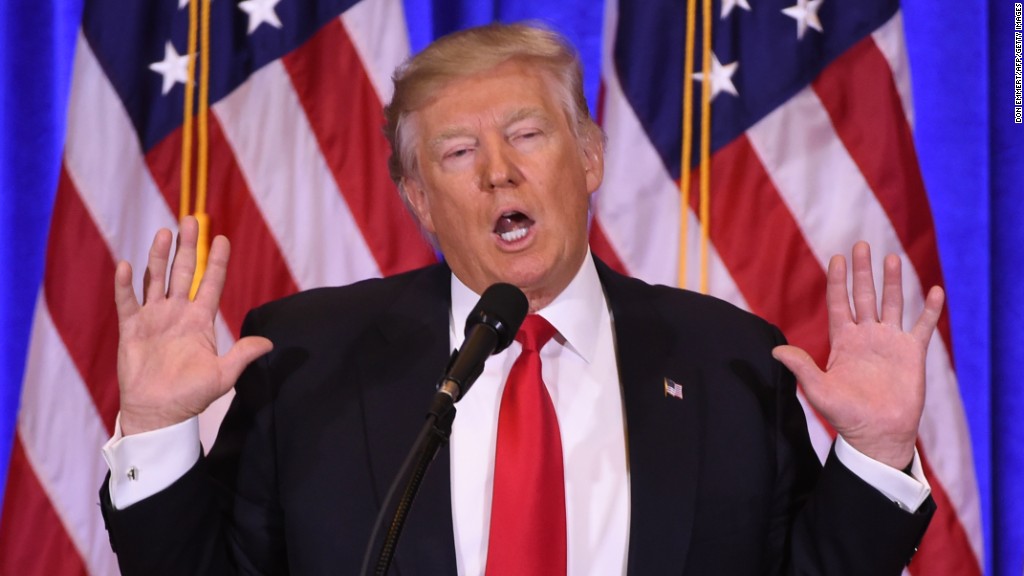 The U.S. dollar slumped against major currencies on Tuesday after Republicans abandoned their latest plan to repeal Obamacare.
The dollar index, which measures the greenback against a basket of currencies, dropped to its lowest level since August 2016 after it became clear that Republican leaders in the Senate did not have the votes to even begin debate on the legislation.
The collapse raises questions about the rest of President Trump's economic agenda.
"It seems markets are losing confidence that President Trump will be able to deliver on his promised plans," said FXTM strategist Hussein Sayed. "Six months in office and with no major legislation signed into law, it seems that the 'The Art of the Deal' hasn't worked so far in U.S. politics."
Related: What happens if Congress fails to repeal Obamacare?
The dollar's decline meant that it bought only 0.87 euros on Tuesday, its weakest level in nearly two years. It also dropped against the yen and Swiss franc. The dollar lost ground to the British pound in early trading, but then moved higher after new data showed a surprise fall in U.K. inflation.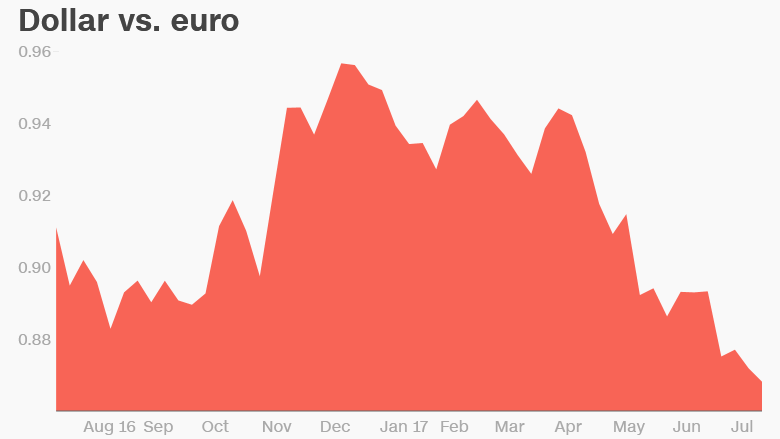 If Trump can't make progress quickly on other signature campaign promises such as a massive tax cut and increased spending on infrastructure, investors could react negatively.
"With tax reforms now likely to face huge uncertainties and economic data signaling [a] slowing economy, it will only be a matter of time before U.S. corporate earnings take a U-turn, thus ending the equities rally," said Sayed.
Americans pulled back spending across the board in June. Sales dropped at gas stations, grocery stores, department stores, restaurants and bars.
At the same time, consumer survey data show that confidence in the economy's future is cooling off after spiking following Trump's election.
Related: Americans are cutting back on spending
Central banks are also a factor in the dollar's moves. The Fed, which halted its bond purchases in 2014 and has more recently hiked rates, is now being joined by other central banks in rolling back stimulus. The European Central Bank, for example, is expected to begin tapering its program next year.
Kit Juckes, a strategist at Societe Generale, said the dollar is "looking tarnished not because there's anything very negative facing it but because the Fed is no longer alone in tightening monetary policy."
-- Correction: An earlier version of this story incorrectly stated how many euros one dollar now buys.