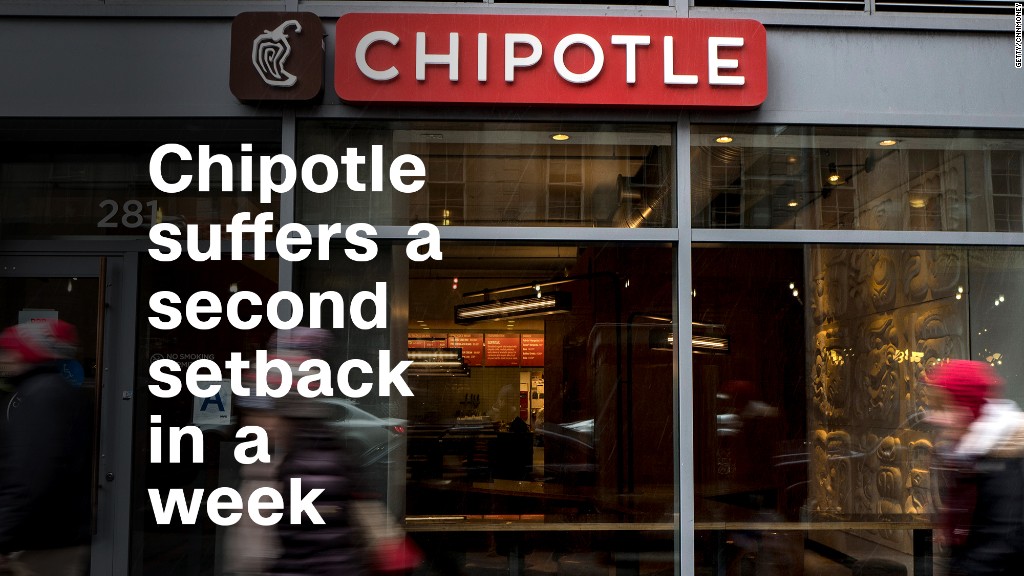 Chipotle's stock fell on Thursday as the company suffered another public setback: Customers complained that they saw rodents in a Dallas location.
"A few mice did get inside one restaurant from the outside due to a small structural gap in the building," Chipotle Mexican Grill (CMG) spokeswoman Quinn Kelsey said Thursday. "Management immediately removed them, and the gap has been repaired."
Diners took video of the mice skittering through the restaurant on Tuesday.
The stock was down 4.5% on Thursday and Chipotle (CMG)'s share price has dropped about 10% over the last five trading days.
"We've been in touch with our guests to offer our sincere apologies," Kelsey said. "This is an extremely isolated incident, but of course it's not anything we'd ever want our guests to encounter."
The chain has more than 2,200 restaurants in the United States.
The company on Wednesday said it had reopened and thoroughly sanitized a location in Sterling, Virginia, that had to be temporarily shuttered after people contracted norovirus or a similar illness after eating at the restaurant.
Hundreds of Chipotle customers were sickened by E. coli and norovirus in 2015 at about a dozen restaurants, prompting the chain's first quarterly loss and a nationwide four-hour shutdown for a companywide cleaning course.