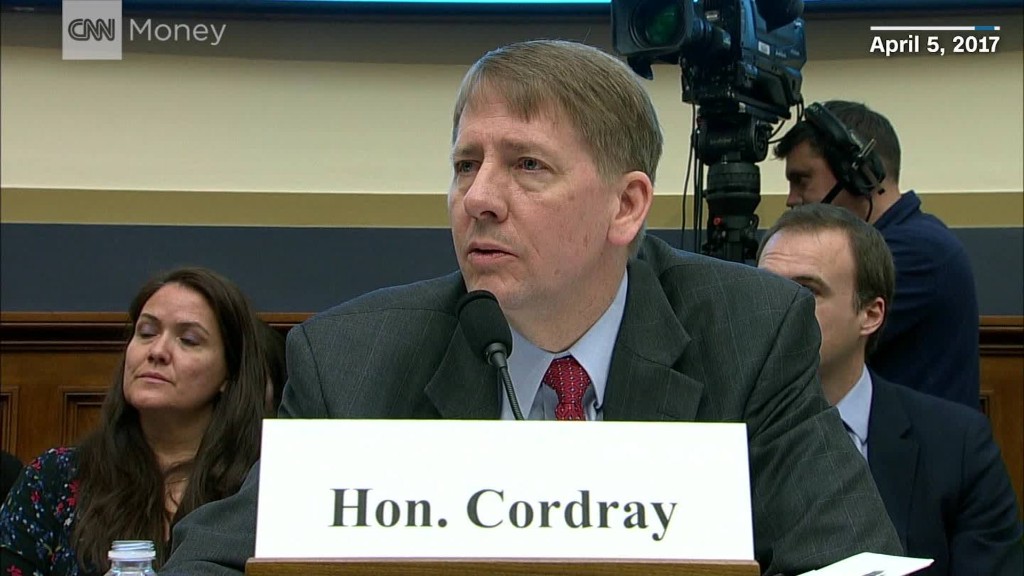 Republican lawmakers are moving ahead to undo a rule that would make it easier for Americans to sue their banks and credit card companies.
Senate and House lawmakers on Thursday separately unveiled bills that each proposes to overturn a recent rule by the Consumer Financial Protection Bureau, which blocks companies from using arbitration clauses to stop consumers from bringing class action lawsuits.
Wiping out the rule would affect tens of millions of Americans who often don't know they are covered by an arbitration clause when they sign up for a credit card, checking account or prepaid card.
Many companies tuck arbitration clauses into contracts as a way to resolve disputes outside the court system, making it harder for an individual to bring a case against a bank or credit card company.
Related: Americans are more willing to go into debt for experiences
Republican lawmakers argue the CFPB's own study shows consumers get more money in their pockets when they use arbitration as opposed to hiring expensive class action trial lawyers.
"It's time for Congress to intervene," said Rep. Blaine Luetkemeyer at a press conference introducing a House bill to overturn the rule. "We believe that this rule has devastating consequences to American consumers."
The average payout for consumers in a class action case is $32, while the average trial lawyer receives nearly $1 million, Rep. Jeb Hensarling, chairman of the House Financial Services Committee, told reporters, referencing the CFPB's study.
"It's clear if the CFPB rule takes effect, consumers will lose," he said.
Related: House GOP bill would give Trump greater power Wall Street regulation
David Mayorga, a spokesman for the CFBP said blocking group lawsuits would make it "nearly impossible for most consumers to get justice and relief for wrongdoing."
Rep. Maxine Waters blasted the move by Republicans, saying it was "outrageous" to wipe out a rule at the detriment of consumers.
"Republicans should think twice before taking away consumers' rights to be heard in a court of law," said Waters.
Lawmakers are using what is known as the Congressional Review Act, a legislative tool that can overturn any rule written by a federal agency within 60 days with just a simple majority vote in Congress.
So far, GOP lawmakers have used the mechanism 14 times this year to kill rules completed during the final days of Barack Obama's presidency.
Related: Read the fine print: 4 ways you sign away your rights
Last week, Richard Cordray, the current CFPB director who is an Obama appointee, said the clauses force people to "go it alone or give up."
"Our new rule will stop companies from sidestepping the courts and ensure that people who are harmed together can take action together," he said at the time the rule was unveiled.
Richard Hunt, the president of the Consumer Bankers Association, lauded the move to overturn the rule.
"The real benefactors of the CFPB's arbitration rule are not consumers, but trial lawyers who pocket over $1 million on average per class action lawsuit," said Hunt.
The new rule does not bar companies from including arbitration agreements outright in their contracts. But it does prevent them from using the clauses to block class action lawsuits, CFPB officials have said.