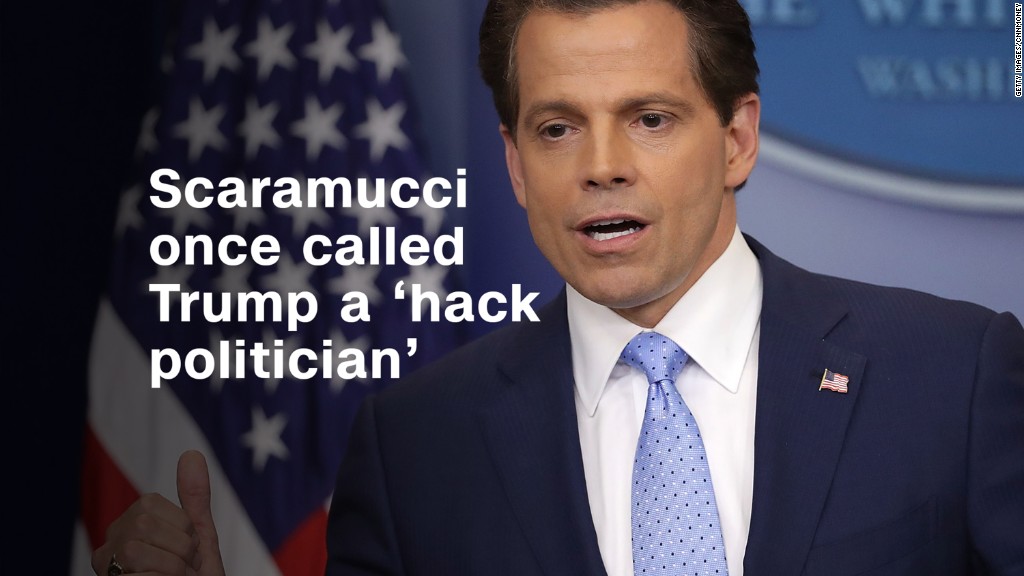 During the presidential campaign two years ago, Anthony Scaramucci called President Trump "another hack politician" who is "anti-American."
On Friday, at a press briefing after being named White House communications director, Scaramucci apologized.
"I should have never said that about him," Scaramucci said.
Scaramucci, whose appointment Friday was followed by the resignation of press secretary Sean Spicer, called the remarks about Trump "one of the biggest mistakes" he's made. He blamed it on his lack of political experience and support for another candidate.
Trump brings it up to him "every 15 seconds," Scaramucci joked. He added: "Mr. President, if you're listening, I personally apologize for the 50th time for saying that."
Scaramucci, who made his name in the hedge fund industry, made the original comments on Fox Business in August 2015 after Trump criticized "hedge fund guys paying nothing" in taxes.
"He's got a big mouth," Scaramucci said at the time. "You're an inherited money dude from Queens County. Bring it, Donald."
Scaramucci added that Trump is "probably going to make Elizabeth Warren his vice presidential nominee." He even asked if Trump could be a "Democratic plant for Hillary Clinton."
While many in America may not know Scaramucci, he is well known on Wall Street.
For years, he hosted a conference and extravagant party in Las Vegas for hedge funds called SALT, which has been attended by the likes of Will Smith, Bill Clinton, Kobe Bryant and Al Pacino.
Scaramucci has a knack for turning adversity into opportunity -- he was once fired and rehired by Goldman Sachs in the same year. And last year, once his preferred presidential candidates Scott Walker and Jeb Bush dropped out, Scaramucci threw his support behind Trump. That bet obviously paid off in spades. After the election, Scaramucci served on the executive committee of Trump's transition team.
Trump originally tapped Scaramucci to be a White House liaison with the business world, but that job fell through.
Related: Will stocks plunge if Trump's tax plan implodes?
Scaramucci, known as "The Mooch," has described himself as an "unapologetic defender of Wall Street." He co-hosted "Wall Street Week," a revival of the iconic business TV show, that airs on Fox Business.
In the finance world, he's best known for the SALT hedge fund conference in Vegas. The annual hedge fund party at the Bellagio, mostly a bipartisan affair, has given a stage to figures as diverse as Trump supporter Boone Pickens and former Obama adviser Valerie Jarrett.
To join Team Trump, Scaramucci agreed in January to cut ties with both SALT and his fund, SkyBridge Capital, which is being sold to a Chinese consortium.
The sale to a group led by China's HNA Capital was set to close by the end of June but is still pending.
"The close is proceeding and is going through customer regulatory approvals. We are confident it will close this summer," a SkyBridge spokeswoman told CNNMoney on Friday.
SkyBridge did not say which regulators are reviewing the transaction.
Related: Former ethics chief urges Trump to stop visiting his properties
Critics like Fusion columnist Felix Salmon say that Scaramucci's jump from finance to the White House is a "classic revolving door play."
Scaramucci must think he'll cash in once he gets back into the private sector because he'll be "covered in Trumpian fairy dust," Salmon said during a Slate podcast earlier this year.
"I just don't know that Trump fairy dust is going to be worth anything," Salmon said.
After graduating from Harvard Law School, Scaramucci got his start on Wall Street in 1989 in the investment banking division of Goldman Sachs.
Scaramucci said he was "absolutely terrible at the job" and was fired from Goldman in February 1991, according to an interview he gave to recruitment firm OneWire. But Scaramucci worked his network of contacts and ended up finding a job back at Goldman Sachs just two months later in the firm's sales division.
Trump, who held up Goldman Sachs as a symbol of the corrupt establishment during the campaign, now has a long list of Goldman veterans working for him.
In addition to Scaramucci, they include Treasury Secretary Steven Mnuchin, White House adviser Steve Bannon, top economic adviser Gary Cohn, and Dina Powell, who in March became a deputy national security adviser for strategy.
Scaramucci has pushed back against criticism over the Goldman hires.
"The idea that ever working for Goldman Sachs automatically makes you the devil is one of the most irrational conspiracies in modern society," Scaramucci said on Twitter.