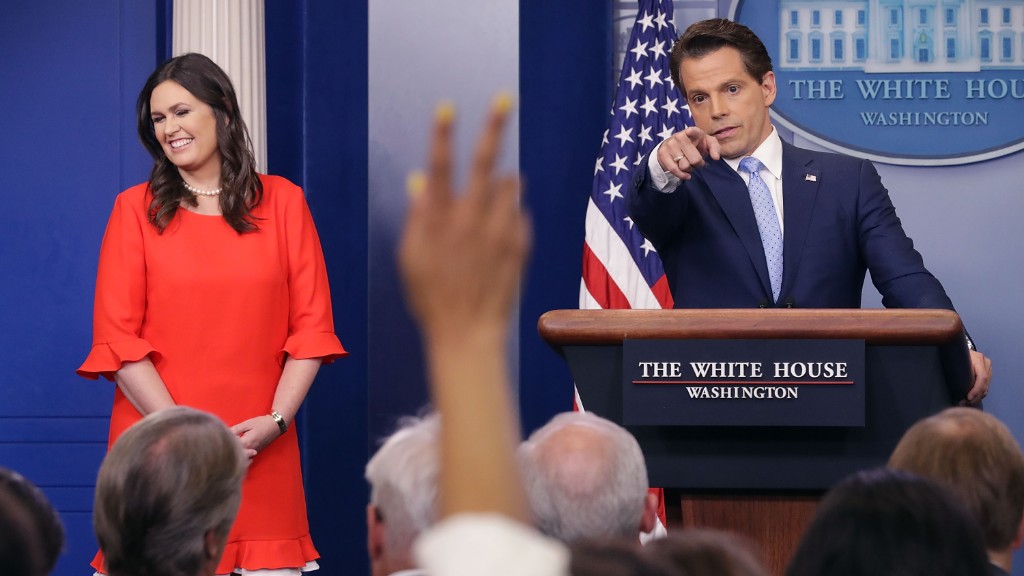 Newly-minted White House communications director Anthony Scaramucci told Politico on Tuesday that he planned to fire an assistant press secretary at the White House.
That was news to the staffer, Michael Short, who told CNN minutes after the story broke: "No one has told me anything."
Scaramucci has said that he would reshuffle the White House's press and communications operations in an effort to stem the flow of internal leaks and Scaramucci warned in the Tuesday Politico interview that he would continue to oust members of the White House's communications team until the leaks stopped.
"No one has told me anything and the entire premise is false," Short said Tuesday morning, referring to the Politico story that suggested his firing was tied to Scaramucci's efforts to root out leaks.
Early Tuesday afternoon, though, Short told multiple reporters that he had resigned.
At a gaggle with reporters late Tuesday morning, Scaramucci specifically pointed to the report of Short's possible firing as a reason that leaks need to stop -- even though he was reportedly the one who'd told Politico that Short would be fired.
"Let's say I'm firing Michael Short today. The fact that you guys know about it before he does really upsets me as a human being and as a Roman Catholic," Scaramucci said. "I should have the opportunity if I have to let somebody go to let the person go in a very humane, dignified way, and then the next thing... is help the person get a job somewhere, OK, because he probably has a family, right? So now you guys are talking about it, it's not fair. ... Here's the problem with the leaking, why I have to figure out a way to get the leaking to stop, because it hurts people."
The dismissal shed some light on how Scaramucci, a New York financier and trusted adviser to the president, will run the White House's communications and press outfits and how he might plan to handle the firing of staffers now under his purview.
Scaramucci has guaranteed job security to only three White House staffers involved in the White House's communications operations: newly-appointed White House press secretary Sarah Huckabee Sanders, director of strategic communications Hope Hicks and social media director Dan Scavino.
"As it relates to the other people in the comm shop, I've got to get to know them," Scaramucci said Friday in the White House briefing room, hours after he was tapped for his new post. "I got to get to know the people. They got to get to know me. Hopefully they'll like me and they'll want to stay and we'll see what happens."
Scaramucci has said in a series of interviews in recent days that he plans to take a hard line on leaks. In an interview with conservative radio host Hugh Hewitt on Tuesday he urged White House officials to "stop acting like Mean Girls."
"Just think about the extraordinary opportunity and the blessing that we have here to serve our country and serve our president. So if you're going to fight with each other and leak on each other, and say stupid things about each other in the corridor, maybe we can stop doing that, and stop acting like Mean Girls from the 2004 movie," Scaramucci told Hewitt.
In a statement released Tuesday afternoon, the White House said, "Today, White House Press Secretary Sarah Sanders accepted the resignation of Senior Assistant Press Secretary Michael Short. We are grateful for Michael's service and wish him well in his future endeavors."