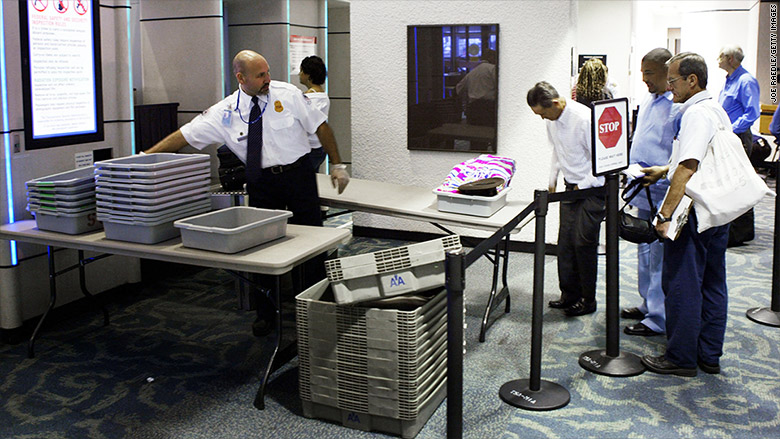 The Transportation Security Administration said on Wednesday it's boosting security measures by requiring any carry-on electronic larger than a cellphone to be screened separately at U.S. airports.
The new screening will apply to devices like e-readers, iPads, and tablets. As the new procedures are phased in, TSA officers will ask passengers to take out their small electronics and "place them in a bin with nothing on top or below" -- just like laptops have been scanned for years, the agency said in a statement on Wednesday.
TSA cited an "an increased threat to aviation security" as the reason for the move.
The new rule eliminates one benefit of leaving laptops at home and traveling with a tablet. In the past, travelers weren't required to fish out those smaller-sized electronics from their carry-on bags to be X-rayed.
Related: Qatar Airways still wants American Airlines despite rebuffs
In May, the TSA said it was going to test additional screening measures for tablets at 10 U.S. airports. That pilot program was successful and the agency said it plans to expand the rules nationwide "during the weeks and months ahead."
The agency added that the new rules apply only to "standard" screening lanes and not TSA pre-check fliers.
Some international fliers were thrown for a loop earlier this year after the U.S. banned laptops from the cabin on flights to the U.S. from 10 airports in eight countries in the Middle East and North Africa.
Related: U.S. expects to lift laptop ban soon for remaining flights
Officials cited fears that the devices could be used to smuggle explosives on board.
But earlier this month, U.S. officials resumed allowing laptops inside the plane for passengers coming from those eight countries, saying they had complied with new Homeland Security standards.
Department of Homeland Security Secretary John Kelly has been working to heighten security measures for U.S. fliers since late June, implementing new requirements for nearly 280 airports in more than 100 countries, TSA said Wednesday.