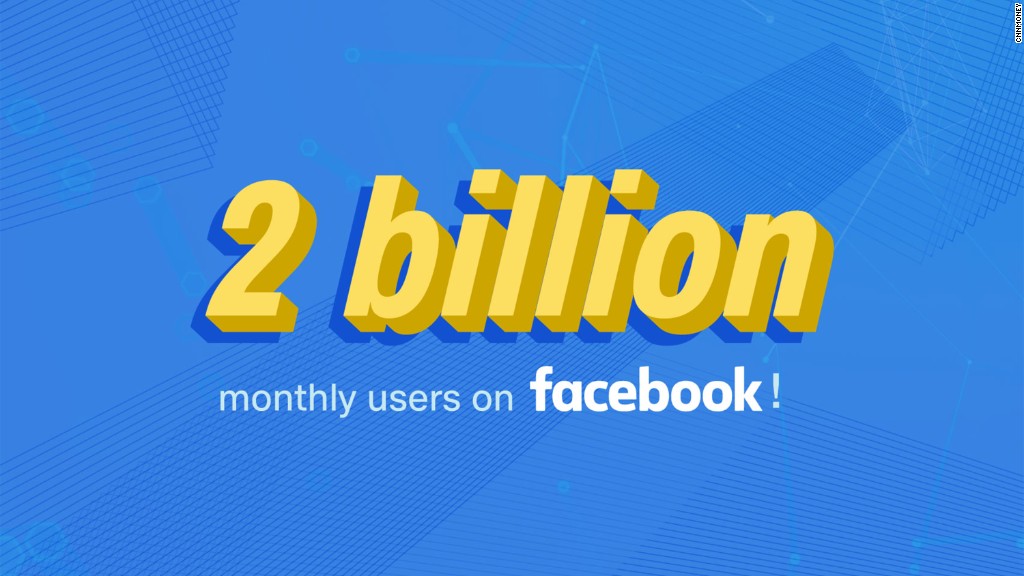 Facebook may be nearing middle age.
After enjoying a remarkable period of rapidly increasing revenue, Facebook's sales growth is finally starting to slow down.
Facebook (FB) on Wednesday revealed that its revenue is now growing at the slowest pace in nearly two years as it brushes up against a ceiling of how many ads it can show users.
Facebook posted revenue of $9.3 billion for the June quarter, up 45% from the same period a year earlier. For any other company, 45% growth would be a phenomenal result, but not Facebook.
The company enjoyed an impressive five consecutive quarters of sales booming 50% or more thanks to its tremendous success making money from ads on mobile devices. That streak ended earlier this year.
Now the question is how much more will it slow down.
Related: Facebook hits 2 billion monthly users
Facebook's CFO said in November the company expected to see its ad sales growth rate "come down meaningfully" in 2017.
It's not for lack of growth in its audience. Facebook announced hitting two billion monthly users during the quarter, putting it miles ahead of social media rivals like Twitter. But Facebook is reaching its limit for the number of ads it can place in those users' news feeds.
In the absence of limitless ad sales growth on Facebook proper, the company must now lean more on its other popular products. Those include apps like Instagram, WhatsApp and Messenger, two of which have more than a billion users.
Facebook has begun ramping up advertising on Instagram and Messenger, but has yet to disclose sales figures for either product.
On a conference call with analysts Wednesday, Facebook CEO Mark Zuckerberg said he'd like to see the company "move a little faster" in making money from Messenger in particular.
Investors had been bracing for even more of a slowdown ahead of the earnings report. Facebook stock ticked up 4% in after hours trading Wednesday.