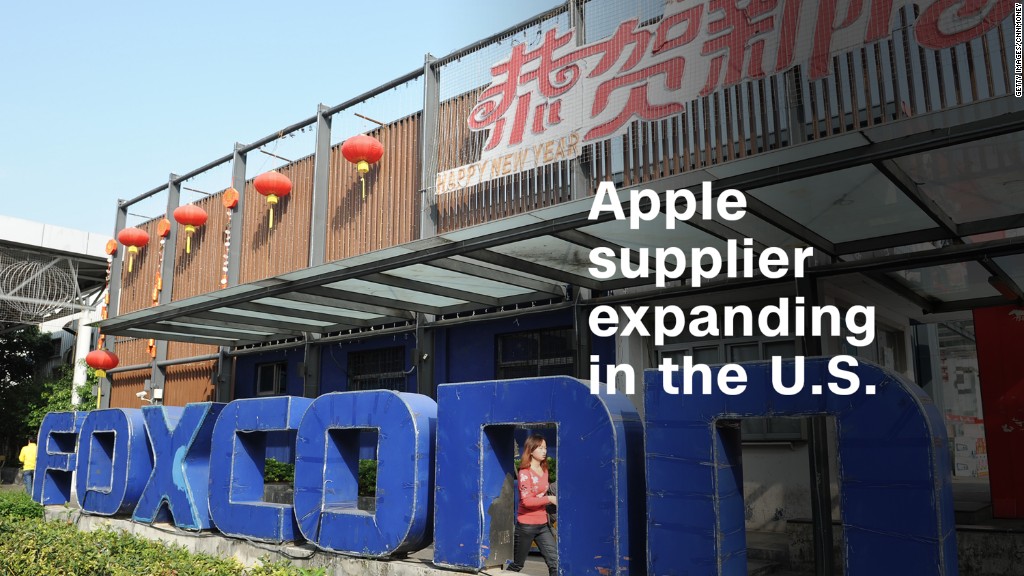 Foxconn, the Taiwanese manufacturer that makes electronics for Apple and other tech companies, is coming to Wisconsin.
The firm will invest $10 billion in Wisconsin to build a new manufacturing plant that produces LCD panels. The project will create 13,000 new jobs and should be completed by 2020, according to Wisconsin Gov. Scott Walker.
Foxconn's estimate on jobs was more conservative. In a statement, the company said the project will create 3,000 jobs with the "potential" to generate up to 13,000 new jobs.
Foxconn announced the investment from the White House. CEO Terry Gou was flanked by Walker, Vice President Mike Pence and House Speaker Paul Ryan. President Trump later joined them.
Walker and Ryan thanked Trump for his work on the deal.
"One thing we know about this president is how committed he is to reviving American manufacturing and bringing jobs home. This right here shows actual results," said Ryan, a Republican who represents Wisconsin.
Trump called Gou "one of the great businessmen anywhere in the world."
Shortly after President Trump's inauguration, Gou began teasing plans to invest more than $7 billion in a plant for producing displays, with the potential to create as many as 50,000 jobs.
However, Gou has been talking about shifting some manufacturing to the United States for several years, with little to show for it so far. In 2013, for example, Foxconn announced plans to build a $30 million plant in Pennsylvania. It has yet to be built.
Foxconn got some generous tax incentives for its Wisconsin venture. The state's deal for the new plant, which requires legislative approval, includes incentives totaling as much as $3 billion, Walker said. The details of the incentive package would be announced in the coming days, he said.
Walker said the investment could transform Wisconsin.
"We've named it Wiscon Valley," Walker told reporters at the White House. "It could be very much like Silicon Valley."
Foxconn had considered building the plant in Ohio, Michigan and Pennsylvania, among other states.
Foxconn currently has facilities in Virginia and Indiana, each of which employ fewer than 1,000 workers, according to its website.
The announcement may give Trump a victory as he looks to bring back jobs. Trump also said Tuesday in a Wall Street Journal interview that Apple CEO Tim Cook "promised" him the company plans to build "three big plants, beautiful plants" in the United States.
Apple has not commented about Trump's claim. It's unclear where such plants would be located, how many people they would employ and which products they would produce.
During the campaign, Trump said he would "get Apple to to build their damn computers and things in this country instead of other countries."
Trump echoed the sentiment shortly after winning the election, telling The New York Times it was his goal to "get Apple to build a big plant in the United States, or many big plants."
Foxconn grew into a powerhouse for electronics manufacturing for Apple, Microsoft, HP and others thanks to its ability to staff its factories with cheap labor in China.
At its peak, Foxconn employed more than one million people. Employees live on factory campuses and have been known to work far more hours for far less pay than would be acceptable under U.S. labor laws.
At times, Foxconn's workplace demands have resulted in worker riots and suicides. In fact, Foxconn installed nets outside buildings to catch workers trying to jump to their deaths.
It's also unclear if Wisconsin, or any state for the matter, can supply Foxconn with the thousands of skilled laborers it would need to manufacture electronics at scale.
--CNN's Jeff Zeleny contributed to this report.