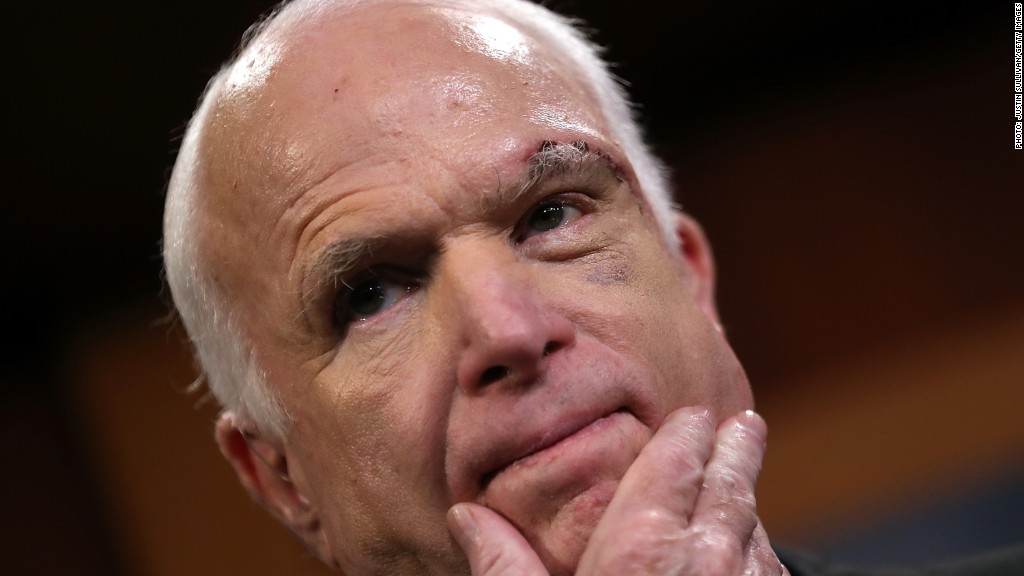 Senate Republicans failed at trying to pass a comprehensive plan to repeal and replace Obamacare. And on Thursday night, they failed to pass a slimmed-down package too, halting the party's years-long effort to dismantle the health reform law.
Lawmakers only had a few hours to consider the "skinny repeal" bill before voting on it. The legislation would have unwound parts of Obamacare in hopes of winning the approval of at least 50 of their members. Senators would have then hammered out a final bill with the House in a conference committee.
This repeal bill, however, could have wrecked the individual market, said insurers, doctors, consumer advocates and health policy experts. Repealing key provisions of Obamacare without replacing them could cause insurers to flee and premiums to rise.
The Congressional Budget Office estimated that 15 million more people would be uninsured than under Obamacare in 2018, and that figure would grow to 16 million in 2026. Premiums would jump 20% next year, compared to current law.
Here's what was in the "skinny repeal" bill:
Repeal the individual mandate: Say goodbye to the requirement that nearly every American have insurance or pay a penalty. Republicans have long sought to get rid of the mandate, one of Obamacare's least popular provisions. The "skinny repeal" bill sets the penalty at $0, effectively repealing the rule.
Both the bill passed by the House and the Senate's original repeal and replace legislation would also eliminate the individual mandate. But they each contained incentives for Americans to remain continuously insured, which is crucial for the health of the market.
The "skinny repeal" bill doesn't, prompting the two leading insurance industry lobbying groups to warn that premiums could rise and insurers could drop out of the market if the individual mandate is not replaced.
Related: Health care debate: Turmoil in Senate as Republicans threaten 'skinny bill'
Get rid of the employer mandate for eight years: Companies would not have to provide affordable insurance for a minimum of eight years.ƒf
Under Obamacare, employers with 50 employees or more were subject to the mandate. If they didn't provide affordable coverage, they could face stiff penalties. The "skinny repeal" measure would eliminate the penalties.
Both the House legislation and earlier Senate bill would repeal the employer mandate permanently.
Provide greater flexibility to the states through waivers: Obamacare changed the way insurers do business, banning them from discriminating against people with pre-existing conditions and requiring them to cover 10 essential health benefits, including maternity and mental health. These regulations pushed up the cost of coverage.
The "skinny repeal" bill would give states more flexibility in implementing some of these regulations, including the essential health benefits and the out-of-pocket spending limit. Just what that would mean for consumers is a little unclear. States must make sure their waivers don't cause people to become uninsured, benefits to be curtailed or coverage to be less affordable. But the waivers last eight years and once granted, the federal government can't terminate them -- even if they have a negative impact on state residents.
States, however, cannot waive the rules that ban insurers from rejecting consumers or charging them more because they have a pre-existing condition.
The House bill and Senate's original legislation would ease the ability of states to waive several of these provisions. The House would allow states to waive Obamacare's community rating measure, which would let insurers base premiums on enrollees' medical histories if they let their coverage lapse, and the essential health benefits rule. The Senate limited its waivers mainly to the essential health benefits requirement.
Waiving Obamacare's regulations is key to reducing premiums -- for younger and healthier consumers, at least. They would likely be able to get cheaper policies, though they would cover less and require enrollees to pay more out of pocket for care. Older Americans and those with pre-existing conditions would likely see their premiums rise and their policies become less comprehensive.
However, the Senate parliamentarian recently ruled that the Senate's waiver provision runs afoul of the chamber's rules to pass a bill by a simple majority.
Defund Planned Parenthood and provide the funds to Community Health Centers: The "skinny repeal" bill would eliminate funding for Planned Parenthood and some similar providers, while giving more money to Community Health Centers.
The defunding of Planned Parenthood is a controversial provision in the House and Senate repeal and replace bills. Moderate Senators Susan Collins of Maine and Lisa Murkowski of Alaska have said they don't support the measure. The parliamentarian said the original bill -- which just applied to Planned Parenthood -- did not adhere to the Senate's rules for reconciliation, though the "skinny bill" could broaden the impact to additional providers.
Both the House bill and the Senate's original bill would inject $422 million into community health centers -- which care for 25 million low-income patients at more than 1,400 centers -- for fiscal 2017. The "skinny repeal" bill provides the same amount.
But left-leaning advocates say that these centers would not be able to make up for the loss of Planned Parenthood, which provides targeted sexual and reproductive health care services to 2.4 million Americans at more than 600 locations.
Eliminates the medical device tax for three years: The 2.3% tax on medical device manufacturers was opposed by members of both parties. It was in effect for three years before being suspended for 2016 and 2017.
The "skinny repeal" bill would repeal it for three years. The House and original Senate bills would have gotten rid of it completely.
Increase contribution limit to Health Savings Accounts: The "skinny bill" will allow people to sock away more money in Health Savings Accounts for three years.
Republicans are big fans of HSAs, but they are mainly used by wealthier Americans who can afford to save for future health care bills. Both the House and original Senate bills would increase the contribution limit.
Related: Insurers are not loving Senate's 'skinny repeal' plan
Eliminate the Prevention and Public Health Fund: Republicans in both chambers would eliminate support for the Centers for Disease Control and Prevention's Prevention and Public Health Fund. It provides the CDC with about $1 billion annually, or about 12% of the agency's budget.
The fund's mission is to invest in programs that improve health and help restrain the growth in costs. It supports the prevention of heart disease, strokes, diabetes and lead poisoning, as well as the promotion of immunizations, mostly through grants to states and local programs, according to the CDC.
Critics, however, say it's a slush fund that has been spent on Zumba classes and massage sessions.
Here's what the bill would not have done:
Touch Medicaid: Both the bill that passed the House and the Senate's original repeal and replace legislation called for cutbacks in federal support for Medicaid. They would wind down enhanced federal funding for Medicaid expansion and would send a fixed amount of money to states for the overall program.
Medicaid funding is at the center of the battle between conservatives and moderates in both chambers. It was among the main reasons the more comprehensive repeal bill died in the Senate.
However, the CBO estimates that 7 million fewer people will be covered under Medicaid in 2026, and the federal government would spend $235 billion less on the program over a decade. This may be largely because fewer people would sign up if the individual mandate were eliminated, said Joan Alker, executive director of Georgetown's Center for Children and Families.
Eliminate taxes on the wealthy and others: Republicans have been itching to shed Obamacare's taxes on the rich, insurers, medical device manufacturers and others.
Both the House and original Senate bill would have jettisoned these levies, though a later iteration of the Senate bill would have kept the taxes on the wealthy.
Change the federal subsidies: Under Obamacare, low- and moderate-income Americans can qualify for federal subsidies to help them pay their premiums. Also, low-income consumers can get additional subsidies that reduce their deductibles and out-of-pocket payments.
Both the House and Senate repeal bills would change the premium subsidy structure. The House bill would base payments on age, with an income cap. The original Senate repeal and replace legislation would continue to calculate subsidies on income and cost of coverage in one's area, but it would be less generous for many folks than Obamacare's payments.
Both chambers would eliminate the subsidies that lower deductibles and out-of-pocket costs.