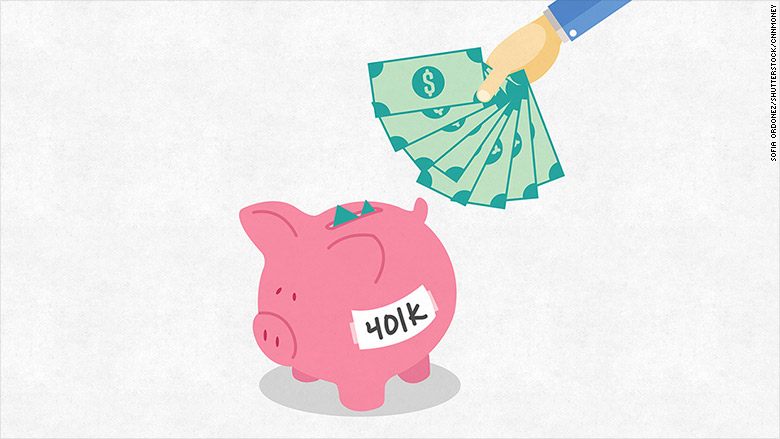 Have a case of the Mondays?
Never fear: CNNMoney is here with the latest tips on how to save. And if having more money in your wallet doesn't put a smile in your face, we don't know what will.
ABOUT YOUR 401(K)...
Lawmakers are hatching a tax plan that could impact your 401(k). At least, that's what some people in the industry are worried about.
Right now, the money you put in your 401(k) isn't taxed when you make the contribution. It's when you start taking funds out in retirement that your withdrawals are taxed as regular income.
But lawmakers may consider treating some or all of your future 401(k) contributions as taxable income the year you make them.
Here's why: Republicans in Congress are gearing up to fight for lower tax rates and if they need to find a way to pay for those cuts, one solution is taxing you on your retirement savings up front.
EASY WAYS TO SAVE
If you feel like saving is hard, you're not alone. Last year, GOBankingRates reported that 34% of U.S. adults have no savings at all.
Luckily, there are plenty of ways to start saving $300 a month, without making yourself completely miserable.
The easiest place to start: Stop eating out so much. Bringing your lunch to work can add up to hundreds of dollars saved a month.
JOB HUNTING? AMAZON IS HIRING
Looking for a new job? Good news: Amazon plans to make thousands of job offers this week.
The company said it would hire for 50,000 open positions, including tens of thousands of full-time posts, at 10 of its fulfillment centers across the U.S. during an August 2 job fair.
YOU GOT THE JOB! BUT THE SALARY STINKS
Research shows that your salary straight of college sets the tone for the rest of your career. Negotiating is challenging, so CNNMoney collected some tips on how to ask for the money you want:
1. Stop worrying. Your new job offer isn't going to go *poof* because you want to negotiate.
2. Do your research. Determine your value based on facts, not feelings.
3. Be prepared to back down.
THE CASE FOR BIGGER SEATS
Are small airline seats a safety hazard? The FAA has been ordered to investigate.
The FAA will review seat sizes and legroom on commercial airlines after an advocacy group claimed that smaller airline seats are actually a safety hazard, putting passengers at risk.
In other airline news, the U.S. will face a staggering shortage of pilots over the next two decades. Without enough pilots, the amount airlines can fly will be capped. That could wreak havoc on air travel, grounding planes and reducing air service to certain cities.