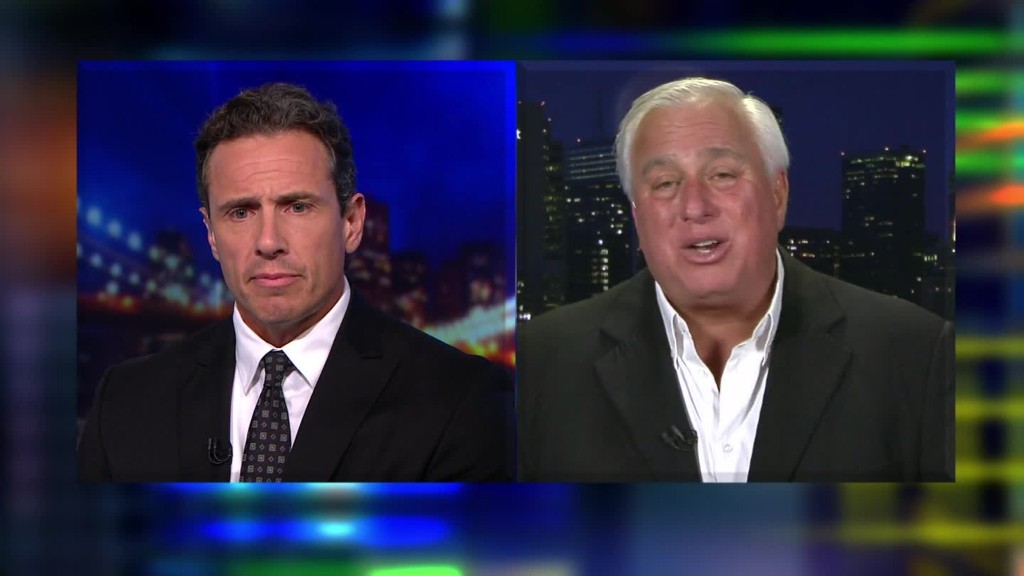 The White House worked with Fox News and a wealthy Republican donor to concoct a story about the murder of Democratic National Committee staffer Seth Rich, according to an explosive lawsuit filed Tuesday.
The story, the lawsuit said, was part of an attempt to discredit the US intelligence community's determination that Russia hacked the Democratic National Committee and obtained a trove of emails released by Wikileaks.
For months, right-wing conspiracy theorists had floated unproven theories that Rich was the person who provided Wikileaks with the DNC emails, and suggested his death was retribution for his supposed leak. No real evidence was ever provided to support such claims.
The theory, however, resurfaced in May when Fox News published a story that quoted Rod Wheeler, a Fox News contributor and former homicide detective hired on the Rich family's behalf by wealthy Republican businessman Ed Butowsky to investigate Rich's death. According to the story, Wheeler said there was in fact evidence showing Rich had been in contact with Wikileaks. The story quickly fell apart when Wheeler contradicted aspects of it in an interview with CNN. Fox News eventually deleted it from its website, saying in a note left in its place that it failed to meet the network's editorial standards.
Related: Story on DNC staffer's murder dominated conservative media -- hours later it fell apart
Now Wheeler, in his lawsuit, which was first reported by NPR, is coming forward with what he claims is the backstory: Fox News reporter Malia Zimmerman, with the "knowledge and support" of Butowsky, fabricated a pair of quotes attributed to Wheeler. It was all part of an effort to distract from the Russia narrative, the lawsuit said.
"Zimmerman, Butowsky and Fox had created fake news to advance President Trump's agenda," said the lawsuit, which named 21st Century Fox, the Fox News Channel, Zimmerman, and Butowsky as defendants. "Mr. Wheeler was subsequently forced to correct the false record and, as a result, lost all credibility in the eyes of the public. Mr. Wheeler has suffered irreparable damage to his reputation and his career will likely never recover."
Related: Read the full lawsuit
Moreover, the lawsuit said, the White House was aware of the Fox News story ahead of publication.
According to the lawsuit, then-White House press secretary Sean Spicer met with Butowsky and Wheeler, was provided Wheeler's investigative notes, and "asked to be kept abreast of developments" with the case.
"Ed is [a] longtime supporter of the president's agenda who often appears in the media," Spicer said in an email to CNN. "He asked for a 10 minute meeting, with no specified topic, to catch up and said he would be bringing along a contributor to Fox News. As Ed himself has noted, he has never met the President and the White House had nothing to do with his story."
Asked by CNN for confirmation that Rich had been discussed during that meeting, Spicer responded, "They told me they were working on a story about him and wanted me to be aware of it -- that was it."
Previously, Spicer appeared to deny he had knowledge of the Rich story. During a May 16 gaggle with reporters, he was asked for reaction to Fox News' story on the matter.
"I don't -- I'm not aware of -- generally, I don't get updates on DNC -- former DNC staffers," Spicer said. "I'm not aware of that."
Spicer did not respond to an email from CNN about the apparent discrepancy between what he said in May and his statement Tuesday.
At a press briefing Tuesday, White House press secretary Sarah Huckabee Sanders told reporters, "The president had no knowledge of the story and it's completely untrue that he and the White House were involved."
Huckabee Sanders added at the end of the briefing that she was "not sure" whether Trump believes Rich leaked emails to Wikileaks.
But the lawsuit tells a different story. In addition to noting Spicer met with Butowsky and Wheeler, it included a text message from Butowsky to Wheeler which said, "Not to add any more pressure but the president just read the article. He wants the article out immediately. It's now all up to you. But don't feel the pressure."
Moments before sending that text message, according to the lawsuit, Butowsky also left a voicemail for Wheeler in which he said, "A couple minutes ago I got a note that we have the full, uh, attention of the White House on this. And, tomorrow, let's close this deal, whatever we've got to do. But you can feel free to say that the White House is onto this now."
When Wheeler called Butowsky after Fox News published its story and "demanded an explanation for the false statements" attributed to him, the lawsuit said, Butowsky told him the quotes were included because it was the way Trump wanted the article.
Butowsky told CNN that "the lawsuit is bulls**t" and said Wheeler's lawyer "pulled this out of his butt to make money." He said this message was a joke referring to what he said was Wheeler's desire for a job with the Trump administration.
"This was Rod and I," said Butowsky, who stressed he has never met with the president. "We teased all the time. We were basically telling him you are doing a great job and that the president or the White House or somebody would be interested in meeting you."
Butowsky has maintained he had only hired Wheeler to look into Rich's death in hopes the case could be solved, giving the Rich family some closure.
"As it turned out, Butowsky and Zimmerman were not simply Good Samaritans attempting to solve a murder. Rather, they were interested in advancing a political agenda for the Trump Administration," the lawsuit said.
To advance this political agenda, Butowsky went as far as sending talking points about Fox News' own story to Fox News on-air talent, the lawsuit said. It included a description of an email that it said Butowsky sent regarding Zimmerman's story to "various Fox News producers and on air talent," including the co-hosts of the network's morning show, "Fox & Friends." According to the lawsuit, the email read, in part, "One of the big conclusions we need to draw from this is that the Russians did not hack our computer systems and ste[a]l emails and there was no collusion like trump with the Russians."
No proof was offered in the lawsuit that the producers or hosts saw or acted upon this email. But the next morning, "Fox & Friends" did echo parts of this message.
Related: The wealthy Republican donor at the center of explosive Fox News lawsuit
The lawsuit additionally included claims of racial discrimination by Fox News against Wheeler. It said Wheeler's white colleagues had "received more air time, made more appearances and been hired into full time positions." Wheeler's career, the lawsuit said, had "remained stagnant for 12 years despite his repeated requests to be hired full time." The lawsuit said all of this reflected a "systemic practice" on behalf of Fox News of "discriminating against people of color."
Jay Wallace, Fox News' president of news, said in a statement provided to CNN that the "accusation that FoxNews.com published Malia Zimmerman's story to help detract from coverage of the Russia collusion issue is completely erroneous."
"The retraction of this story is still being investigated internally and we have no evidence that Rod Wheeler was misquoted by Zimmerman," Wallace said. "Additionally, FOX News vehemently denies the race discrimination claims in the lawsuit — the dispute between Zimmerman and Rod Wheeler has nothing to do with race."
Fox News retracted the story more than two months ago.
Wheeler declined to comment to CNN, saying he could not "disclose more details" than what was already available in his lawsuit.
Related: Family of slain DNC staffer demands retractions from Fox News, local TV station
In a statement provided by their spokesperson, the Rich family said, "While we can't speak to the evidence that you now have, we are hopeful this brings an end to what has been the most emotionally difficult time in our lives, and an end to conspiracy theories surrounding our beloved Seth."
Xochitl Hinojosa, the communications director for the DNC, said if the allegations in the lawsuit are true "it is beyond vile that the White House -- and possibly even Trump himself -- would use the murder of a young man to distract the public's attention from their chaotic administration and Trump's ties to Russia."
"The Rich family has begged those responsible for these conspiracies to stop. And yet, Trump's allies have ignored their pain and their pleas, degrading the office of the president by spreading repulsive lies," Hinojosa said. "This should outrage any decent human being. There is no excuse for the suffering that Trump's associates and their conspirators at FOX have caused the Rich family and those closest to him. Both parties should denounce these sick and twisted tactics."