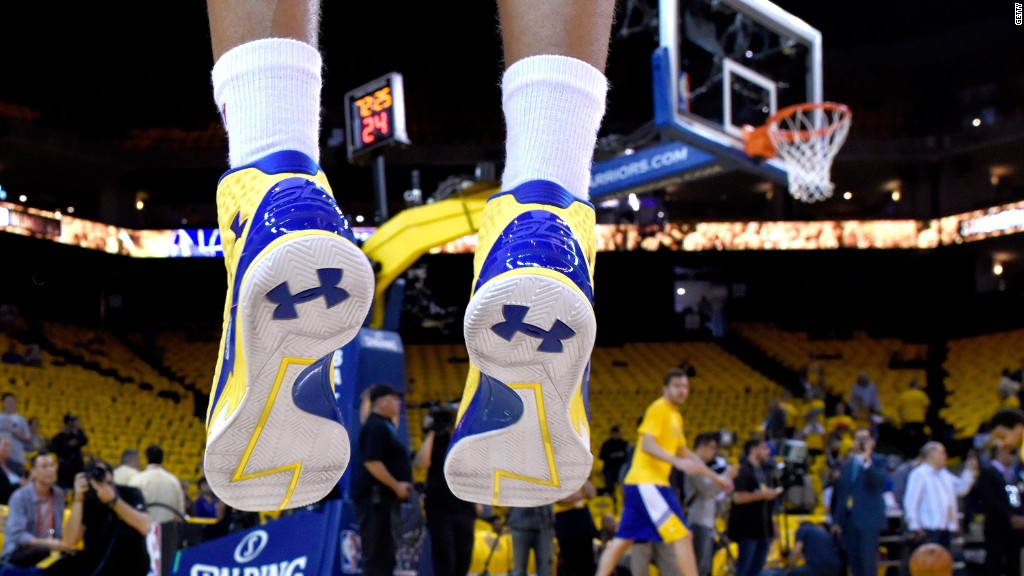 Even Steph Curry can't stop the retail swoon.
Under Armour said Tuesday it would cut about 280 jobs, or 2% of its workforce, after reporting slower-than-expected sales in its second quarter and recasting revenue projections.
The sportswear company, known for its Curry-branded shoe line and other big-name athlete endorsements, says it expects net revenue to grow between 9% and 11% this year. That's lower than its initial forecast of 11% to 12% growth.
Under Armour (UA) said slow sales in the U.S. contributed to its revised forecast. Revenue outside of North America was up 57%, but just 0.3% in North America.
Related: Will Under Armour get a Steph Curry bump again?
The company also reported a net loss of $12.3 million. Although that's less than the $52.6 million loss it reported during the same quarter last year, last year's loss was driven entirely by a settlement with shareholders. The company otherwise would have reported a profit a year ago.
Under Armour has been trying to claw its way back from a bad 2016 when its stock dropped nearly 30% because of weak sales.
The sports apparel industry, like other retailers, has been hit hard in recent years. Sports Authority, a national sporting goods retailer, went out of business last year. And Nike, a direct competitor, said in June that it would eliminate about 2% of its workforce.
Anthony Riva, an analyst at GlobalData Retail, said there are some positives for Under Armour. He said the company's restructuring plan should help make it leaner and more efficient.
"However, this will take both time and money to implement," Riva said. "So, we see things getting worse before they get better."
About half of the job cuts will come from the company's Baltimore, Maryland headquarters, according to a spokeswoman.
Under Armour stock was down around 7% Tuesday morning after the results were announced.