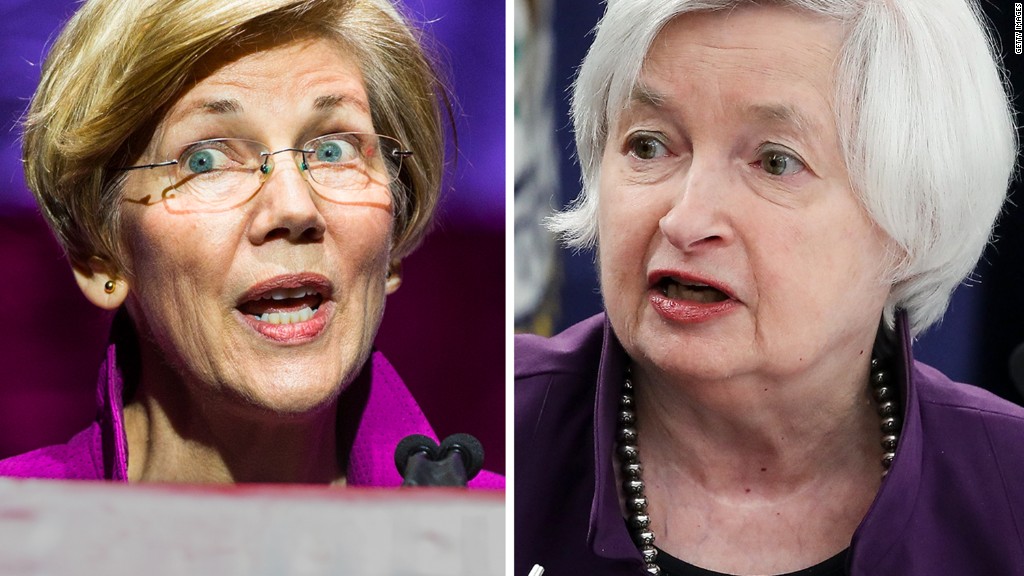 Wells Fargo is once again in hot water with the government -- this time for forcing auto insurance on thousands of borrowers.
A New York regulator subpoenaed two Wells Fargo divisions Tuesday, demanding the big bank turn over loan agreements and other documents related to the auto insurance scandal, a person familiar with the matter told CNNMoney.
Wells Fargo (WFC) has until August 22 to provide the information to the New York Department of Financial Services, the source said. News of the subpoenas was first reported by Reuters.
Separately, Senator Elizabeth Warren and several other Democrats have called for new Wells Fargo hearings. In a letter to Republican Senate Banking Committee Chairman Mike Crapo, the Democrats requested a September hearing with Wells Fargo CEO Tim Sloan and Chairman Stephen Sanger. Crapo's committee did not respond to a request for comment from CNNMoney.
Senate Democrats also wrote a letter to Wells Fargo demanding the bank answer a series of questions about the new scandal. The lawmakers linked the auto insurance problem to the scandal that rocked Wells Fargo last year over the opening of millions of potentially unauthorized accounts.
The government pressure comes after Wells Fargo apologized last Friday for forcing as many as 570,000 customers to pay for car insurance they didn't need. An internal review by Wells Fargo found that about 20,000 of those customers may have defaulted on their car loans or had their vehicles repossessed in part because of these unnecessary insurance costs.
Related: Wells Fargo may have forced 570,000 customers into unneeded insurance
Unlike most big banks, Wells Fargo's auto loan contracts allowed the lender to obtain insurance on a customer's behalf if they failed to buy it themselves. Wells Fargo admitted that it bought insurance for some customers -- and charged them for it -- even when they had their own.
Wells Fargo blamed the faulty charges on "inadequate" checks and balances at the bank, and a flawed system by the company that handled the insurance policies. A person familiar with the matter identified that insurance company as National General (NGHC).
Most big banks do not force auto insurance on borrowers. JPMorgan Chase (JPM), Bank of America (BAC), PNC Financial (PNC) and Santander Consumer USA told CNNMoney they don't place borrowers into auto insurance.
Wells Fargo has said it suspended the insurance program in September 2016 and the bank takes "full responsibility for our failure." Wells Fargo also agreed to pay $64 million in cash refunds to customers, on top of $16 million in account adjustments.
Related: Elizabeth Warren begs Janet Yellen to go after Wells board
Still, the New York regulator is now searching for answers about how this latest scandal happened at Wells Fargo.
The subpoenas demand Wells Fargo turn over loan contracts with New York borrowers, financing agreements with auto dealers, insurance agreements and documents explaining how and when the bank learned of this problem, the source told CNNMoney.
The New York Department of Financial Services sent a separate request for information to National General, the insurance company.
Wells Fargo and the New York regulator declined to comment on news of the subpoenas. National General did not respond to a request for comment. The insurer previously said it "feels confident with its compliance in this highly regulated industry."
The auto insurance scandal appears to be unnerving some Wells Fargo investors. While other banks have climbed in recent days, Wells Fargo shares have retreated about 2% since the New York Times first broke the news late on July 27.