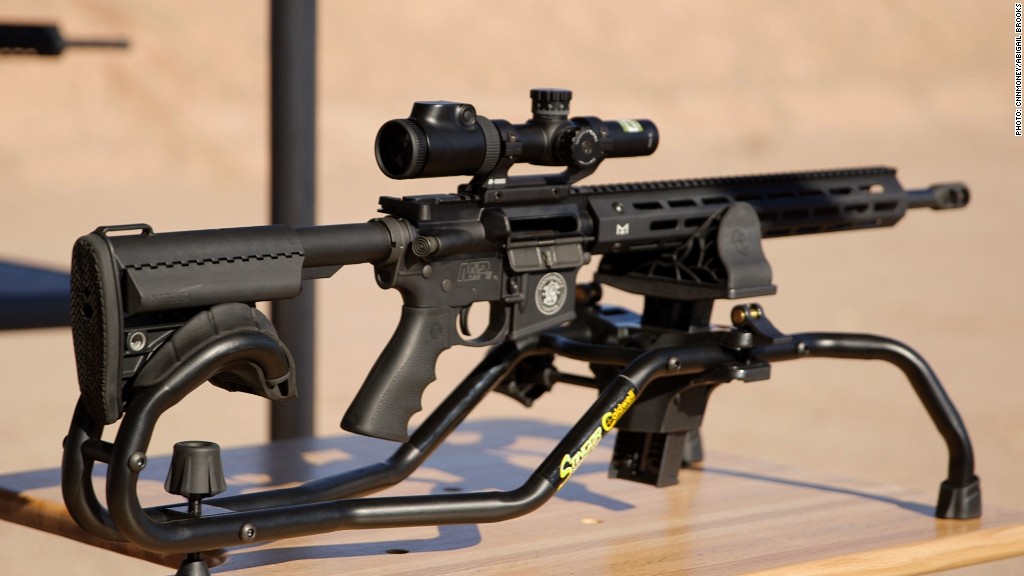 President Trump is still taking a toll on the gun industry.
Sturm Ruger (RGR), one of the most prominent gun makers in America, says gun sales plunged 21% last quarter and profit was cut in half. Its stock fell 10% on Thursday.
And the CEO of Cabela's (CAB), which sells guns and outdoor products, blamed slow gun sales since the election for his company's weak earnings. Cabela's, which is being acquired by Bass Pro Shops, said quarterly revenue was down 4% from the year before, and same-store sales dropped almost 10%.
Gun makers and sellers favored Trump for president, as did the National Rifle Association. But people stocked up on guns and ammunition because they expected, or at least feared, that Hillary Clinton would win and seek tighter gun control.
Related: How President Trump is bad for the gun industry
But she didn't win, and gun sales began dropping the next day.
Ruger CEO Christopher Killoy said stores that sell guns were left with inventory they couldn't get rid of.
"I think there was a big hangover coming out of the election cycle that had to be worked off," he said on a conference call with analysts.
Cabela's may have fared better because it sells many things other than guns. It also sells camouflage, hunting blinds and deer feeders, and hiking and camping gear.
Larry Keane, senior vice president and general counsel for the National Shooting Sports Foundation, an industry group, said 2017 should still be the second-biggest year on record for gun sales, after 2016.
Gun sales climbed year after year during the Obama administration. Sales particularly jumped after mass shootings, including the deadliest mass shooting in American history at the Pulse nightclub in Orlando, Florida, in June 2016.