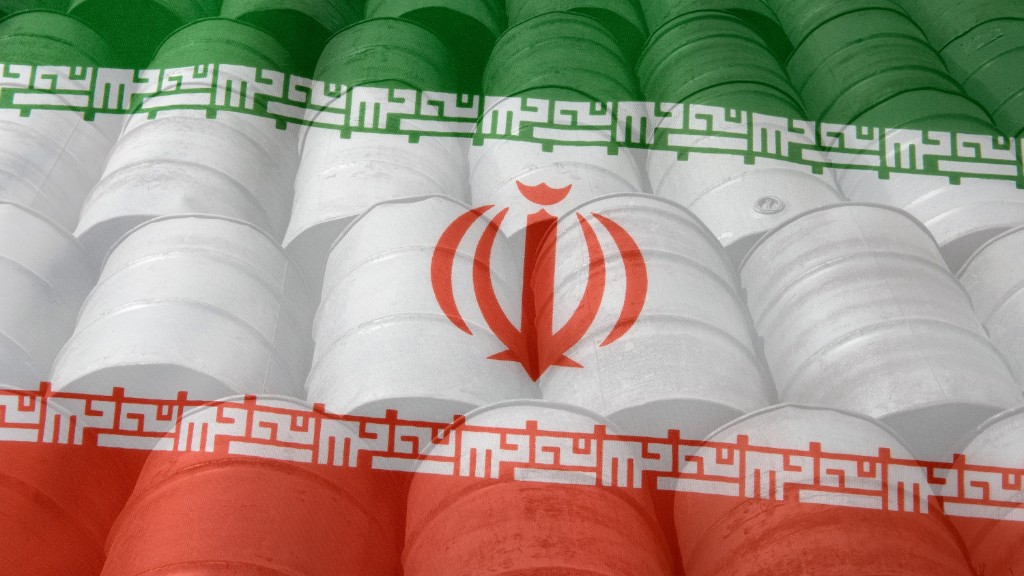 Iran hoped that agreeing to curtail its nuclear program would encourage foreign firms to pour tens of billions into the country.
But a flood of major investment has not materialized -- and that's largely because of the United States.
More than two years have passed since Iran signed a landmark nuclear agreement with six world powers including the U.S. The deal allowed Tehran to get a handle on rampant inflation that resulted from years of crippling sanctions, and the country has dramatically boosted its oil production and exports.
Iran has been certified as being in compliance with the nuclear deal.
But foreign companies are still reluctant to invest because they fear the agreement could collapse.
"The train has left the station but its not moving at the pace that people expected," said Raul Heraud, head of financial services at strategic advisory firm Solidiance. "It is important to have a clear picture in terms of strategy of entering the market."
The U.S., which kept other sanctions on Iran in place even after the nuclear deal was signed, is the source of much of the investor anxiety.
President Trump has long promised a tough line on Iran -- including calls on the campaign trail to tear up or renegotiate the nuclear agreement, which he has described as "the worst deal ever."
On Wednesday, Trump signed into law new sanctions that target individuals associated with Iran's ballistic missile program. Tehran responded by saying the measures are designed to derail the 2015 nuclear agreement.
A trickle not a flood
Iran sits on 9% of the world's proven oil reserves and 18% of the planet's natural gas, according to data from BP (BP). And there has been a smattering of promising investments in the sector.
French oil giant Total and state-owned China National Petroleum Corporation last month signed a multi-billion dollar deal to further develop Iran's giant South Pars gas field. It was the first major Western investment since sanctions were eased.
"European oil and gas companies are still at the front of the queue. They are preferred by Iran for their technical and financial capabilities," said Homayoun Falakshahi a senior research analyst at Wood Mackenzie. "The latest sanctions are slowing things down but not stopping interest from companies."
European firms may feel more confident because of the position of the European Union, which said last month that it would "stay committed in preserving and implementing" the nuclear deal and "expects all sides to keep the commitments they took two years ago."
Consumer goods makers are getting in on the act, too: Germany's Volkswagen (VLKAF) has also announced that it will sell cars in Iran for the first time in 17 years.
The deals require a tremendous amount of planning. Many international banks, for example, won't provide financing over fears of violating U.S. sanctions.
Related: Amazon says it might have violated U.S. sanctions on Iran
U.S. companies on the sidelines
American firms, meanwhile, have largely stayed away from Iran.
"We've seen European players enter the market, the U.S. unfortunately has to look from the sidelines and have to wait for their turn," said Heraud.
The only major exception is Boeing (BA), which has inked an $8 billion deal to sell 80 jets to Iran Air. It has another agreement to sell 30 airplanes to Aseman Airlines.
U.S. firms must receive special approval from the Treasury Department to do business in Iran.
"We have heard first hand from many companies who have applied ... that the process takes a long time and that many applicants are unsuccessful," said Karim El Assir of KPMG's corporate intelligence team.
Even successful applicants can't be sure that the policy sands won't shift. Just last week, for example, the Treasury Department slapped sanctions on six Iran-based satellite companies following an Iranian rocket launch.
Related: The ride-hailing app that rules Tehran's busy streets
High risk, high reward
Some companies are willing to take the risk.
"Although Iran epitomizes the high-risk, high-reward dilemma, there no doubt that many foreign companies will follow in what is still a relatively untrodden path," said Torbjorn Soltvedt, an analyst at the global risk consultancy firm Maplecroft.
But caution is still the name of the game.
"They are doing extensive due diligence," said Falakshahi from Wood Mackenzie.
In July, the Trump administration begrudgingly certified that Iran was continuing to comply with the terms of the nuclear deal. But it signaled more trouble ahead.
"The secretary of state -- and the president -- intends to emphasize that Iran remains one of the most dangerous threats to the U.S. and to regional security," a senior administration official said at the time.
"Moving forward, the administration intends to employ a strategy that will address the totality of Iran's malign behavior and not just focus on the nuclear deal," the official added.