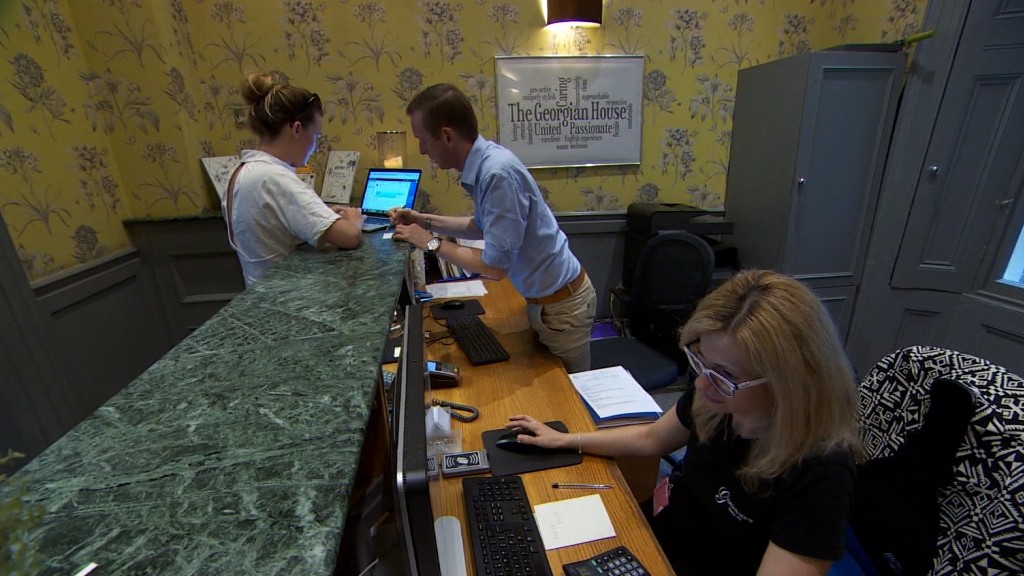 Britain is running out of workers.
Employers have plenty of jobs to fill but potential hires are in short supply, according to a new report by the Recruitment and Employment Confederation (REC).
The number of open permanent jobs grew at the fastest rate in 27 months in July. Meanwhile, the availability of both permanent and temporary workers fell sharply.
It's a trend that could accelerate ahead of Britain's departure from the European Union.
"The parts of the economy most reliant on European workers are under even more pressure as many EU workers return home," said REC chief executive Kevin Green. "Employers are not just struggling to hire the brightest and the best but also people to fill roles such as chefs, drivers and warehouse workers."
British businesses have been pressing the government for reassurances about their ability to hire EU citizens after March 2019. They play a vital role across the economy, from tech firms to banks, the health service, farms and the hospitality industry.
Related: Bank of England slashes its growth forecast (again)
Green said that London was being hit particularly hard. Hiring is still on the upswing in the capital city, but growth is slower than in any other region.
"We can't ignore the importance of our relationship with the EU to employers," said Green. "If we want to keep our jobs market successful and vibrant, we must make it easier, not harder, for employers to access the people they need."
EU citizens living in the U.K. are stuck in a legal limbo, because the British government and the EU have not yet reached an agreement on their post-Brexit rights.
Many are not waiting for negotiations to conclude. The number of EU citizens leaving the U.K. jumped 36% in 2016, according to official government data.
Still, the labor market dynamics could be good news for some workers.
REC said the staff shortage was forcing some employers to offer higher starting salaries and wages.