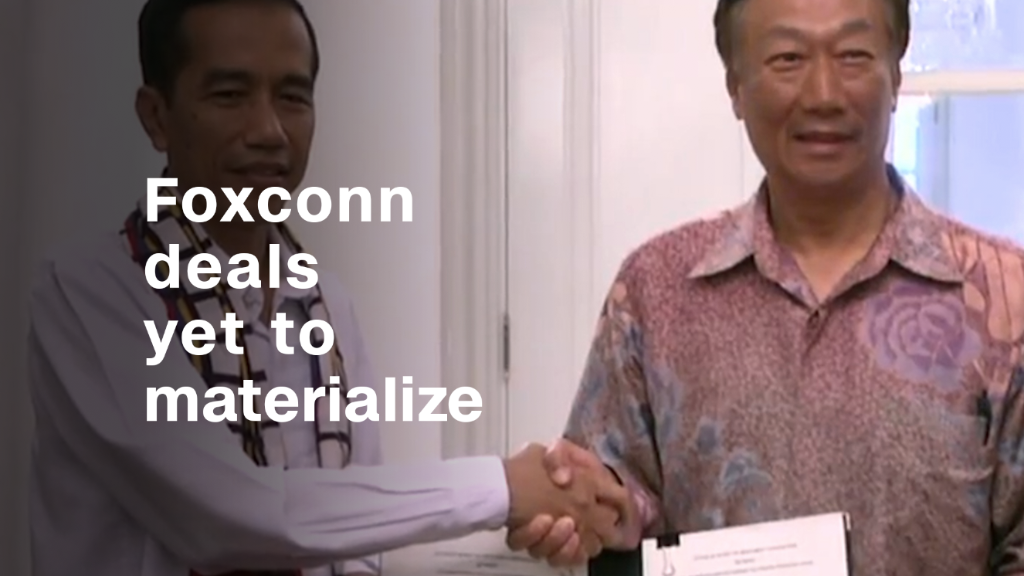 Foxconn's pledge to invest $10 billion to build a factory in Wisconsin that will create between 3,000 and 13,000 new jobs has been met with plenty of excitement.
But there's a catch: Part of the deal is $3 billion in state incentives that have been promised by Governor Scott Walker but must be still be approved by the Wisconsin legislature. And the price tag on that package has some people spooked.
"When you take the number of jobs that are created, this is so over the top," said Paul Soglin, the Democratic mayor of Madison, at a news conference last week.
Under Walker's plan, the Taiwanese electronics manufacturer could get up to $1.5 billion to subsidize wages, up to $1.35 billion to support facility construction and up to $150 million from a sales tax exemption on building materials.
The annual payout would be between $200 million and $250 million, according to the state's main economic development agency.
That translates to between $15,000 and $19,000 state dollars per job per year, if 13,000 jobs are actually created.
That's six times the typical cost per job you'd see in a public incentive package for a manufacturer, said Timothy Bartik, an economist at the W.E. Upjohn Institute for Employment Research.
It's too much for Americans for Prosperity, the political organizing arm of Republican billionaires Charles and David Koch, which came out against the agreement last week.
Related: Why workers 'should be wary' of Foxconn's planned investment in Wisconsin
"As much as we believe in Governor Walker's agenda that has turned this state around, as free market activists who staunchly oppose government tax incentives, we cannot support the expensive refundable tax credits in this package, which are not available to every other business in our state," Eric Bott, the director of the group's Wisconsin chapter, said in a statement.
Wisconsin will also have to wait about 25 years to break even on tax incentives to the Foxconn project, according to a new report by the state's Legislative Fiscal Bureau, a nonpartisan agency that provides financial analysis to the legislature.
The report projects that the break-even point will arrive around 2042 -- and that's only if all 13,000 jobs are actually created.
State legislators, who are currently in a special session to review the deal, are still going back and forth on some of its details.
Republicans control both the Senate and the Assembly in Wisconsin. Still, Wisconsin Senate President Roger Roth said he wants to do his due diligence. He's waiting on a full fiscal analysis from the legislature's nonpartisan budget group before he moves the bill forward.
He expects it will pass in early September, shortly after lawmakers are done wrangling over the state budget.
Related: Apple supplier Foxconn says it will build big Wisconsin factory
"It is important that we take our time and make sure that the taxpayers are being protected, which I believe that they are," Roth said.
Megan Randall, a research associate at the nonpartisan Tax Policy Center, said legislators should consider what else that money could be spent on.
"In any tax incentive deal, there is always a trade off. The amount that Wisconsin is choosing to spend on tax breaks for Foxconn is money that could have gone to workforce investments, education, infrastructure," she said.
Besides, she added, there's a good chance Foxconn would have come to the U.S. without it.
Research shows that regional factors, like the availability of skilled labor and the location of corporate partners, matter more than the incentives offered, Randall said.
Foxconn CEO Terry Gou, in an interview with the Milwaukee Journal Sentinel, cited the size of the consumer market in the U.S. and preexisting relationships with nearby companies -- such as GE Healthcare -- as contributing factors in choosing to put the plant in Wisconsin.
Either way, it would be tough for lawmakers to vote against the package -- and it will probably pass.
"I think it would be very difficult, as a legislator, to vote against 13,000 jobs and $10 billion in investment," Roth said.