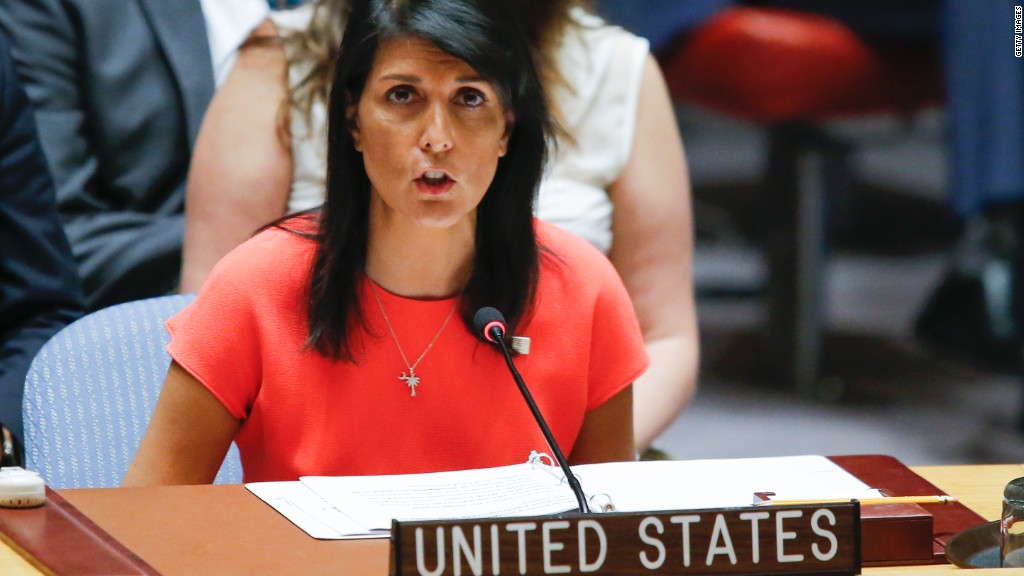 President Trump's fiery warning to North Korea has unsettled global markets.
Major European and Asian indexes dropped Wednesday after Trump ratcheted up the war of words with Kim Jong Un's regime, saying it will "face fire and fury like the world has never seen" if it keeps threatening the United States.
The president's extraordinary comments had already pushed U.S. stocks into negative territory on Tuesday afternoon. North Korea, meanwhile, showed no immediate sign of dialing down its own bellicose rhetoric after Trump's warning.
Germany's DAX and France's CAC 40 dropped 0.7% in early trading, while London's FTSE 100 shed 0.5%.
Meanwhile, investors moved money into assets seen as safe havens. Gold prices increased 0.9% and the Swiss franc gained against all major currencies.
The U.S. dollar strengthened against the euro, but lost ground to the Japanese yen and British pound.
Traders in Asia said the confrontational language was weighing on markets -- although not too heavily.
"Regional sentiment was dented for sure," said Stephen Innes, a senior trader at online broker Oanda. But he added that the moves were "nothing I would panic too quickly about just yet," noting that they may have been exaggerated by the relatively light trading volumes that are typical in August.
Related: New North Korea sanctions are unlikely to make Kim blink
South Korea's benchmark Kospi index fell 1.1%, and the Nikkei in Tokyo sank 1.3%. Most other major Asian stock markets were in the red, although Australia bucked the trend with a 0.4% gain.
Asian markets have generally proved resilient to the heightened tensions between the U.S. and North Korea in recent months. South Korean stocks hit a record high earlier this summer.
"The North Korea issue has been ongoing for a few years, so I think investors seem not to be too bothered by this kind of development," said Pu Yonghao, chief investment officer at asset management firm Fountainhead Partners in Hong Kong.
Pu described Wednesday's declines as "a pullback" by investors using the North Korea tensions as an excuse to lock in recent gains.
"Nobody's freaking out yet," he said.