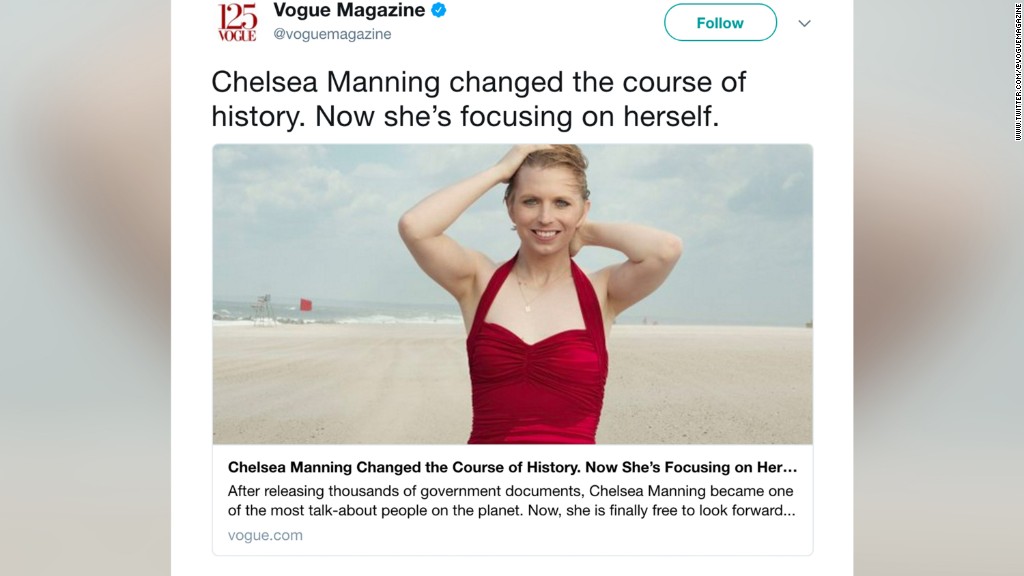 Chelsea Manning is making her Vogue debut.
The former U.S. Army intelligence analyst, who served time in prison for leaking classified documents, will be featured in the magazine's September issue.
She was photographed by the renowned Annie Leibovitz, who has taken pictures of President Barack Obama, Queen Elizabeth II, John Lennon, Michael Jackson and Caitlyn Jenner.
Manning was convicted in 2013 for leaking reams of material to WikiLeaks. She was sentenced to 35 years in military prison but was released in May. Obama commuted her sentence days before he left office.
Manning came out as transgender the day after she was sentenced. She became the first person to take hormones while in military prison, and she remained in an all-male Army prison until she was released.
Since her release, Manning has spoken candidly about her life, including her decision to leak the classified records and her transition. Her first major interview after prison was published in the New York Times Magazine in June.
"It's not like I'm living in fear or anything," she told Vogue. "I'm so glad to be out and about and walking around."
Related: Chelsea Manning posts first picture of herself since release
Manning also participated in the New York City Pride March earlier this year with the American Civil Liberties Union.
Vogue's September issue, which publishes ahead of New York Fashion Week, is typically the largest and most significant that the magazine puts out each year. Previous editions have weighed in at 700 to 900 pages.
Actress Jennifer Lawrence will be featured on the cover.