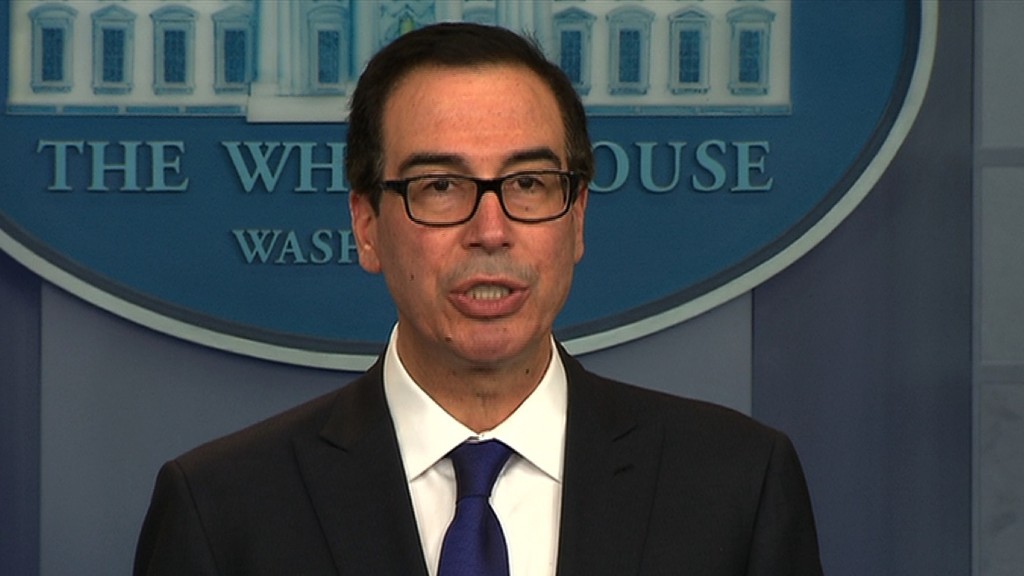 A Wall Street bank is starting to turn a cold shoulder on Venezuela amid the nation's political crisis.
Credit Suisse (CS) is banning its bond traders from buying two specific Venezuelan bonds -- one from the government and another from the state-run oil company PDVSA, or Petroleos de Venezuela S.A.
It is the first major global bank to bar its employees from dealing with certain types of Venezuelan debt.
Bank officials cited Venezuela's "political climate" and recent events for its decision. That appears to refer to a vote on July 30 that many say turned Venezuela into a dictatorship.
"Credit Suisse does not want to be involved in any transaction or any action which could be perceived as enabling the current Venezuelan regime to continue to violate the Venezuelan people's human rights," according to an internal memo at Credit Suisse sent earlier this week.
Related: Trump sanctions 8 more Venezuelan leaders
Venezuelan President Nicolas Maduro organized the vote, which most nations called a foregone conclusion. It allowed him to replace the opposition-held National Assembly with an entirely new legislature filled with Maduro supporters.
The new legislature, the Constituent Assembly, has already thrown out the Attorney General, a critic of Maduro, while the Supreme Court sentenced another political opponent to 15 months in prison.
Handling Venezuelan debt has become an extremely divisive issue. The country's bonds are highly profitable. Even as the government's revenues and reserves have plunged, it has made consistent payments and pays a high interest rate.
But many say those bond payments come at the expense of ordinary Venezuelans who are starving and dying from food and medical shortages.
Related: Venezuela is inching closer to default
Venezuelans opposed to Maduro's regime argue that banks buying the government's bonds are providing a lifeline of financing and support to a dictatorship. Months of clashes between Venezuela's national guard and protesters have left over 120 dead.
A Credit Suisse spokesperson said the bank banned the government bond because bank officials believed the cash to buy the bond would go directly to the government. Credit Suisse banned the PDVSA bond because Goldman Sachs purchased it in May - drawing the ire of Venezuelans.
At the time, Goldman said it invested in the bonds because it believes the situation in the South American nation will improve over time.
A Goldman spokesperson told CNNMoney Friday that "we do not support the Maduro regime and will not do business with it."
Related: Venezuela's hyperinflation is jaw-dropping
Harvard Professor and Venezuelan Ricardo Hausmann penned an Op-Ed in May calling on JPMorgan (JPM) to remove Venezuelan bonds from its Emerging Market Bond Index, a popular investment held by mutual fund managers who invest on behalf of millions of Americans with 401(k) plans.
Hausmann calls Venezuela's bonds "hunger bonds."
Removing Venezuelan bonds from the index "would allow you to root for higher returns on your savings without wishing for human misery," he said.
A JPMorgan spokesperson told CNNMoney that its bond index is a reflection of economic data and cash available in financial markets, not a country's policies. The spokesperson added that it allows clients to buy the bond index without Venezuelan bonds included, if a client requests that. JPMorgan does not hold the two specific bonds that Credit Suisse is banning.
Since late July, President Trump has slapped sanctions on 22 Venezuelan leaders, including Maduro. Most Latin American countries say they won't recognize Maduro's new legislature.