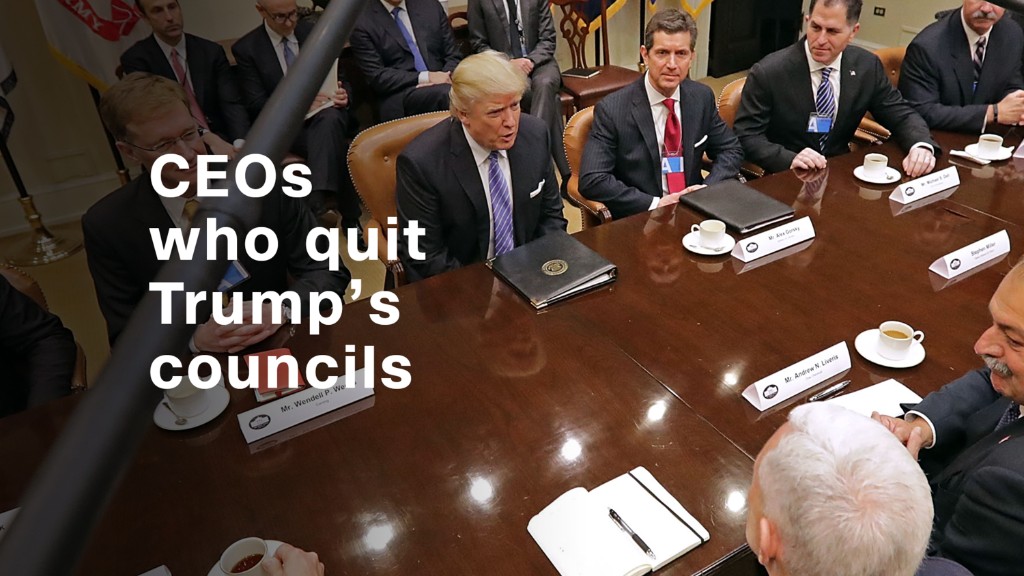 One of America's most prominent black CEOs quit President Trump's manufacturing council on Monday over Trump's initial failure to condemn white supremacists.
Kenneth Frazier of Merck (MRK) said in a statement: "America's leaders must honor our fundamental values by clearly rejecting expressions of hatred, bigotry and group supremacy."
Within minutes, Trump attacked him on Twitter, saying Frazier's resignation will give him "more time to LOWER RIPOFF DRUG PRICES!"
Later Monday, Trump targeted Merck in a second tweet.
".@Merck Pharma is a leader in higher & higher drug prices while at the same time taking jobs out of the U.S. Bring jobs back & LOWER PRICES!" he said.
Frazier did not mention the violence in Charlottesville, Virginia, in his statement, but he did say that "as a matter of personal conscience, I feel a responsibility to take a stand against intolerance and extremism."
That appeared to be a reference to Trump's statement over the weekend blaming violence "on many sides" after neo-Nazis and white nationalists clashed with counter-protesters.
Following two days of criticism, Trump on Monday called out the KKK, neo-Nazis and white supremacists as "evil" and "hate groups" that are "repugnant to everything we hold dear as Americans."
Related: Merck CEO helped get black inmate off death row
Frazier is one of the country's most prominent black corporate executives and was the only black male CEO named to the council in January. Before joining Merck, Frazier was a lawyer who helped free a black death row inmate falsely accused of murder.
His exit marks another rebuke to Trump from corporate America. Trump's June 1 decision to leave the Paris climate accord led Tesla (TSLA) CEO Elon Musk to step down from the manufacturing panel as well as a separate business advisory council.
Disney (DIS) CEO Bob Iger similarly quit the business advisory council, and Goldman Sachs (GS) CEO Lloyd Blankfein used his first-ever tweet to slam Trump's Paris decision.
Paul Polman, the chief executive of Unilever, which owns the Dove and Axe brands, praised Frazier for standing up "for the moral values that made this country what it is."
Frazier appeared at the White House just last month to promote an agreement between Merck, Pfizer (PFE) and Corning (GLW) to create 1,000 jobs.
Trump formed the manufacturing council a week after his inauguration as part of a push to create jobs. At the time, the White House hailed the council, including Frazier, as "some of the world's most successful and creative business leaders."
Related: CEOs keep turning on Trump
At the group's first meeting in January, Trump shook Frazier's hand after the CEO talked up efforts to bring manufacturing jobs back to the U.S. for a cancer drug.
"That's very good," Trump said at the time.
Wall Street seemed unfazed by Trump's attack. A fund that represents biotech stocks climbed 1% on Monday morning. Trump has in the past caused drug stocks to drop by threatening to bring prices "way down."
--CNNMoney's Patrick Gillespie contributed to this report.