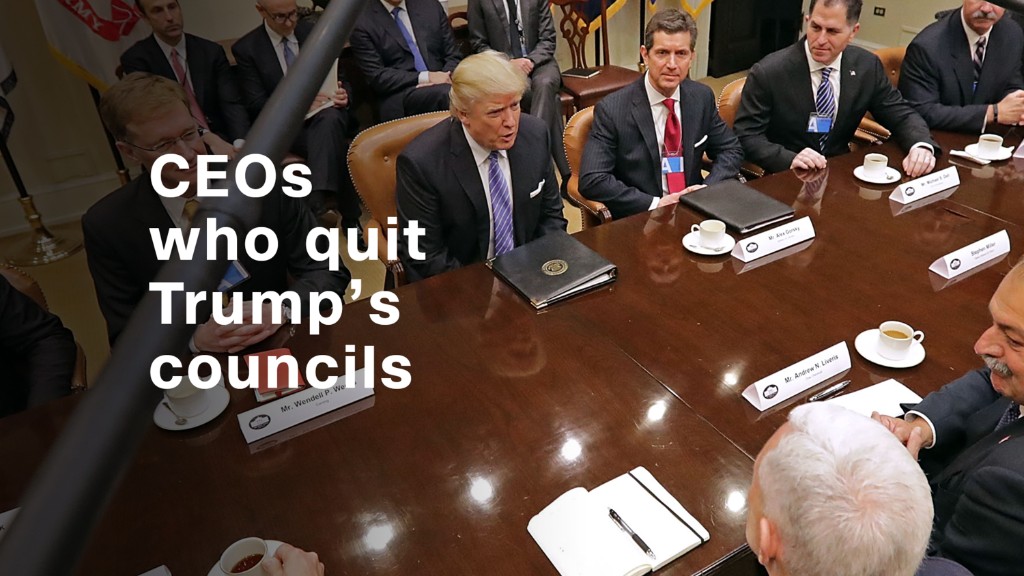 Under Armour CEO Kevin Plank said Monday night that he's leaving President Trump's manufacturing council, the second departure by a high-profile business leader in the space of a day.
Plank didn't give a clear reason for stepping down, but his announcement comes amid fierce criticism of Trump's response over the weekend to violence at a white nationalist rally in Charlottesville, Virginia.
"Under Armour engages in innovation and sports, not politics" Plank said in a statement. He said he would "continue to focus my efforts on inspiring every person that they can do anything through the power of sport which promotes unity, diversity and inclusion."
Related: CEOs condemn racism after Charlottesville
His decision comes hours after Merck (MRK) CEO Kenneth Frazier, one of the country's most prominent black corporate executives, quit the council over Trump's initial failure to condemn white supremacists.
"America's leaders must honor our fundamental values by clearly rejecting expressions of hatred, bigotry and group supremacy," Frazier said. "As CEO of Merck and as a matter of personal conscience, I feel a responsibility to take a stand against intolerance and extremism."
That appeared to be a reference to Trump's statement over the weekend blaming violence "on many sides" after neo-Nazis and white nationalists clashed with counter-protesters in Charlottesville.
This isn't the first Trump-related storm Under Armour has encountered.
In February, Plank caused a furor by saying in an interview with CNBC that having "a pro-business president is something that is a real asset for the country."
Related: Under Armour has a big Trump problem
That drew rebukes from some of Under Armour (UA)'s top celebrity endorsers such as Steph Curry, Misty Copeland and Dwayne "The Rock" Johnson.
Plank ended up taking out a full-page ad in the Baltimore Sun to state that his "choice of words" in the interview "did not accurately reflect" his intent.
- Jill Disis contributed to this report.