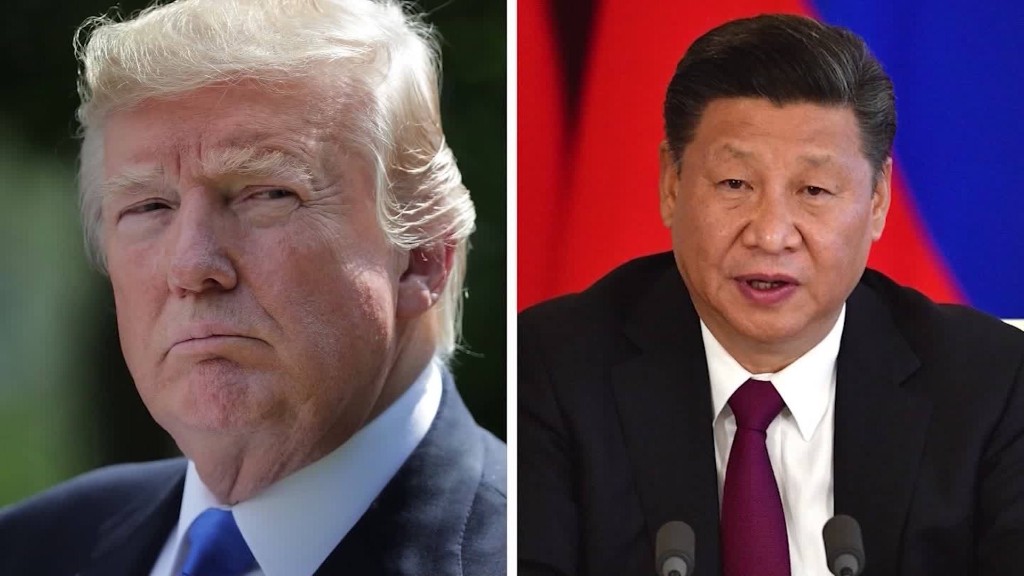 President Trump is set to crank up the pressure on China over trade.
He's expected to ask officials on Monday to look into Chinese practices that allegedly squeeze or steal valuable commercial secrets from U.S. companies doing business there. Tariffs on Chinese goods could eventually follow.
Chinese state media have lashed out at the plans, but Trump is picking up on an issue that American businesses have been complaining about for years.
"China does not play by the rules, and it has gotten away with it for too long," James Andrew Lewis, a senior vice president at the Center for Strategic and International Studies in Washington, wrote in a blog post this month.
Related: Trump White House to look into China's trade practices
As China has raced to become a hi-tech manufacturing powerhouse, it stands accused by the U.S. government, industry groups and think tanks of trying to take a short cut by spying, hacking or forcing companies to hand over their intellectual property.
Beijing has always denied the allegations.
"We hope the U.S. will view this matter based on facts and objectively recognize China's efforts and progress in protecting intellectual property rights, as well as our accomplishments through indigenous innovation that has propelled economic growth," Chinese foreign ministry spokeswoman Hua Chunying said Monday.
She said Chinese citizens filed nearly twice as many patent applications as Americans last year, and Chinese spending on research and development almost matched U.S. levels.
But in a report this year, the Commission on the Theft of American Intellectual Property named China as the main offender, estimating the cost to the U.S. economy at up to $600 billion a year.
American companies complain that Chinese authorities effectively make them hand over key technology in exchange for access to the world's second largest economy.
Restricted access
Chinese rules require foreign firms who want to enter certain industries -- such as energy, telecommunications and autos -- to form joint ventures with local partners, which often results in the transfer of technology to the Chinese companies.
Beijing also strongly encourages global businesses to carry out R&D activities inside the country.
In the past year, Apple (AAPL) has announced plans to open R&D centers in four Chinese cities. And last month, in order to comply with new cybersecurity rules, it said it was setting up its first iCloud data center in China in partnership with a local firm.
Amazon (AMZN) and Microsoft (MSFT) already have local partners for their cloud computing services in China.
Related: China's new cyber law just kicked in and nobody's sure how it works
Price of entry
Beijing has other ways of getting its hands on valuable commercial information. Officials often insist on taking a close look at technology that foreign companies want to sell in China.
"Chinese government authorities jeopardize the value of trade secrets by demanding unnecessary disclosure of confidential information for product approvals," the American Chamber of Commerce in China said in a report published in April.
Some experts say that handing over technology has effectively become a cost of doing business in China -- a market too big for most companies to ignore.
"Many Chinese companies go after technology hard and the tactics they use show up again and again, leading us to believe there is some force (the government?) teaching them how to do these things," said Dan Harris, a Seattle-based attorney who advises international companies on doing business in China.
"The thing is that the foreign companies that give up their technology usually do so at least somewhat of their own volition," he told CNNMoney. "Yes, maybe they need to do so to get into China, but they also have the choice not to go into China, right?"
Closing the stable door?
Other analysts say that the U.S. administration is coming to the problem too late.
"Intellectual property (IP) theft is yesterday's issue," wrote Lewis of the Center for Strategic and International Studies.
"In part because of past technology transfer and in part because of heavy, sustained government investment in science and research, China has developed its own innovative capabilities," he wrote.
"Creating new IP in the United States is more important than keeping IP from China."