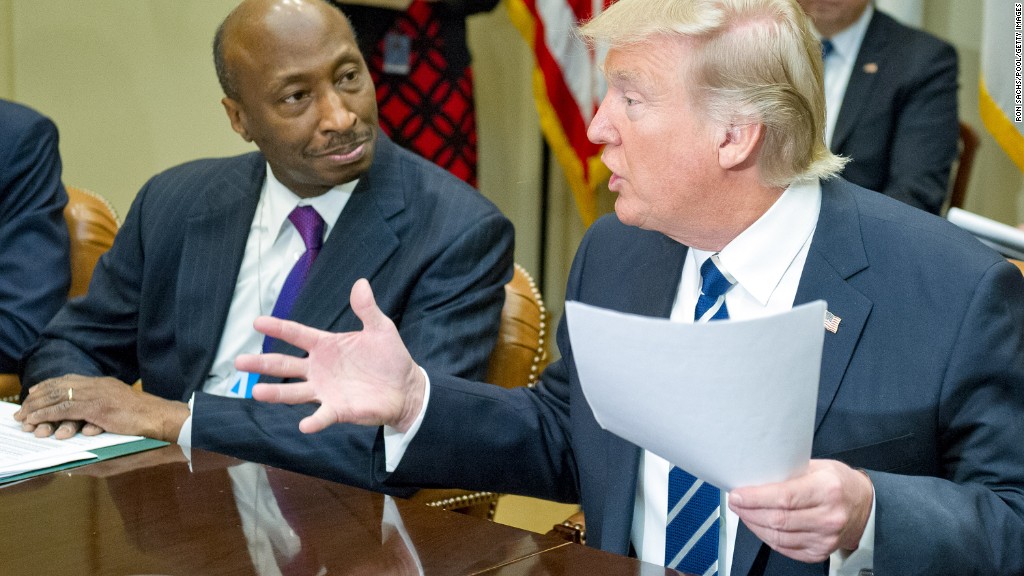 Under Armour CEO Kevin Plank didn't directly criticize President Trump for his reluctance to denounce neo-Nazis, the KKK and other white supremacists.
In the wake of violent events in Charlottesville, Virginia, Plank stayed positive.
"There is no place for racism or discrimination in this world. We choose love & unity," Plank said in a tweet to the nearly 1 million followers of Under Armour's official Twitter account Monday morning.
By Monday night, Plank had stepped down from Trump's American Manufacturing Council. That decision was announced even after Trump specifically called out racism by white hate groups, referring to them as "repugnant."
"Under Armour engages in innovation and sports, not politics," Plank said in a statement that accompanied another Under Armour tweet.
What changed for Plank over the course of Monday? Under Armour was not immediately available for comment.
Plank knows that Under Armour has celebrity athletes -- many of whom are black -- who already were not happy that Plank was on Trump's council.
One of Under Armour's most famous endorsers -- basketball star Stephen Curry of the NBA champion Golden State Warriors -- has been particularly vocal about his feelings on Trump.
When Plank agreed to join the White House manufacturing council in February, he said in an interview with CNBC that "a pro-business president is something that is a real asset for the country."
Curry responded by telling The Mercury News that he agreed with Plank -- but only "if you remove the 'et' from asset."
Plenty of other athletes have had harsh words for the president since he took office.
Related: Trump says CEO who quit manufacturing council are 'grandstanders'
CEOs are having to balance their understandable desire to have influence with the White House against their most important constituents: customers, employees and in Plank's case high-paid spokespeople.
Wall Street isn't pleased with how the company has done lately either.
Under Armour (UA) has struggled for consecutive quarters. It announced earlier this month that its earnings will come in below forecasts and that it also will lay off 2% of its workforce.
The stock has plunged 35% this year -- and that follows a nearly 40% drop for Under Armour shares last year. Meanwhile, Nike (NKE) has rebounded this year after a tough 2016. And Adidas (ADDDF) continues to wow investors.
It's impossible to say whether Plank's remarks about Trump from earlier this year are causing customers to boycott Under Armour sneakers, apparel and other sports equipment.
After all, Under Armour's slump began before Trump was elected.
And remember that in his statement from late Monday, Plank said that Under Armour "engages in innovation and sports, not politics."
In other words, some CEOs are finding that a seat at the table in the White House is potentially not worth the trouble.