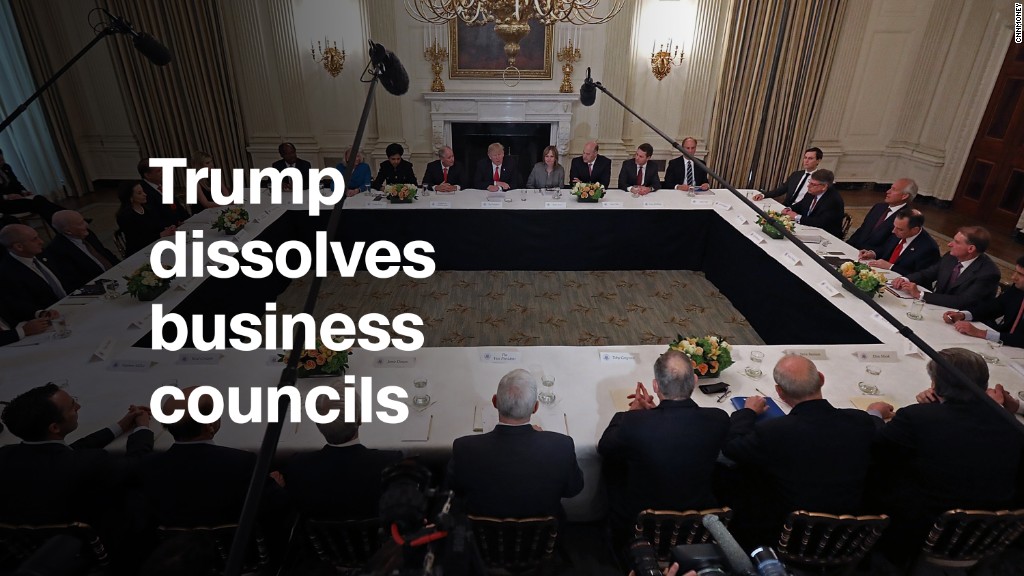 How did President Trump's two business advisory councils fall apart so quickly?
It started with one CEO standing up to Trump. The rest soon followed him out the door.
After a group of white supremacists rallied in Charlottesville, Virginia, on Saturday, killing a counter-protester, President Trump delivered controversial remarks the next day.
His speech drew widespread criticism. Many faulted him for his late response and for not denouncing the white supremacists by name.
Monday, August 14
--8 a.m. ET: Merck CEO Ken Frazier, one of very few black Fortune 500 CEOs, took the first step. He stepped down from President Trump's manufacturing council, saying "America's leaders must honor our fundamental values by clearly rejecting expressions of hatred, bigotry and group supremacy."
--8:54 a.m.: Trump tweets that Frazier will now "have more time to LOWER RIPOFF DRUG PRICES!"
--1 p.m.: The president delivers a speech in which he calls the KKK, neo-Nazis and white supremacists 'repugnant.'
--8:14 p.m.: Under Armour CEO Kevin Plank resigns.
--10:32 p.m.: Intel CEO Brian Krzanich resigns.
Tuesday, August 15
--11:37 a.m.: Scott Paul, president of Alliance for American Manufacturing, resigns.
--On Tuesday afternoon, Trump gave a news conference inside Trump Tower. Trump reiterated his earlier position on the weekend saying: "I think there is blame on both sides."
--5:45 p.m.: Richard Trumka, president of the labor group AFL-CIO and Thea Lee, economist at the AFL-CIO, resign.
Wednesday, August 16
--12:15 p.m.: 3M CEO Inge Thulin resigns
--12:45 p.m.: Campbell CEO Denise Morrison resigns.
--1:14 p.m.: Trump tweets, announcing he was dissolving both the manufacturing council and economic advisory council: "Rather than putting pressure on the businesspeople of the Manufacturing Council & Strategy & Policy Forum, I am ending both. Thank you all!"
--1:20 p.m.: United Technologies CEO Greg Hayes puts out a statement, explaining his exit from the manufacturing council.
--1:30 p.m.: Alex Gorsky, CEO of Johnson & Johnson releases a statement about why he resigned.
--2 p.m.: General Electric's Jeff Immelt issues a statement on his decision to leave the council.