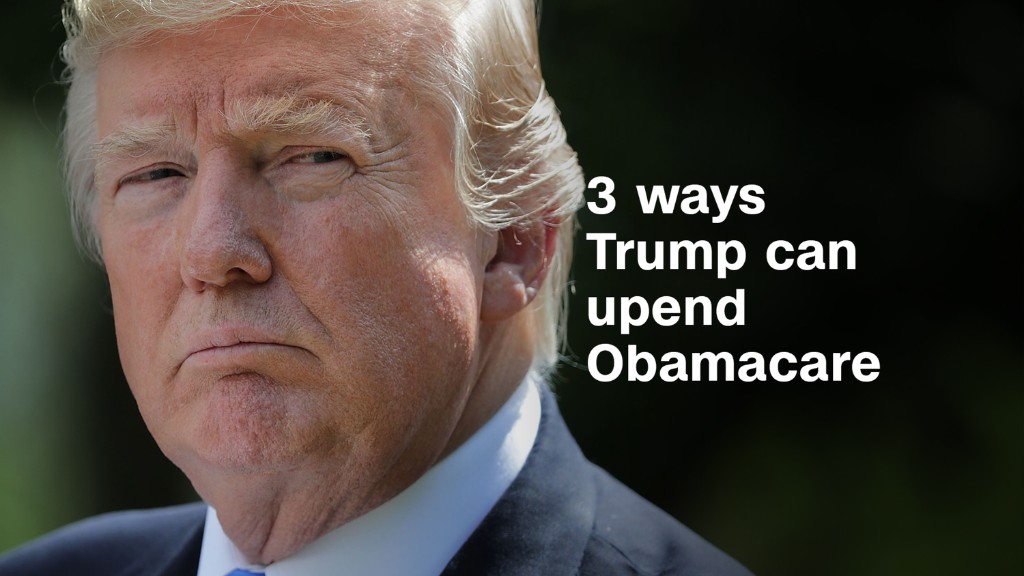 The Trump administration has agreed to pay insurers a key Obamacare subsidy this month, the White House announced Tuesday.
President Trump has threatened to end the payments, which would throw insurers and the exchanges into chaos for the year. The uncertainty has prompted many carriers to request big premium hikes for 2018 and others to downsize or exit the market.
The Congressional Budget Office said Tuesday that ending the payments next year would cause rates for silver-level Obamacare plans to soar 20% in 2018.
The cost-sharing reduction payments go directly to insurers to reimburse them for reducing deductibles and co-pays for lower income enrollees. They are the subject of a court battle between the House of Representatives and the Trump administration, which inherited the case from the Obama administration. The subsidies are expected to cost $7 billion this year.
Related: Obamacare premiums to soar 20% if Trump ends key Obamacare subsidies, CBO says
Trump has tried to use subsidies as a bargaining chip, first to get Democrats to the table and more recently to spur the Senate to return to its effort to repeal and replace the health care law. He is paying them on a month-to-month basis, further unnerving insurers. The August payment is scheduled to be sent out next Wednesday.
Insurers, however, want more than just another month's payments. They would like assurances that the subsidies will continue through 2018. Carriers have until Sept. 5 to finalize their rate requests and until Sept. 27 to commit to participating next year.
A broad coalition, including governors, hospitals, doctors and businesses, have urged Trump to commit to paying the cost-sharing subsidies to bring some stability to Obamacare for now.
Tennessee Senator Lamar Alexander, who plans to hold hearings next month on shoring up Obamacare for the short-term, praised the president's decision. He said Congress should fund the payments through next year, along with allowing states more flexibility to apply for waivers from Obamacare regulations.
"Congress owes struggling Americans who buy their insurance in the individual market a breakthrough in the health care stalemate," said Alexander, who heads the Senate health committee. "Congress should act before the end of September to keep insurance available at a reasonable cost during 2018."
But the conservative House Republican Study Committee was not as pleased.
"Americans are already paying enough because of Obamacare's pitfalls," said Representative Mark Walker of North Carolina, who chairs the committee. "Instead of the executive branch issuing unconstitutional payments to bail out insurance companies, the Senate should continue working until they have passed a bill to repeal and replace Obamacare."
-- CNN's Kevin Liptak contributed to this story.