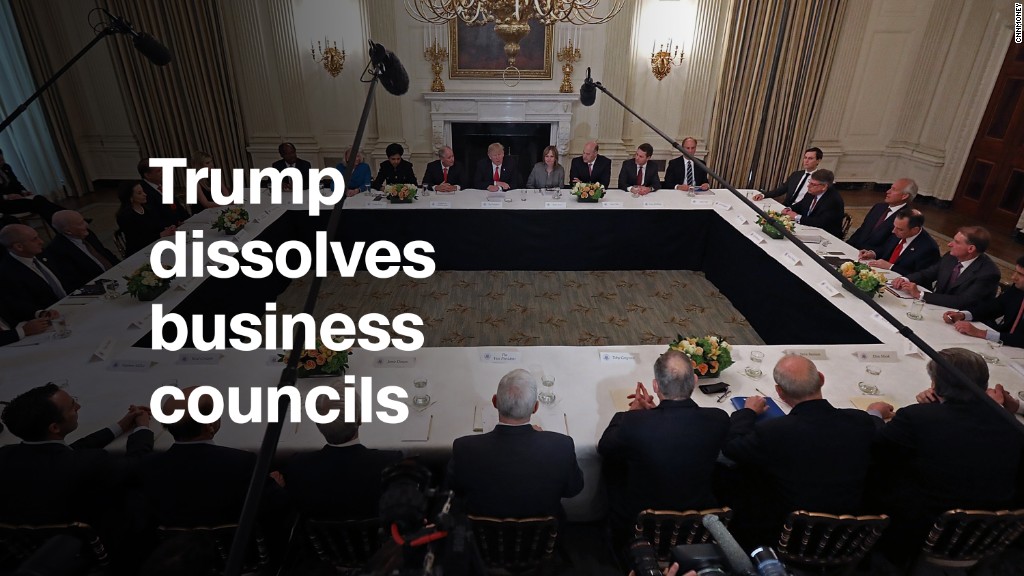 Some of the biggest-named charities in America are walking away from President Trump.
The American Red Cross, The Salvation Army and Susan G. Komen foundation all said Friday they're canceling events at Trump's Palm Beach property Mar-a-Lago. That comes after three organizations made similar announcements on Thursday.
The cancellations follow the spectacular implosion of Trump's business councils this week over the president's insistence that counter-protesters shared the blame for violence at a white supremacist rally in Charlottesville, Virginia.
The collapse of the councils was an extraordinary rebuke to a president who prides himself on being business-friendly. High-profile CEOs like JPMorgan Chase' (JPM)Jamie Dimon have publicly slammed Trump's reaction to Charlottesville.
Now, Trump's words are affecting his own business.
"The American Red Cross has decided we cannot host our annual fundraising event at Mar-a-Lago, as it has increasingly become a source of controversy and pain for many of our volunteers, employees and supporters," the organization said in a statement Friday morning.
The Red Cross said it "provides assistance without discrimination to all people in need, regardless of nationality, race, religious beliefs, or political opinions, and we must be clear and unequivocal in our defense of that principle."
According to the Palm Beach Daily News social events calendar, The Red Cross was slated to host its International Red Cross Ball at the resort on Feb. 3, 2018.
In their words: Why charities are walking away from Trump
The Salvation Army also pulled its Holiday Snow Ball off the venue's events list.
"Because the conversation has shifted away from the purpose of this event, we will not host it at Mar-a-Lago," spokesperson Kurt Watkins said.
The Ryan Licht Sang Bipolar Foundation joined the roster of cancellations Friday afternoon, saying the group "stands with the Palm Beach community and has canceled its 5th Annual Bipolar Medical Luncheon at The Mar-a-Lago Club."
The Palm Beach-based foundation said it would host the luncheon at a different location at a later date. It was originally scheduled for Jan. 10, 2017.
Yet another philanthropic event could also be on its way out. The president of Leaders in Furthering Education on Friday urged the board of her charity to abandon Mar-a-Lago for the organization's annual Lady in Red Gala, slated for December 2.
"The hatred, vitriol and anti-semitic and racist views being spewed by neo-Nazis and white supremacists are repugnant and repulsive -- and they are antithetical to everything that this country, and I personally stand for," LIFE President Lois Pope said in a statement. "And anyone who would demonstrate even a modicum of support for them by insisting that there are 'good people' among them is not deserving of my personal patronage or that of my foundations."
It's not clear when or if the board will approve the move.
The proceeds of the Lady in Red Gala are slated to go to "an array of initiatives benefiting military families and military dogs," according to the charity's website.
On Thursday, the Cleveland Clinic, the American Cancer Society and an organization that supports disaster relief said they were abandoning plans for fundraisers at the private club.
"We thank the staff of Mar-a-Lago for their service over the years," the Cleveland Clinic said in a statement. It did not give a reason for its cancellation -- the first time in eight years it will not hold the event at Mar-a-Lago. The announcement was reported earlier Thursday by the Cleveland Plain Dealer.
Related: America's top CEOs always had an awkward relationship with Trump
Toby Cosgrove, the hospital group's CEO, was among the executives on one of Trump's business councils.
A few hours after the Cleveland Clinic's announcement, the American Cancer Society pulled out.
The nonprofit said in a statement that it had planned to host its 2018 gala at Mar-a-Lago "based on a variety of factors, including costs and venue requirements." But the organization said "it has become increasingly clear" that hosting its fundraiser on Trump-owned property presents a "challenge" to its values.
The American Cancer Society, which has hosted its annual event at Mar-a-Lago for at least the past decade -- has not selected another venue. The decision was reported earlier by the Palm Beach Post.
Trump retained an ownership interest in his business when he took office, which means he has a personal stake in Mar-a-Lago's success. As president, he has raised the club's profile by making repeated visits there.
The American Friends of Magen David Adom, a group that supports Israel's national ambulance, blood-services and disaster-relief organization, confirmed that it, too, has decided to move its annual gala to another location.
"After considerable deliberation, AFMDA — an apolitical and humanitarian aid organization — will not hold its 2018 Palm Beach Celebration of Life Gala at Mar-a-Lago," spokesperson Erik Levis said in a statement.
The event was scheduled to take place at Mar-a-Lago on Feb. 25, 2018.
Related: What happened behind the scenes as Trump's business councils fell apart
Two organizations that have announced plans to hold events at Mar-a-Lago in the coming months confirmed they'll go ahead with their plans.
The Palm Beach Police Foundation said it would still host its annual black-tie dinner dance at the club on January 6, 2018, citing its deposit and the size of the venue.
The Kravis Center for the Performing Arts confirmed it will host a wine auction at the club on Feb. 1.
Mar-a-Lago declined to comment for this story. The Trump Organization did not immediately respond to a message.