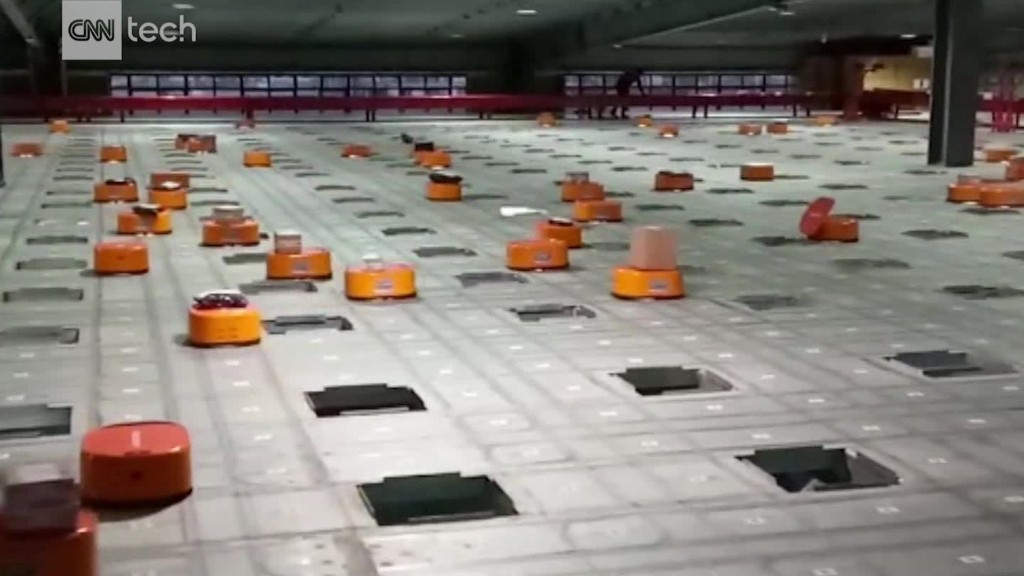 When it comes to making machines to perform tasks that humans have done for years, the United States, China and India are far ahead of anyone else, according to a top tech industry executive.
The three countries are leading an artificial intelligence (AI) revolution, Malcolm Frank, head of strategy at leading outsourcing firm Cognizant, told CNNMoney in an interview.
Frank is the co-author of a recent book entitled "What to Do When Machines Do Everything," on the impact artificial intelligence will have on the global economy in the coming years.
"I think it's three horses in the race, and that's probably the wrong metaphor because they are all going to win," he said. "They are just going to win differently."
While AI is progressing quickly elsewhere too, Frank said the other development hotspots are mainly city hubs such as London and Stockholm, or far smaller economies such as Estonia.
"The big three [are] India, China and the U.S," he said.
Here's why:
America
Silicon Valley giants such as Facebook (FB), Amazon (AMZN), Google (GOOGL) and Tesla (TSLA) are already investing billions in harnessing the power of computers to replace several human tasks.
Computers are already beginning to substitute for people in sectors such as agriculture and even medicine, not to mention the race to get driverless cars on the road.
"With Silicon Valley, and the vendors and momentum that exists there... that's going to continue," Frank said.
China
The world's second largest economy is also betting big on artificial intelligence.
Tech companies including Tencent (TCEHY) and Baidu (BIDU) are competing with Silicon Valley to develop new uses for AI, and tech billionaire Jack Ma of Alibaba (BABA), one of China's richest men, has even said CEOs may eventually be obsolete.
Unlike in the U.S., however, the biggest push towards this new world in China is coming from the government.
"You look at the playbook China has had very successfully, with state sponsorship around developing the [physical] infrastructure of the country," Frank said. "They're taking a very similar approach around artificial intelligence, and I think that's going to yield a lot of benefit."
The Chinese government has already laid out an ambitious plan for a $150 billion AI industry, saying last month that it wants China to become the world's "innovation center for AI" by 2030.
India
In India, the main shift towards artificial intelligence is coming from companies that make up its $143 billion outsourcing industry -- a sector that employs nearly 4 million people.
Top firms like Infosys (INFY), Tata Consultancy Services and Wipro (WIT), which provide technology services to big names including Pepsi (PEP), Kellogg (K) and AMD (AMD), are increasingly relying on automation in their operations.
"In India, you look at this remarkable platform that is in place now... of incredibly sophisticated skills that are focused on the needs of [global] companies," said Frank.
In addition, India's startup scene also makes him "very optimistic" about the future of artificial intelligence there.
Cognizant (CTSH), which is based in the U.S. but has most of its workforce in India, is also making ever greater use of AI -- from online bots managing clients' finances to helping create automated systems for smart devices.
Should we be worried?
Many are worried about the potential pitfalls of artificial intelligence, including Tesla's billionaire founder Elon Musk. He has warned that the technology could pose "an existential threat" if not used properly, and published a letter this week with over 100 other industry experts demanding a global ban on using it to make weapons.
Frank said that the development of artificial intelligence requires careful thought, by governments and companies working together to establish ground rules. The tech executive compared it to safety regulations for air travel and for cars, which have evolved several times over the years.
The focus needs to be on creating a world "where AI is going to be safe and you get the benefits of it without the downsides," he said.
As for the other pervasive fear -- that more robots will lead to job losses -- Frank argues that AI will not only create more and different kinds of jobs in the future, but also enhance many of the existing ones.
"That's what happened with assembly lines, that's what happened with the steam engine, that's what we think is going to happen with artificial intelligence."
— Correction: An earlier version of this article gave an incorrect list of clients of India's big outsourcing companies.