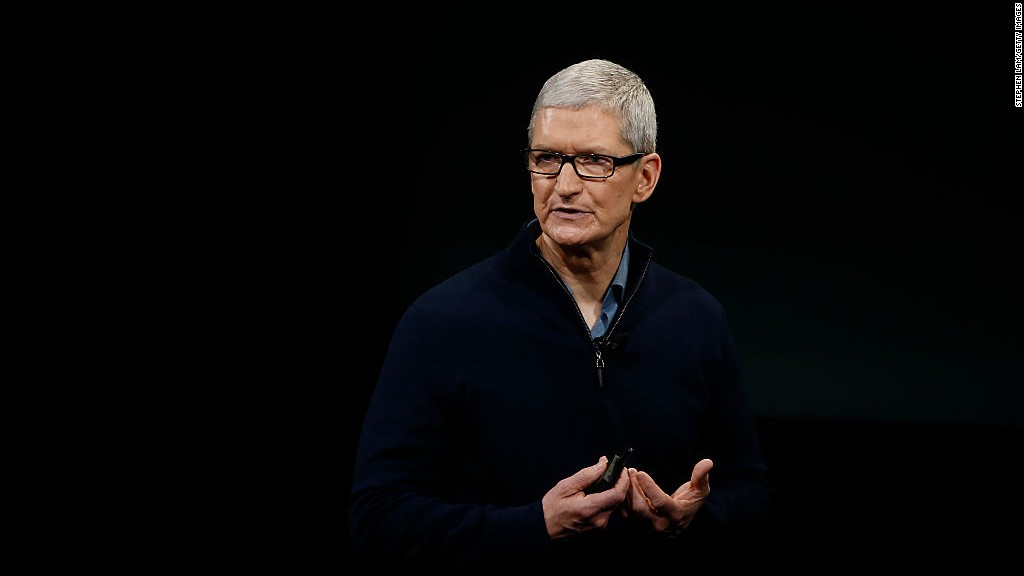 Apple will build a new data center in America's heartland.
CEO Tim Cook made the announcement from Des Moines, Iowa on Thursday. The company plans to build a $1.3 billion facility in Waukee, which is about 20 minutes outside the state's capital.
The project is expected to create 50 permanent jobs. Cook said the facility, which will run entirely on renewable energy, will help power Apple's App Store.
"This new data center will play a very important role in the App Store's continued success. And as the App Store grows, we look forward to growing in Iowa," Cook said.
Related: Apple is on the hunt for original TV shows
State and local authorities have collectively approved roughly $208 million in tax incentives for the project.
It's common for states to offer money to businesses in order to secure big investments. But the price tag of such packages can be controversial. The Wisconsin state legislature is currently debating whether to approve a whopping $3 billion in incentives for a Foxconn plant that could create between 3,000 and 13,000 jobs.
In Iowa, Apple is expected to start construction early next year, and the center should be up and running by 2020.
Related: Here's where Foxconn's deal to create 13,000 jobs in Wisconsin stands
Cook said Apple will also invest up to $100 million in a public improvement fund focused on development and infrastructure in Waukee.
The decision was lauded by Iowa Governor Kim Reynolds, a Republican.
"For the past 20 months, Apple has been searching for the perfect location, and I am so proud to say they found it right here in Iowa," she said.
Apple already has data centers in California, Oregon, Nevada and North Carolina.
-- CNNMoney's Seth Fiegerman contributed to this report.