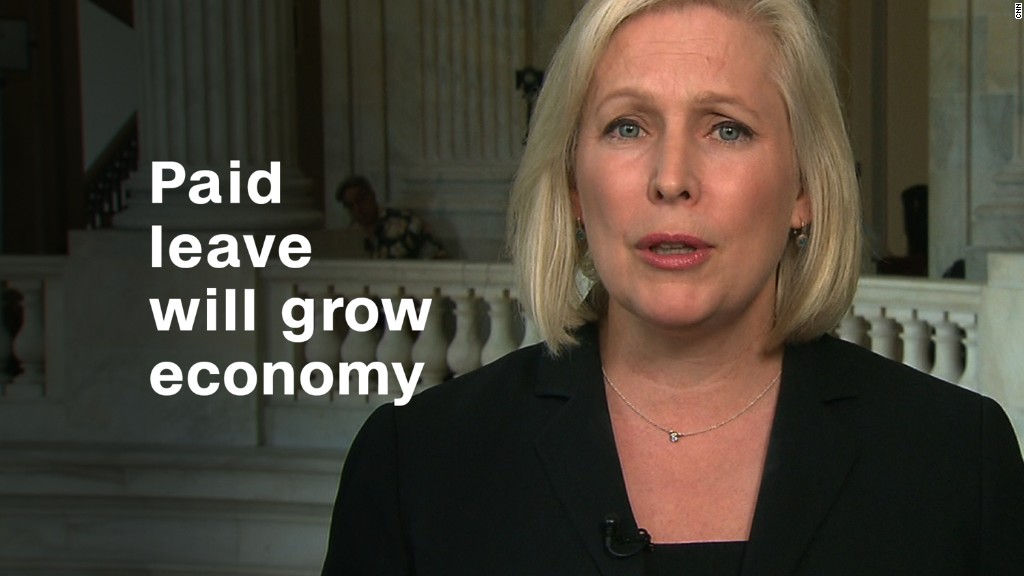 The U.S. government is taking Estée Lauder to court over its family leave policy for new fathers.
The Equal Employment Opportunity Commission filed a lawsuit against the cosmetics company on Wednesday, claiming that a policy that effectively gives new mothers six weeks off to bond with a newborn baby, while giving fathers only two weeks off, is discriminatory against men.
"It is wonderful when employers provide paid parental leave and flexible work arrangements, but federal law requires equal pay, including benefits, for equal work, and that applies to men as well as women," Mindy Weinstein, the acting director of the EEOC's Washington field office, said in a statement.
Estée Lauder launched its family leave program in 2013, according to the suit. It includes benefits for new mothers and fathers in addition to the disability leave it already offered to new mothers to recover from childbirth.
The company said it cannot comment on pending litigation.
If the case succeeds, the limited number of U.S. businesses with paid parental leave policies could have to make some changes, said Kristen Smith, a lawyer at Bond Schoeneck & King who represents employers.
"This has been brewing for awhile," Smith said. "There's a trend in the past five years where high-profile companies are enhancing their parental leave policies, and there's been a lot of debate under the law about to what extent the policies need to be gender neutral."
Related: From Facebook to Netflix, here's who offers paternity leave
Paid family leave is not currently mandated by federal law. The only states that offer it are California, Rhode Island and New Jersey, though New York will implement it in January.
That means just 17% of employers offered paid parental leave in 2016, according to a study conducted by the Society for Human Resource Management.
At those companies, female employees received 41 days of paid maternity leave on average, while male employees received 22 days of paid paternity leave, according to SHRM data.
The EEOC says Estée Lauder's setup is in violation of Title VII of the Civil Rights Act of 1964, which prohibits discrimination on the basis of sex, and the Equal Pay Act of 1963, which bars sex-based discrimination between men and women working at the same firm under comparable circumstances.
Under this legislation, employers should approach child-related leave with two distinct categories in mind, according to an EEOC spokeswoman. There's medical leave related to the physical process of giving birth, and there's separate leave that's granted so new parents can bond with and care for their infant.
"Leave related to pregnancy, childbirth, or related medical conditions can be limited to women affected by those conditions. However, parental leave must be provided to similarly situated men and women on the same terms," the agency spokeswoman said.
The argument: If companies are going to offer paid parental leave, news moms and dads must get the same deal.
Related: Is it time for universal paid family leave?
"The grounds are pretty simple," said Barbara Zack Quindel, a labor attorney based in Milwaukee who advocates on behalf of employees. "Both Title VII and the Equal Pay Act say you can't treat men and women differently when it comes to compensation."
But in putting up a legal challenge against Estée Lauder, the EEOC is also taking a risk, Smith said, noting that some employers could decide that offering paid parental leave could slow down business.
"There's a hesitation by some employers to just make it a blanket six weeks [or] twelve weeks for all employees," she said. "There's worries about attendance."
The EEOC, which said in its press release that "addressing sex-based pay discrimination, including in benefits such as paid leave, is a priority" for the commission, told CNNMoney that it believes this is the first time it has taken up a case on parental leave.
It had initially tried to settle the case with Estée Lauder out of court, the agency said.