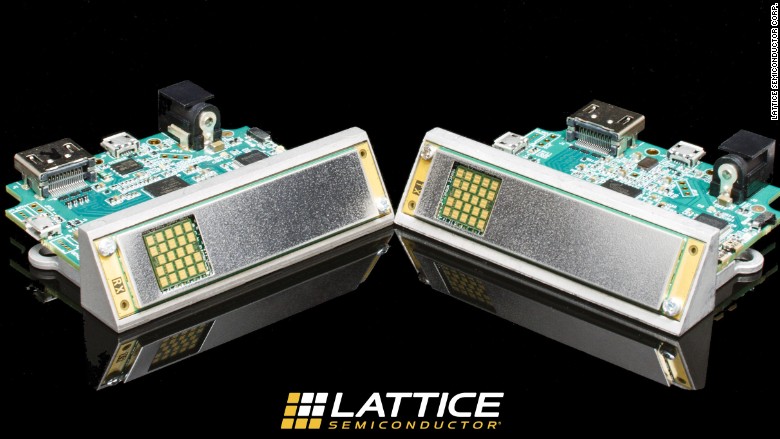 A U.S. chip manufacturer is asking President Trump to override a national security committee -- which is looking to halt a proposed takeover of Lattice Semiconductors by a private equity firm that has ties to China.
The deal puts Trump in the middle of a hot-button issue: Chinese investment in the United States.
The Committee on Foreign Investment in the U.S. is in charge of reviewing deals that could result in a foreign entity taking control of an American company. The committee includes members from the departments of Treasury, Defense, State, Commerce and Homeland Security. However, the president has final say.
According to Lattice (LBLTF), the committee has said it plans to advise that Trump deny the proposed merger between the Oregon-based company and Canyon Bridge Fund, a China-backed investment company.
Canyon Bridge says it's headquartered in California, but its website also lists a Beijing address and states, "Initial funding for Canyon Bridge comes from limited partners in China."
Lattice is pressing forward despite the pushback.
A spokesperson for Lattice said that Canyon Bridge currently employs 300 people in Oregon -- and Canyon Bridge has committed to adding 350 more U.S. jobs if the takeover deal goes through.
A source close to the company told CNNMoney that Lattice is dedicated to the Canyon Bridge deal in part because China is "one of its largest markets."
Related: Scaramucci says he will pay taxes on sale of investment company
Lattice said in a public filing Friday that "the proposed transaction does not raise any national security concerns," adding that it will continue talks with Trump and the council in an effort to resolve any "outstanding" concerns.
Lattice said in a public filing posted Friday that it's "hopeful" that Trump will take its side. According to Lattice's public filing, Trump has 15 days to make a decision on the matter.
Canyon Bridge said in a statement that it supports Lattice's decision to push for the deal.
"We believe President Trump will recognize the benefits this investment will provide—to keep and grow jobs in the U.S., as well as expand Lattice's product portfolio," the statement reads.
The takeover was pegged as a $1.3 billion deal when it was first announced in November 2016.
The White House declined a request for comment.
Chinese investment into U.S. firms so far in 2017 includes 83 deals worth about $25 billion, according to research firm Rhodium Group.