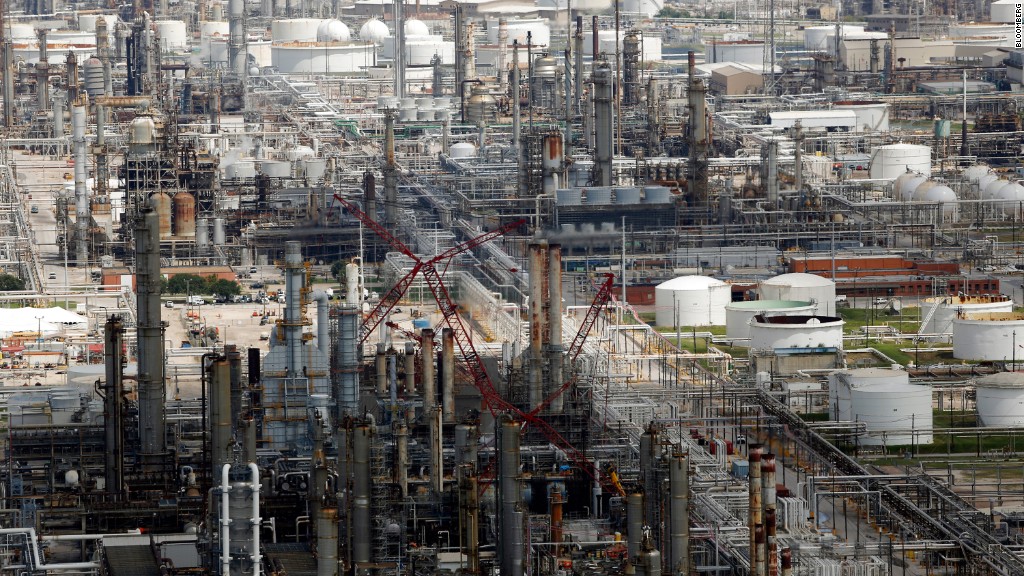 Gas prices continue to rise more than a week after Harvey knocked the Gulf Coast oil refining industry offline. But the increase has started to slow.
The national average price for a gallon of regular is up 26 cents in the last week, after moving up 3 cents overnight on Sunday to $2.621, according to AAA.
In Texas, the average price went up 4 cents overnight and are 30 cents higher since last week. Gas in Georgia jumped 5 cents (41 cents since last week). And it's not just the south: New Jersey gas was up 7 cents overnight (nearly 37 cents since last week).
The hikes appear to be slowing. Over the past couple of days, the national average had been climbing as much as 7 cents overnight.
Related: NASA astronauts returning to Houston
The spike in gas prices had been expected. At one point, nearly 30% of the nation's refining capacity along the Gulf Coast where shut or cut back because of flood waters.
Some refineries are starting to come back online. But it will take time before the refining infrastructure is fully up and running again.
"Restarting a refinery is not like restarting a car. It's more like restarting a lawn mower that has been sitting in a shed for a number of years," Tom Kloza, chief oil analyst for the Oil Price Information Service, which tracks prices for AAA. "There's a lot of things that could be wrong."
The Colonial Pipeline, a key channel for sending gasoline and other fuel between Houston and the East Coast, has also been offline for days because of damage caused by Harvey.
On Sunday, the company that manages the pipeline said it is working on "final repairs" and hopes to have the line back up and running on Monday.
Related: Harvey certain to be one of most expensive natural disasters ever
The reduced supply was sure to drive the cost of gasoline higher, but experts say they don't expect the spike to last.
Gas prices have been low in recent years for several reasons. There is a glut of crude oil worldwide, and the United States is producing oil at record levels. Today's vehicles are also more fuel-efficient.
--CNNMoney's Chris Isidore contributed to this report.