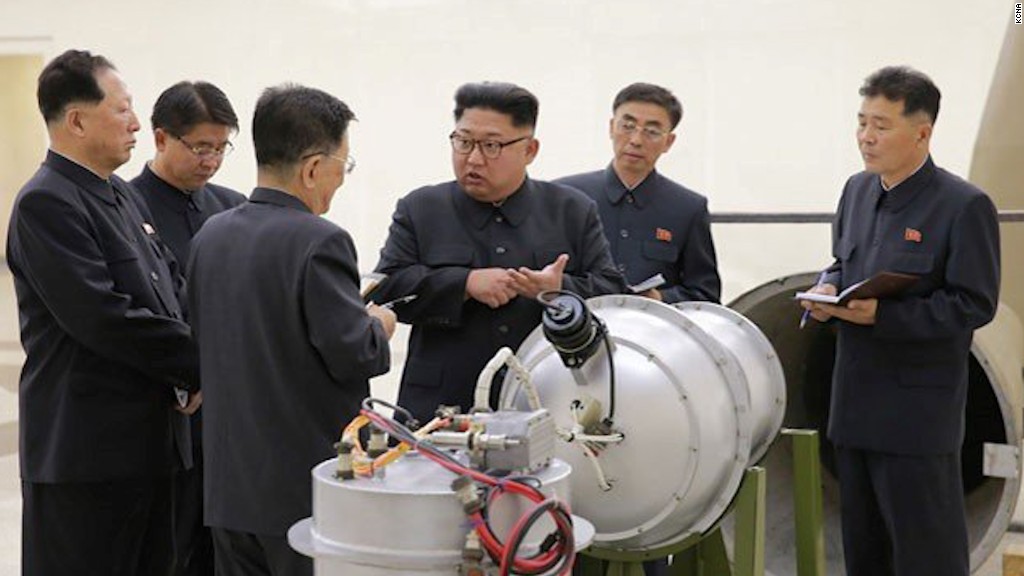 North Korea's biggest ever nuclear test has sent a fresh wave of nervousness through global markets.
Stocks in nearby countries like South Korea and Japan slid as investors moved money into assets considered safer bets, such as gold.
The alarming move Sunday by Kim Jong Un's regime, which said it successfully tested a hydrogen bomb, has ratcheted up tension in the region.
U.S. Defense Secretary James Mattis vowed a "massive military response" to any threat from North Korea against America or its allies.
South Korea's main stock market index fell 1.2%, while the Nikkei in Tokyo lost 0.9%. Most other major markets in Asia were also in negative territory.
European markets opened between 0.5% and 1% lower. The Swiss franc, seen as a safe haven by traders, gained 0.6% against the dollar.
Related: U.S. official says 'People need to isolate North Korea'
The South Korean currency, the won, took a hit too, losing nearly 1% against the dollar.
But the losses were muted. Traders noted that the impact of other recent North Korea scares was short-lived, as investors switched their focus back to very low interest rates and the more attractive returns stocks offer.
"The trend in recent months has been for knee jerk risk-averse reactions to geopolitical events to be followed by a gradual recovery ... as global monetary accommodation has its usual pacifying effect in markets," noted Kit Juckes at Societe Generale. "A repeat of that pattern seems eminently possible this week."
With the U.N. Security Council meeting later Monday, "the key now is how the international community will respond, given how ineffective the tightened U.N. sanctions have been at discouraging North Korea's ambitions," said Stephen Innes, head of Asia trading at online broker Oanda.
Related: What's left to sanction in North Korea after its big nuclear test?
Some analysts say it will take a lot more than further missile and nuclear tests by Pyongyang to really put a dent in the South Korean stock market. The Kospi index has outperformed the S&P 500 and the Dow so far this year despite a series of unsettling developments concerning North Korea.
"Even if tensions escalate further, we think that the implications for the South Korean equity market and the won will remain limited provided that war does not actually break out," research firm Capital Economics said in a note last week. It pointed out that "high stakes brinkmanship on the Korean peninsula is nothing new."
U.S. markets are closed Monday for the Labor Day holiday.
--Jackie Wattles and Mark Thompson contributed to this report.