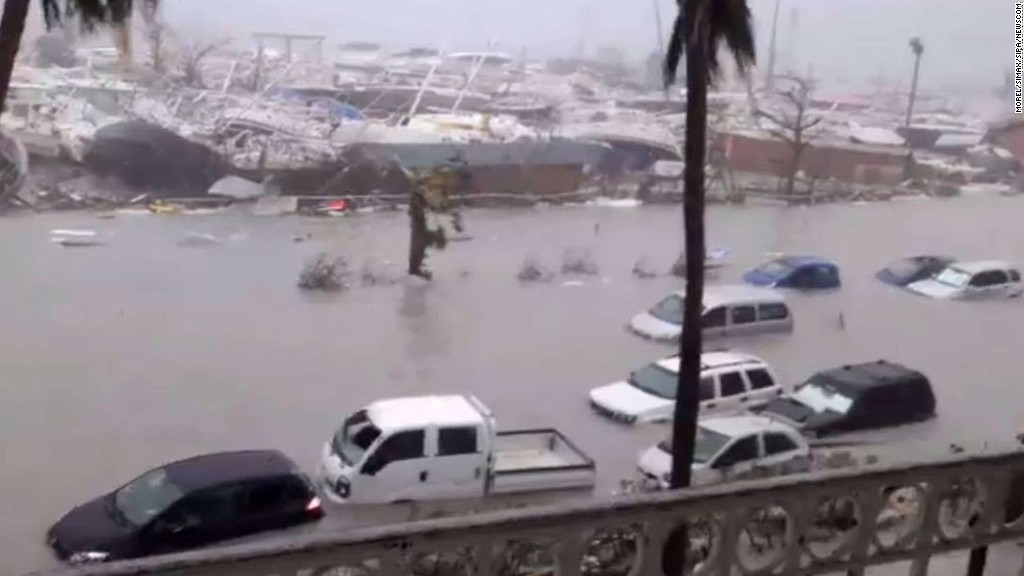 First it was Harvey, now it's Irma.
Airlines are scrambling to get out of the way of one of the most powerful Atlantic hurricanes ever recorded as the storm threatens to make landfall in the continental U.S. this weekend.
While many scheduled flights were nixed in the path of Irma, U.S. and Canadian airlines scrambled on Wednesday to dispatch aircraft to the Caribbean to airlift passengers and other staff out before the powerful hurricane blew through.
One Delta Air Lines flight from New York to Puerto Rico slipped into San Juan just as Irma was closing in. Three other flights had attempted to get into San Juan, but turned back, according to Flightradar24 tracking.
The flight touched down at noon and spent just 41 minutes loading passengers. With adept planning by the airline, the Boeing 737 slipped between Irma's swirling outer bands as it navigated its way back north. The airline credited the successful flight to the tight coordination of its staff and fortuitous timing.
Delta is a one of the few remaining U.S. airlines that has meteorologists on staff, creating forecasts for its operations and assisting dispatchers, pilots and ground crew.
Irma's track currently has the storm turning north and rolling along the east coast of Florida as an intense hurricane.
Miami, home to one of American Airlines' largest hubs, said Wednesday it will "wind down operations" on Friday afternoon at Miami International Airport, as well as at Ft. Lauderdale, Fort Myers, Sarasota and West Palm Beach airports.
American accounts for 38% of the flying in the Miami-Ft. Lauderdale region, according to Morgan Stanley, the biggest single carrier operating there. Miami is the 12th busiest airport in America, having handled 44.6 million passengers in 2016.
Miami airport said it would cease operations in its control tower when winds rose above 55 miles per hour.
Flights have already been scrubbed to the Caribbean and flights that were scheduled to arrive in Miami Friday from Europe and South America have also been canceled. American says it will continue to evaluate operations at other Florida airports, and will make adjustments as necessary.
Related: Airlines cap prices for Hurricane Irma evacuees
There remains a wide margin of error for Irma's late weekend path.
But according to current models, the track of Irma could wreak havoc on the world's busiest airport in Atlanta, home to Delta's biggest hub.
A Delta spokesman said it is closely watching Irma's path and will plan for disruptions should crosswinds winds exceed safe limits in Atlanta. A Delta spokesman said it was still to soon to make those preparations.
The airline said it was swapping out smaller aircraft for larger ones on its Florida routes to accommodate the increase demand to leave the peninsula.
Airlines had issued waivers for booked travelers to change their flights away from Irma's disruption. The scramble comes as carriers are still issuing waivers for flight changes from Hurricane Harvey, which slammed into Texas' Gulf Coast last month as a Category 4 storm.
United was still tallying the damage from Harvey. The airline's chief financial officer, Andrew Levy said Wednesday that Houston would only return to a full schedule as of September 8, 12 days after it started canceling flights.
By comparison, Hurricane Ike, which hit Texas in 2008, canceled only 3,400 flights for the airline. Harvey eviscerated the airline's operations in Houston, canceling 7,400.
"It's the largest operation impact we've had in the company's history," said Levy.