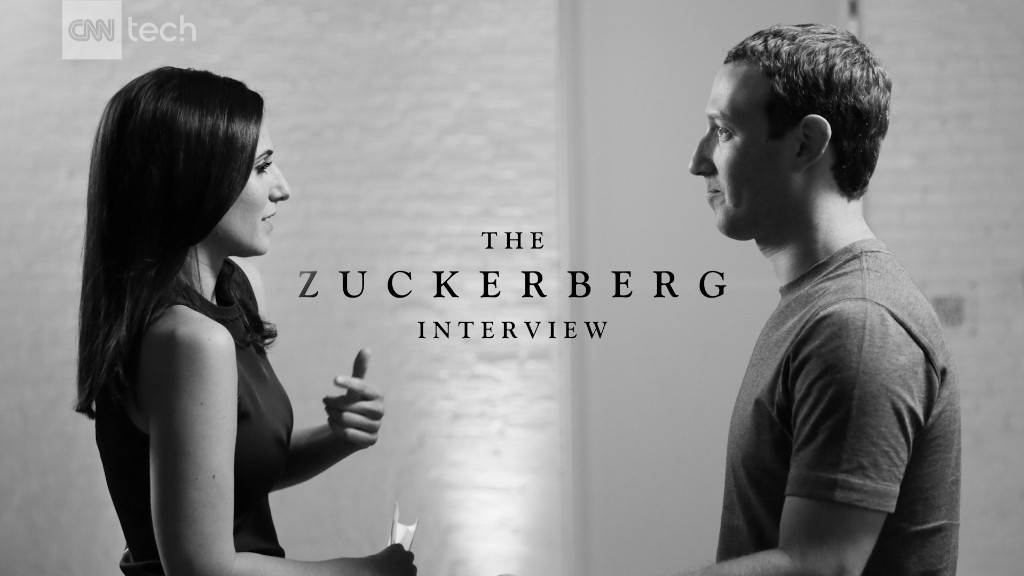 Mark Zuckerberg is leveraging Facebook to protest President Donald Trump's repeal of DACA.
The CEO took to Facebook (FB) Live for 45 minutes on Wednesday to stream a conversation in his home with three undocumented immigrants who were brought to the U.S. as children.
Zuckerberg repeated his earlier condemnation of Trump's decision to rescind the Deferred Action for Childhood Arrivals program, or DACA, which allowed recipients known as "Dreamers" to live, work and study in the U.S. without fear of deportation. Congress now has six months to develop a legislative solution.
"To offer the American Dream to people, and then to take it away and punish people for trusting their government and coming out of the shadows ... is one of the most troubling things I think I've seen a long time in our country," he said.
In a Facebook post Tuesday, he called the move "particularly cruel."
Related: Mark Zuckerberg slams DACA repeal
Trump's Justice Department rescinded DACA on Tuesday, saying it amounted to constitutional overreach by the Obama administration, which implemented it.
Zuckerberg acknowledged the complexities of immigration policy, but said he believes DACA is "the most clear cut" of all immigration issues.
He then gave the Dreamers present time to share their individual stories.
Two -- Leezia Dhalla and Maria Praeli -- work for FWD.us, an immigration advocacy organization that Zuckerberg founded alongside other tech leaders. The third person featured, Tomas Evangelista, works at the California-based Latino Leadership Council.
Zuckerberg did not talk about any Facebook employees that may be affected or plans to support these individuals.
Facebook declined to comment about any Dreamers it employs.
Zuckerberg encouraged his millions of Facebook followers to have a sense of "urgency" and to petition Congress to take action.
"What I think really needs to happen is the majority of people need to say, 'Hey, this is not only something that I want to see happen, but is something that needs to happen now,'" he said. "Because if it doesn't happen, then people's lives are going to be put at risk."
He mentioned that Microsoft (MSFT) came out on Tuesday and said Congress should prioritize legislation to preserve DACA over tax reform, an issue around which the business community has been rallying.
Zuckerberg did not say specifically whether Facebook plans to lobby for the same approach, but said he recognized the need to make "trade offs."
"It would be just a massive setback -- both morally, socially and economically -- if we fail to deliver on this," he said.
Related: Dreamers are being forced to rethink their careers
Sheryl Sandberg, Facebook's chief operating officer, showed her support for Zuckerberg and the Dreamers he spoke with in a comment.
"Leezia, Maria, and Tomas -- thank you for sharing your stories. Like everyone who's watching today, I'm so inspired by your courage and resilience. You represent the best of our country," she said.