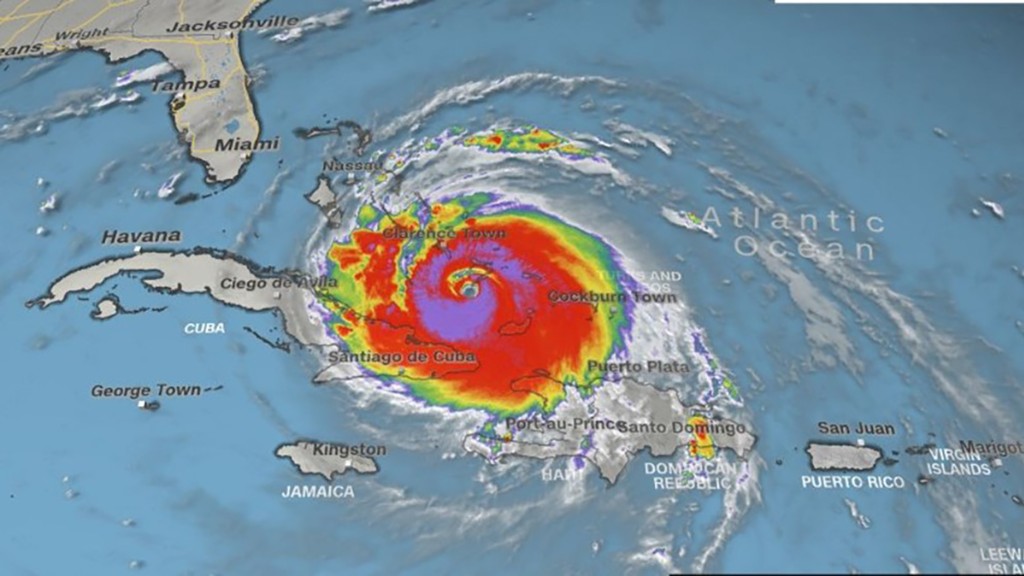 After Hurricane Harvey left parts of Texas battered and flooded, Verizon sent help to the town of Port Arthur in the form of one very large truck.
The white big rig is a mobile communication center, lined with semi-private desks and topped with a pair of satellite dishes. Each desk has a port to connect to the internet, a plug to charge a cell phone or other devices, and a telephone. Verizon says more than a hundred people, including evacuees from shelters and emergency personnel, have been using the truck daily.
The truck is one of the ways cellular companies try to get customers service after a storm or hurricane disrupts service. When a natural disaster hits, the ability to make a phone call can be critical. In the aftermath of a storm, people need their phones to call 911, check available evacuation routes, get news and tell friends and family they are safe.
Cell towers are built to withstand strong hurricane winds, but Harvey's 130-mile-per-hour gusts were rough on some. According to the FCC, 320 out of 7,804 cell sites were down in affected areas in Texas. In some areas, like Aransas county, almost every tower was out of commission following Harvey.
To restore service, carriers like Verizon (VZ), AT&T (T) and T-Mobile (TMUS) use a combination of specially trained repair crews, generators, drones, mobile communications centers like Verizon's big rig, and cellular sites on wheels called "COWs". They are still recovering from Harvey, but with hurricane Irma pressing on towards Florida, the companies will reset and do it all over again.
Each major carrier has emergency plans in place for before, during and after an emergency like a hurricane. The first step is getting service up and working as quickly as possible. They're already have experience deploying hardware to beef up networks for non-emergencies, like sporting events or the presidential inauguration.
Related: Harvey highlights issues of aging 911 tech
To asses damage, some use drones to quickly get information from areas that might have been inaccessible by car due to flooding. AT&T, deployed more than 40 drones in the skies above southern Texas following Harvey, and had another 58 on standby. The drones captured high resolution footage of cell sites so engineers could see what needed repairing in real time. (AT&T is acquiring Time Warner, the parent company of CNN.)
Then companies send out repair crews and engineers to fix cell sites as quickly as possible, often before the bad weather has fully cleared up. Towers typically have backup power, but even if undamaged by the storm they may need a generator to continue operation.
While cell sites are being repaired, carriers typically have equipment ready to give people temporary coverage. They set up emergency command centers and deploy specialty mobile equipment that can create temporary cellular networks. They include generators and a number of mobile cell sites, repeaters and other devices with animal themed acronyms. In addition to COWs there are COLTS (Cells On Light Trucks), GOaTs (Generators on Trailers), HORSEs (HVACs on Roadside Equipment) and RATs (Repeaters on Trailers).
To make sure customers are all able to make calls, carriers often waive fees following an emergency. Sprint, T-Mobile, and Verizon all offered free calls and texts to some customers in the days following Harvey. AT&T said it was issuing credits to customers impacted by the storm.
While carriers scramble to restore service, there are some precautions people in affected areas can take to get the most out of their phones.
Unless it's for 911, try to text instead of making a phone call. It takes less battery power and is less likely to cause network congestion, preventing someone else from making an emergency call. If your phone isn't waterproof, protect it in an airtight plastic bag. Toss in any fully charged backup batteries if you have them, and use your phone sparingly. There's a good chance you'll have cell service before power.