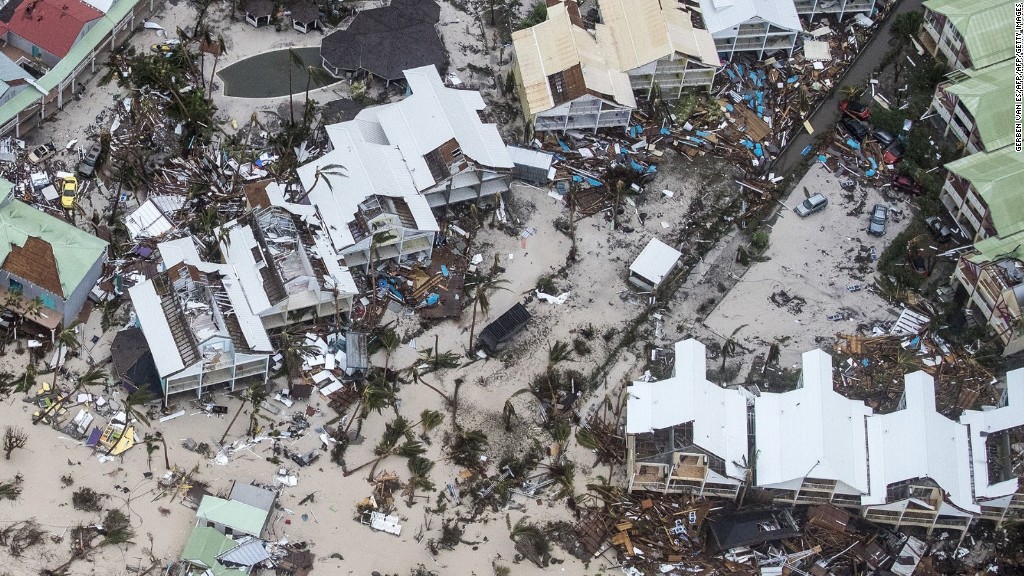 1. Hurricane Irma takes a toll: The massive, powerful storm started to make landfall in South Florida on Sunday morning.
Economists expect Irma's affect on the Florida economy to be severe.
The hurricane forced two of Florida's nuclear power plants to close last week and led to gas shortages at the pump.
The shortages were caused by damage to oil refineries after Hurricane Harvey and the fact that Floridians were eagerly filling up their gas tanks to drive away from Irma.
Related: Hurricanes Harvey and Irma may mess with the job market
The storm also took a toll on the Caribbean's tourism industry, which made up about 15% of its total GDP last year. Popular cruise lines, including Carnival (CCL), Norwegian (NCLH) and Royal Caribbean (RCL), canceled trips ahead of Irma last week.
2. Apple's big event: The wait for the iPhone 8 could soon be over.
Rumor has it, Apple will unveil new iPhones at its annual product event on Tuesday, including the iPhone 7S, iPhone 7S Plus and the iPhone 8.
The iPhone 8 is Apple's (AAPL) anniversary edition, marking 10 years since the launch of the first iPhone.
There's speculation that the anniversary edition will feature wireless charging, a virtual home button and a 5.8 inch display. It's also rumored to cost $1,200 -- twice the cost of an unlocked iPhone 7.
3. Samsung Galaxy Note 8 hits stores: Samsung (SSNLF) is determined to shake last year's fiery Note 7 debacle with the new Galaxy Note 8.
The smartphone is expected to hit stores on Friday and will cost $929.99.
Although the Galaxy Note 8 will offer new camera and photo editing tools, Samsung is focusing on build quality rather than novelty with this model.
It's part of Samsung's mission to regain customer trust after it was forced to pull the Galaxy Note 7 over reports it was catching fire. The recall cost the company more than $5 billion.
4. U.K. votes on key Brexit bill: On Monday, British Parliament is expected to vote on a measure that will make sure European laws don't apply to the United Kingdom once Brexit is completed.
Prime Minister Theresa May is under tremendous pressure to get the withdrawal bill passed, but she'll face opposition from the Labour Party.
Related: Pressure mounts on Theresa May
There are concerns that the bill would lead to a power struggle, because it would require lawmakers to add laws to the U.K.'s statute book without the House of Commons' permission.
5. Coming this week:
Monday -- Brexit withdrawal vote
Tuesday -- Apple (AAPL) event; OPEC oil report
Thursday -- Bank of England rate decision
Friday -- Samsung (SSNLF) releases Galaxy Note 8