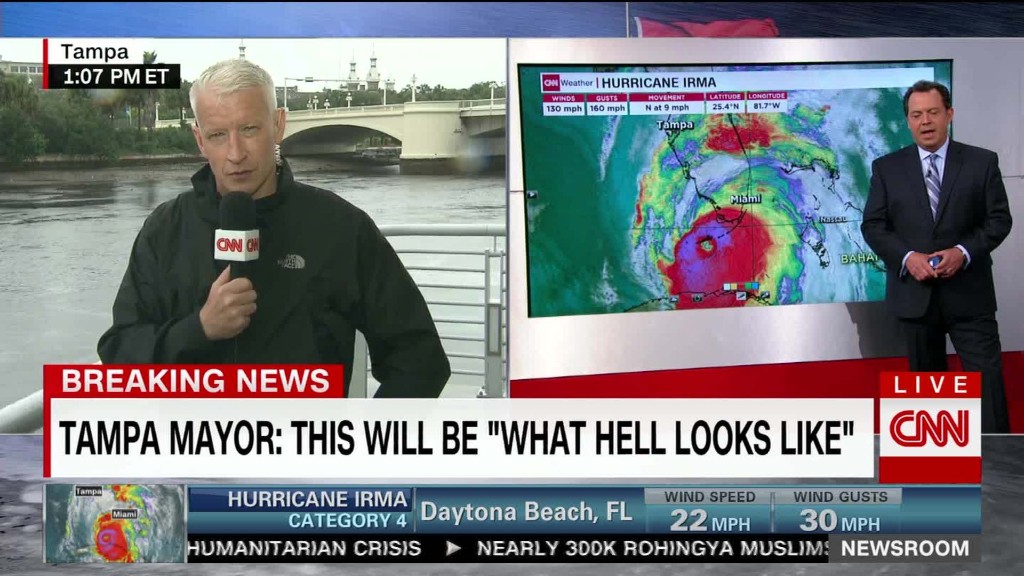 Walmart pledged to give up to another $10 million in donations for hurricane relief, bringing its total commitment to as much as $30 million.
The company made the announcement Sunday as Hurricane Irma barreled into Florida's southern tip after decimating some parts of the Caribbean Islands.
The new $10 million commitment is a promise to match customer donations to the American Red Cross: Whatever a Walmart shopper gives, the company will put in double that amount, according to a press release.
It builds on a promise from Walmart (WMT) and the Walmart Foundation to put $20 million in cash, matched donations and supplies toward relief efforts after Hurricane Harvey struck the Gulf Coast a little more than two weeks ago. The storm dumped devastating flood waters, particularly in the densely populated city of Houston.
Related: Walmart begins widespread effort to restock bottled water in Florida stores
The company said it's also engaging in a plan to replenish stores with repleted resources by shipping more than 1,700 truckloads of supplies to areas in need. The items include pet food, batteries, diapers, baby formula, generators, and first-aid supplies. Those goods vanished from shelves in certain southeastern areas last week as people scrambled to prepare for Irma.
To make a donation that Walmart will match, the company says shoppers can go to Walmart or Sam's Club stores. People can also text the word SUPPORT to 90999 to donate $10 through their wireless carrier.
Walmart said Sunday that it's been assisting its employees in impacted areas by offering "disaster-support assistance, setting up support centers, providing hot meals to families and proactively calling associates to conduct wellness checks."